**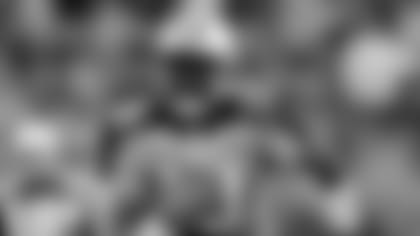 Vince Young was named to his second Pro Bowl, replacing Chargers QB Philip Rivers.
NASHVILLE, Tenn. –** Titans quarterback Vince Young was named to his second Pro Bowl, replacing San Diego's Philip Rivers. Young will join teammate Chris Johnson at the NFL's annual all-star game to be played on Sunday, Jan. 31 in Miami, Fla.
"I was working out when Coach Fisher called me and told me the news this afternoon," said Young, now 26-13 as a starter. "I was very excited to find out that I'm getting a chance to go play in the Pro Bowl. Thanks to all my teammates, coaches and fans that have supported me. I can't wait to represent the Tennessee Titans and join C.J. in the game. Hopefully we'll get a few more players in there, too. I've been working out the last two weeks, so I'll be ready to go."
Cincinnati's Carson Palmer and Pittsburgh's Ben Roethlisberger had previously withdrawn due to injuries. Earlier Wednesday, the NFL announced that Texans QB Matt Schaub was replacing New England's Tom Brady, who played with rib and finger injuries this past season. Rivers' withdrawal cleared the way for Young, who directed the Titans to an 8-2 finish as Tennessee became the first team in NFL history to finish .500 after starting 0-6. During that stretch, Young completed 59.8 percent of his passes and improved his passer rating to 86.1, more than 15 points greater than any previous season career-high he had posted.
For the season, Young completed 152-of-259 passes for 1,879 yards and 10 touchdowns with 7 interceptions. He also rushed 55 times for 281 yards and two touchdowns, setting or tying many career-bests, including a career-high quarterback rating of 82.8.
Young was named the Sporting News Comeback Player of the Year and finished third in AP voting for Comeback Player of the Year behind Patriots QB Tom Brady and Buccaneers RB Cadillac Williams. His maturity greatly evolved throughout the season as he continued to earn the trust and respect of his teammates, coaches and fans.
Never was this more evident than when Young led a 99-yard game-winning drive against Arizona in November. With all odds stacked against him, Young remained poised, starting at his own 1-yard line and converting three fourth downs along the way. He capped off the drive by buying time in the pocket, and then firing a perfectly thrown pass to Kenny Britt in the back of the end zone as time expired for the game-winning score.
That drive not only brought back confidence in Young's game, but the respect from everyone in attendance that night at LP Field.
"Vince Young is a spectacular athlete, a God-given talent, and he is using it to his ability," Britt said afterwards. "I take my hat off to him."
Added teammate and good friend Bo Scaife: "I can't say enough about Vince Young. Over the past year and these several weeks, he's shown us a lot and I think there's a lot more to come."
Young threw for a career-high 387 yards en route to the Titans' fifth consecutive win as they became the first team in NFL history to win five straight games after starting 0-6. Following his performance against Arizona, Young was named the AFC Offensive Player of the Week after completing a career-high 27 passes on 43 attempts, including three passes over 25 yards and a long of 51 yards. It was the second career AFC Offensive Player of the Week award for Young and his first since Week 16 of the 2006 season for his performance against the Buffalo Bills.
His outstanding performance in 2009 led head coach Jeff Fisher to confirm that Young will be the team's starting quarterback next season.
"I think the 8-2 speaks for itself, he's 26-13 as a starter now. He came back this year after the bye and got under center as a different quarterback, a different person," Fisher said during his season-ending press conference two weeks ago. "For the most part, his play was consistent, his preparation was excellent and it carried over. The fact that he will have another offseason with (offensive coordinator) Mike Heimerdinger, those things are only going to help him improve."