**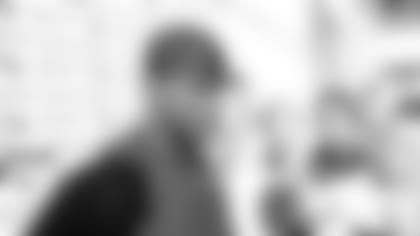 Vince Young speaks with reporters following Thursday's practice at Baptist Sports Park.
NASHVILLE, Tenn. --** Titans quarterback Vince Young has returned to practice, splitting the work with backup Kerry Collins.
Whether Young starts Sunday at Miami depends on how his sprained left ankle reacts to his first work since he was hurt Oct. 31.
Young said Thursday his ankle is better, thanks to rest, treatment and a week off. Coach Jeff Fisher expects Young to take most of the snaps Friday. The AFC's top rated passer has missed only one start this season.
The Titans-Dolphins game will mark Randy Moss' Tennessee debut.
(on how his injured ankle is feeling)
It's feeling alright, feeling alright.
(on how the adjustment period with Randy Moss is going and if he likes throwing to him already)
It's great to throw to a Hall of Fame receiver and things like that.  You can tell he's a veteran, he's very smart, asks questions, he's doing a great job of asking questions, wanting to know where he's supposed to be and things like that.  Overall, he's just being a vet receiver trying to make sure he's in the right place for the whole offense.
(on how Randy Moss fits into the Titans system and his strengths as a quarterback)
He fits in wherever we put him.  Right now we've got him at one position trying to learn that and then overall we can add on things.  Right now I feel like he can stretch the field just like Kenny Britt does, just like Justin Gage does—one of our big guys on that X-side.
(on how quickly he can develop a chemistry with Randy Moss)
The chemistry will be fine.  Like I said, he's a veteran receiver and as well as myself, I just go through my reads and find where he's at.  That's all you've got to do.
(on if it will be hard to not try and throw the ball to him all the time)
No, like I said, I go through my reads and where my eyes are at and where the ball is supposed to go to based off the defense and the coverage and what they're trying to play out there. 
(on if he is physically ready to play on Sunday against Miami)
Like I said I just wanted to see how I feel today with a couple reps, and I'll try it out tomorrow as well.
(on if he is tempted to try and force the ball to Randy Moss because of his proven ability to make spectacular catches)
Nah, it's basically just reading the defense.  Yes, we all know what Randy can do on the outside and does make spectacular plays, and there is a time for them type of plays and there is a time not for them plays.  Just based on what the defense is doing and you want to get the ball into the right guy's hands based off the coverage, like I've been doing.
(on how his ankle feels compared to two weeks ago)
Actually, it feels a little bit better.  Today I got a couple reps in and it felt pretty good and then I got off of it.
(on if he is confident about his chances of playing on Sunday against the Dolphins)
It depends on day-by-day, it depends on how I feel tomorrow as well as on the weekend and getting off of it and letting it rest and we'll make that decision on Sunday with myself, the trainers and Coach Fish.
(on if mobility is a concern of his going into the game)
No, not at all.  I didn't have mobility during the San Diego game and when I tried you saw what happened.
(on if his ankle is healing slower than he anticipated)
It's doing fine, like I said it's doing fine.  The bye week helped out a whole lot, staying off of it and getting a lot of treatment and things like that.  I want to continue to do that here with the trainers here, so overall I feel like it's doing real good.
(on if he is ahead of where he was in preparation for the San Diego game)
Yes, because of the bye week, definitely, got extra time off the ankle.
(on if it's frustrating because he wants it to heal faster)
No, it's an injury.  I don't know if y'all know about injuries, you've got to take your time and be smart about the whole situation.  We still have a long season, yes I want to be out there playing, but if it don't let me get out there to play I won't play.  At the same time, if I feel good you will see me out there playing.
(on if he thinks the injury will nag him throughout the rest of the season)
No, I doubt it.  It's an ankle injury and you have to treat it and you have to take care of it.  The type of athlete that I am, throwing the ball as well as being a guy to come out of the backfield using my legs, I want to make sure it's at the right time and not do something like I did against San Diego and reinjure it.  I'm going to be patient with my trainers and make sure it's the right decision for me.
(on if having Randy Moss for only eight games guaranteed presents a sense of urgency)
No, not at all.  Before Randy was here we were still doing a good job playing great ball, and with him added on it, it makes defenses have to make a decision with what they're going to do with him, with Nate Washington, we've got so many weapons on offense it's a blessing to have these guys.  In the meantime, he's a great guy for us out there; he can pick up the slack being a Hall of Fame receiver as well as a smart guy out there.  He's very smart out there.
(on Randy Moss' history of expressing frustrations when he doesn't get the ball enough)
That's the same, before even Randy, I got that from Bo Scaife, a lot of guys (laughs).  It's probably going to be the same thing, I just want to go through my reads and I want to continue to be consistent and move the ball down the field and put points on the scoreboard.
(on if there is added pressure on him with Randy Moss having played with Brett Favre and Tom Brady this season)
No, not at all.  Like I always say, I eventually want to be up in the top ranks with these guys.  That's why I continue to keep working, taking notes from him and the things that he sees and hears out there as well as the rest of the receiving corp.  It's all about team.
(on if his knee injury from the Jacksonville game is behind him)