**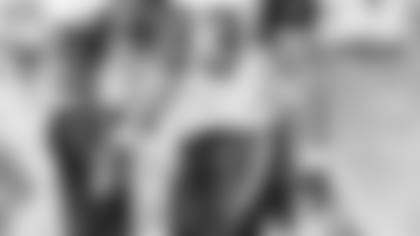 Vanden Bosch will join teammates Chris Johnson, Vince Young and Kevin Mawae at the Pro Bowl in Miami.
NASHVILLE, Tenn. –** Kyle Vanden Bosch continues to prove that hard work pays off. The veteran defensive end was named to his third Pro Bowl on Monday, despite posting one of his fewest sack totals in recent years.
Vanden Bosch moves ahead of Colts defensive ends Dwight Freeney and Robert Mathis, both of whom will be playing in the Super Bowl. Vanden Bosch will start opposite of Houston's Mario Williams in Sunday's Pro Bowl (6:20 p.m., CT on ESPN) at Sun Life Stadium in Miami Gardens, Fla., the home stadium of the Miami Dolphins and host site of Super Bowl XLIV.
"It's just a huge honor anytime you get recognition league-wide," said Vanden Bosch, who also made the Pro Bowl following the 2005 and 2007 seasons. "For me, it came as a surprise because I didn't statistically have a great year, but it shows the amount of respect that I get from players and coaches around the league. Obviously, I wasn't high on the fan votes so that means a lot of players and coaches have a lot of respect for me and the way I play."
Vanden Bosch spoke more on how the daily effort he puts into football helped translate into his third career Pro Bowl berth.
(on his reaction to making this year's Pro Bowl squad)
"I think it shows how players and coaches view me. I don't know if it's any sweeter. Ideally, I would have had another double-digit sack season and helped the Titans reach the playoffs, but that didn't happen. I don't ever make promises about how many tackles or sacks I'm going to get. I just go out there and play as hard as I can every week and prepare as hard as I can. That's the one thing that has been consistent with me through my career is I'm going to give you all I've got. Not only do my coaches and teammates recognize that, obviously other people around the league recognize that."
(on his approach to playing in the game)
"I know with the changes this year, obviously a lot of the top players who were voted to the Pro Bowl couldn't go. In an ideal world, all the guys that were voted in would go, but it's still an all-star game with some of the league's best players and it's going to be a great experience for me. I'm just excited. I have so much fun every time I go and I'm really looking forward to going back again this year."
(on how much his non-stop motor reputation and hard work ethic helped him get in)
"I think if it was strictly fan voting, it would be more of the popular players who just get in because of name recognition. I don't have the league-wide name recognition. I'm not going to be #1 in fan voting, but because of the way I play I have a lot of respect from players and coaches. All I can promise is that I'm going to go as hard as I can on every play. That's all I've done since I've been here in Tennessee. I'm just happy that people recognize that. The people that matter to me as far as respect are other players and coaches. I'm glad that they recognize that."
(on how this Pro Bowl invitation compares to his first two)
"To me, the first one was my favorite. It was kind of the moment that I arrived. I had a good season, but that was when I knew that people were starting to recognize me around the league. With a second and a third, it's just a little bit more of validation, I think."
(on Pro Bowl being in Miami vs. Honolulu)
"I'm excited. I got a chance to go to Honolulu twice. It will be a little different and I'm just excited to see how it goes. Being in the Super Bowl city you'll be able to see how the whole city is getting ready for the big game – and just to be around the excitement will be neat to see."
(on how the atmosphere will be different with the Pro Bowl being in Miami)
"I don't know if it's going to be sold-out or how many people are going to be there, but I think there will be a lot more fans, a lot more Titans fans, and the opportunity for some of my family and friends to go to the game. It will be a little bit more exciting, a little bit more of a regular season or NFL-type feel because there will be more fans there."