**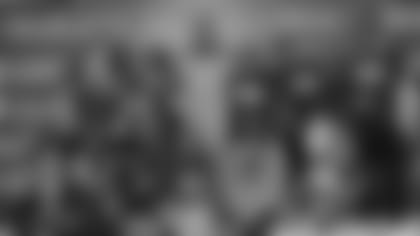 Running back LenDale White poses with students at W.A. Bass Middle School last Tuesday.
NASHVILLE, Tenn. --** There are many constants in the daily lives of middle school students when they cross the threshold into their school. Homework, tests, lunch and a chance to see their friends are among those. The students of W. A. Bass Middle School had their day shaken up a bit when they were called into the auditorium for an assembly. The balloons in Titans blue, red and white may have peaked their interest, but it did not give the surprise away.
Waiting in the wings was Titans running back LenDale White. As his name was announced, music began to play and students erupted in applause as White ran down the aisle giving high fives to elated youth. White visited Bass Middle School as a part of Titans Tuesday, where players go out in the community. Bass Middle School is taking part in the NFL Play 60 program, which emphasizes the importance of young people getting at least 60 minutes of physical activity each day and eating a nutritious and well-balanced diet.
After much fanfare, White took the stage and began addressing the students. White spoke of his childhood in Denver, Colorado and how his mother was his biggest supporter and inspiration. He shared how she had stressed the importance of getting an education and making good decisions.
"My mother always told me how important school was," said White. "If I didn't bring home good grades, there were consequences – I'd be grounded, but I wanted to be outside playing with my friends, so the choice was easy."
White also shared how he experienced a very difficult time in his life while in middle school and how he and his family overcame the tragedy. White explained that his family's home was lost to fire and they lost everything. In addition, his younger sister was severely burned but survived.
White also dug deep into his own personal experiences in order to relate to the students and shared his thoughts on choosing friends, respect for others and treating people well.
"Doing well in school is important, but you've also got to be smart about the friends you choose to spend time with," said White. "If you want to succeed, surround yourself with those who are succeeding. Don't let your name be associated with someone who isn't involved in positive behavior. I've known guys who were good athletes and chose to throw it all away. It isn't worth it."
After presenting Bass Middle School's Principle Janet Murphy with an autographed football, White had the opportunity to speak with 25 students who were part of the Fuel Up to Play 60 team. This team serves as the schools liaison and encourages others throughout the school to take part and get active. They also plan events and activities for everyone in the school to take part in to promote a healthy lifestyle.
White signed Titans team posters for these students and answered their questions as he spoke candidly about his own weight loss and how it has changed his life for the better.
"I lost 40 pounds last year," said White. "I had a dedicated two-hour workout and ate right, but you guys don't have to do that – just get the recommended 60 minutes each day and you'll have more energy and do better in school. I feel so much better these days."
After all the questions had been answered and a group photo had been taken, White left the students of Bass Middle School with smiles on their faces as that Tuesday they will not soon forget.
Titans Tuesday also includes Titans players visiting either Baptist or St. Thomas Hospital. This week defensive players Jovan Haye, Mitch King, Sen'Derrick Marks, Ryan Mouton and Kevin Vickerson visited Baptist Hospital where they stopped into patients' room's, took pictures and autographed team posters.
The Titans "Play 60" initiative encourages youth to get at least sixty minutes of physical activity or play per day in effort to fight childhood obesity. Since the NFL's Play 60 inception, the NFL has committed over $100 million to youth health and fitness through programming, media time for public service announcements and grants from Titans Owner K.S. "Bud" Adams' Jr., and his fellow NFL owners and players. For more information about the NFL's Play 60 campaign please visit http://www.nflrush.com/health