NASHVILLE, Tenn. —Sunday will be special for Titans linebacker Wesley Woodyard for a number of reasons.
Woodyard, in his ninth NFL season, will line up against his former teammates at Nissan Stadium when the Titans face the Denver Broncos. Woodyard played from 2008-2013 with the Broncos before signing with the Titans as a free agent prior to the 2014 season.
"I am definitely going to be working hard to turn some heads, competing against my old teammates,'' Woodyard said. "But I can't get too hyped. I just have to play my game."
Woodyard will be wearing special cleats during the game. As part of the "My Cause, My Cleats" campaign, Woodyard plans to wear cleats recognizing everyone impacted by ALS, while also bringing awareness to his foundation.
Woodyard wants to pay tribute to former Titans linebacker Tim Shaw, who was diagnosed with the disease following his playing career with the team. As a teenager, Woodyard also saw his beloved aunt deal with ALS, often referred to as Lou Gehrig's disease, leading up to her death. Woodyard said his wife's aunt also had ALS.
Woodyard wears No.59 with the Titans. It's the same number Shaw wore while playing from 2010-2012 with the team. Woodyard said he considered changing his number with the Titans last year, then he thought of Shaw.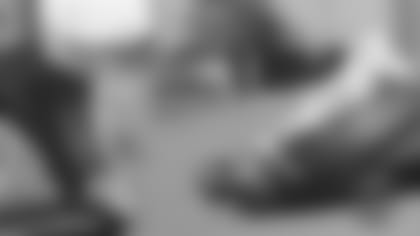 "It is a great way to bring awareness to a disease that has struck America,'' Woodyard said. "These is no cure for it, and no one really knows much about it … and the only way we can find a cure for it is if we bring awareness to it. So hopefully there will be somebody out there watching this game that will see my cleats and they will be the reason why there is a cure for it."
Woodyard said the cleats are still being designed.
Woodard said the ALS cleat will be red, and he plans to have the names of the "three individuals in my life touched by ALS" -- Tim, Anne and Reni – on it. On his other cleat, which will be navy and baby blue, he'll pay tribute to his "16Ways Foundation" and his literacy program.
The NFL is allowing players a chance to express themselves in the "My Cause, My Cleats" campaign. Players from 30 NFL teams wore custom cleats to display causes important to them last week, and this week the Titans will be allowed to wear cleats for Sunday's game against the Broncos.
"Any time you can use your platform for a positive change in the community, it is a must-do,'' Woodyard said.