NASHVILLE – Week One is in the books, and now it's on the Jaguars.
Yes, the Titans took care of business in Denver, even if it wasn't a thing of beauty.
Heading into Week 2, some things need to get cleaned up.
Let's dive into another mailbag to discuss the latest in Titan Land…
Chris Lane from West Hartford, Connecticut
Question: Hi Jim, hope you're doing well. There are a lot of inspirational players and people on the Titans, but especially coming off of last week I wanted to express my appreciation for Corey Davis. The man has been outrageously underrated as a football player due to some unfortunate, short-term circumstances out of his control (injuries, targets) but it's obvious he still has the build, skills, and drive to be a top 10 receiver in this league. He plays with such a dense, gritty fire on the field that's a joy to watch as a fan and all the sweeter knowing it erupts from such a humble, likable guy. He's my favorite player on the team by far -- a perfect representation of this organization and its values -- and I know a lot of others who silently feel the same way. So, if by some miracle he happens to scroll through -- keep killing it this year, man. Make it happen. And know you've got fans getting fired up whenever you get the ball (who don't even play fantasy lol). Thanks Jim.
Jim: Hey Chris. I think you're spot on with your assessment of Corey. I've always thought he's been underappreciated by many because they judge him based off when he was drafted. He's been a real pro since he's been here – he's a fearless guy, makes tough catches, goes across the middle, blocks in the run game, etc. He was a gamer on Monday night, and he's going to need to be a gamer again on Sunday. Corey will have a lot on his shoulders again with A.J. Brown ruled out for Sunday's game.
David Rogers from Blowing Rock, North Carolina
Question: Hi Jim. Has a timeline for Darrynton Evans been established for his coming off the injured list? Really looking forward to watching his contributions to the Titans' 2020 campaign and beyond. A special player.
Jim: Hey David. Well, Darrynton's just not ready yet. Like A.J., he's also been ruled out for this weekend. I think he's a week or two away.
Andriy Lakusta from Edmonton, AB, Canada,
Question: Hi Jim. Hope all is well with everyone down in Nashville, big hello once again from Edmonton, AB, Canada, more Titans fans up here than you'd think. No questions this time around, just a comment. I just finished listening to a segment on our local sports radio station called "Storytime", and they had Dave McGinnis the Titan's radio color analyst on as their guest, and had to give him some props. WOW, just WOW. I was blown away by his interview, which lasted about 30 minutes, not counting commercials and was more him telling stories that answering questions. Some of his stories were amazing, love the "tell it like it is" mentality, and his passion and the energy that you hear listening to him is just amazing, hope I have half that much when I get to be his age. Must be a treat listing to him on a regular basis. Especially loved the story about him being named Bears head coach without being offered the job. Week 1 is behind us, Titan's got a "W" and that's all that needs to be said on that I think. Keep it rolling boys, can only keep improving. TitanUp!!!
Jim: Hey Andriy. I passed this along to Coach Mac, and he appreciates your kind words. I have to say, Coach Mac is one of the most popular and likeable guys I've ever been around. When I walked into Nissan Stadium with him for a scrimmage back in August, there were probably 10 people in the lobby who all yelled, 'Coach Mac!" the second we walked in. I felt invisible. Walking in with Coach Mac is like walking into a party with a beautiful girl. Fortunately, I'm used to that. Proof is below. 😎 (I hope my wife still reads this. Hi Stephanie! ).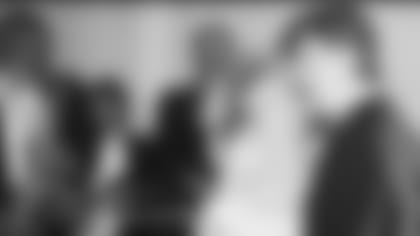 Karim Labib from Bethesda, Maryland
Question: Jim. Why are we constantly in white jerseys and navy britches? I feel like we rarely change it up. We have such great unis and I haven't seen a different outfit in all of the last 5 games. Is there specific reasoning for this?
Jim: Hey Karim. Well, the team wears white on the road because the home team has the pick. So that was the case in the last five games (at Houston, at New England, at Baltimore, and at Kansas City last year, and at Denver in the opener). At home, the Titans have regularly worn white in September because of the potential for heat. White is cooler than the darks. You'll see a change-up in the not-so-distant future.
Chase Kevin from Dunblane, Scotland
Question: What an incredible story and "catch" from Kevin Byard on the delivery of his son I was wondering if there was anything this incredible man can't do. He's the number 1 in interceptions since he entered the league. He's the first ever NFLPA community MVP. Brilliant interviewee his passion is always on show. He's also a wonderful person after meeting him in London and spent time with my son signing his baseball hat as well that has pride of place in our home. My question from a mere mortal is what can he not do? Is it spiders? Heights? Lifts? Crowded places or any other phobias? Regards from Scotland
Jim. It really is an incredible story, Kevin Byard delivering his own son. For those who missed it, CLICK HERE. It's the catch heard around the world!
Bill Holmes from Fairport, New York
Question: Hi Jim - lifetime NY'er but an Oiler/Titan fan since Pastorini. I'm really excited about the receiving corps this year - Brown looks like a young Julio Jones, Humphries is a fearless cross-field ball magnet, and I think Corey Davis has a chip on his shoulder after his option was declined (and the talent to back it up). With a stud RB and depth at TE, Tannehill has a ton of weapons and his play-action skills should help us score a ton of points. My only concern is the depth of the OL - our starters are strong but any injuries or mid-season fatigue might expose that. Thoughts?
Jim: Hey Bill. I hear ya, because I think we've been spoiled by having a guy like Dennis Kelly on call. Now Dennis is in the starting lineup. I like Ty Sambrailo, the back-up tackle at both spots who entered the game with Taylor Lewan went down the other night. He has experience from his days in Atlanta. Inside, Daniel Munyer and Aaron Brewer are lesser known guys who impressed in camp, and coaches and the GM trust them. Jamil Douglas has nice experience inside as well. And don't forget about tackle David Quessenberry on the practice squad.
Bill Bohall from Portland, Tennessee
Question: Hey Jim. Football is back and hopefully for a full season...Couple of thoughts and a question.
1. The games this past week confirmed the necessity of Pre-season games be it four or two. Teams looked sloppy at times, refs looked confused at times, and players showed they needed some true game time work versus starting with games that really count.
2. The announcers had the usual first time flubs too, new players, unfamiliarity with age old rules(nervousness??) etc. But the real thought i have is I like the insight that some announcers have in the game but in general I don't care about their own personal opinions during the pregame in justice, violence, protests etc. We all have the ability to sit and discuss these outside of TV time which is a one way conversation.
3. Really like it when you posted the snap counts for all players. Will you be posting the home and opposing team counts this year and on what mediums???
Jim: Hey Bill. Good observations. As for the snap counts, I'll continue to post the Titans snap counts on Twitter the day after every game. I won't be posting the snap counts for the opponent, however.
Justin Tibbs from Dyersburg, Tennessee
Question: How are you Mr Jim? My question is short sweet and simple as i ask when will Adoree Jackson be back in our lineup?
Jim: Hey Justin. I can't say for sure. But I can tell you he's not eligible to return until the Oct. 4 game against the Steelers. I'm not saying that's when he'll be back -- that's just the first game he's allowed to be back, per the new NFL Injured Reserve rules.
Reuben Alvear from San Francisco, Tennessee
Question: Hello, Jim. The Titans were resilient enough to get a gut-check win. The thing that jumped out at me is Rashaan Evans getting ejected. That was out of character for him. He's got all the tools to be a great LB, and he's an important piece of the 'D.' Last night's incident appears to be a pivotal moment for this young and promising athlete. I hope that Coach Vrabel and Jon Robinson land a good, solid message on #54 about accountability, and playing with poise. I wouldn't expect anything less from Coach Vrabel and Mr. Robinson, as I respect the way both men run a football program.
Jim: Hey Reuben. I'll admit – I was surprised to see Rashaan react like he did as well. I think he'll learn from it. He apologized to his teammates after the game and said he'd make it up to them. I thought Will Compton did a really nice job stepping up when Evans was disqualified, and I think Evans will be more inspired after that experience.
Have a great weekend everyone!