NASHVILLE – Welcome to the first weekend without an NFL game in over six months.
Soon, things will be cranking up again in the football world, however.
The NFL Combine is coming up, then free agency, and before long the NFL Draft will be here.
We'll also keep this mailbag hopping.
Luke Freeman from Hendersonville, Tennessee
Question: Jim hope you're doing well! With the Titans hiring Ran Carthon there will obviously be some changes. I'm just curious if you were in Ran's spot with the upcoming draft, how would you approach it and do you have a player that sticks out to you at this point?
Jim: How about Georgia defensive lineman Jalen Carter, or Alabama Edge Rusher Will Anderson? Or, Alabama quarterback Bryce Young? A lot of guys stand out to me, Luke, but I have no idea who will be around at 11 – I doubt any of these guys will be – and we need to see what happens between now and the NFL Draft to determine the team's biggest needs. What happens in free agency will help determine needs in the draft.
Jack Walker from Calabasas, California
Question: Hey Jim. Couple things. First, thanks for the story about LenDale White. I hope he continues to do well and much thanks to CJ2K for helping him out.
What a great (Super Bowl) huh? Wow. I'm sure I don't need to remind Vrabes and Ran but if you can't hang 40 vs the best in the league, no ring for you. The league has changed. My favorite player as a kid was Roger Staubach. Wonder how he'd fare nowadays? Mahomes had a list of WR2/3's to work with all year and still pulled it out. No superstar RB either. Conclusion: it's the "system" and the QB. Your move, Titans. Thanks for all you do, Jim
Jim: Appreciate it, Jack. Here's the story on LenDale White and Chris Johnson, for those who missed it: CLICK HERE. As for the Super Bowl, it was a great game. And, the Chiefs won it fair and square. I'm tired of folks saying the Eagles were robbed. They had their chances, and didn't get it done. Plus, that was defensive holding. As for Staubach, I don't think he'd fare very well nowadays. Heck, he's 81 years old.
Agaphene Robinson from Greenwood, Mississippi
Question: Hey I know it may not matter but my son Ondra Robinson lived in Memphis and he was killed Jan17, 2023. He was a Titans fan all way. We gave him a Titans home going on Jan 24, 2023 (when he was buried). If possible, can I submit pics of his casket to you? Thanks.
Jim: I'm sorry for your loss Agaphene. And, thanks for sending the photos. I included one at the top of this mailbag, and one below. May God bless you and your family.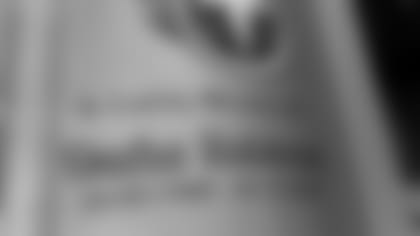 Aaron B from Bucks County, Pennsylvania
Question: Hi Jim, thanks for keeping us so well informed throughout the years. I recently clicked on Draftkings post Super Bowl, and Vegas has the Titans as the sixth longest odds to win the 2023 Super Bowl. Do you project that much regression for this team next year? Seems like that type of spot should never be achieved for a Mike Vrabel-lead squad, but there is so much uncertainty with how our new GM will approach the team.
Jim: Hey Aaron. Keep in mind the folks doing these odds have no idea who will be signed in free agency, who will be cut, who will be drafted, who will stay healthy, etc. Don't listen to all that noise because there are just too many unknowns with the Titans, and the rest of the NFL, on February 18.
Evan Tatum from Cross Plains, Tennessee
Question: Hey Jim! I'm just on here because I want your input on a couple things regarding the roster and what Ran Carthon and the others might opt to do.
For one, some fans have been speculating a potential Caleb Farley trade. I agree he hasn't lived up to the first round pick we spent on him but do you think it's still too early to give up on him? I'm in this gray area where I don't know how to feel about him. Would you be against a potential Caleb Farley trade for either some decent picks or even a player?
Another thing I've been wondering about is how Tennessee will manage to replace 3 maybe 4 offensive line positions potentially. Given that Taylor Lewan expects to be released, Nate Davis is expected to walk, Ben Jones could consider retirement and Aaron Brewer was average at best this year. Especially with their current cap situation. I know at the end of the day you're not the GM, but how do you think Ran Carthon, Mike Vrabel etc would play this?
Always a pleasure seeing you answering your fans and giving your honest thoughts by the way.
Jim: Hey Evan. I'm going to keep keeping it real in here – You really think teams are lining up to trade for Farley, and willing to give "decent picks" or a noteworthy player? Caleb is a really nice young man, and I hope he comes back and is able to compete. But he's played in 12 career games and has had his first two NFL seasons cut short because of injuries. Let's be realistic – teams aren't going to be willing to give up much for him, if they're interested. … As for rebuilding the o-line, it'll happen in free agency and the draft.
Ed Lake from Oklahoma City, Oklahoma
Question: Hey, Jim. Couple of questions re RT:
Were you able to speak with him at the close of the season? I have wondered what his mindset was after a season of receivers MIA, a porous O-line, and finally the injury, all on the heels of his psychological battle after the devastating play-off loss the previous year? He's proven how tough he is physically. I hope he can stay strong mentally, too, despite what he has had to deal with.
On another note, can you provide some insight into his relationship with Tim Kelly? To what degree did they interact this year? Seems to me Vrabel's decision on Kelly was also a message about RT. The 49ers are winning with a similar approach, albeit with more difference-makers--strong D, strong rushing attack, steady QB who can make plays. Thanks for your perspective.
Jim: Yes, I spoke to Ryan Tannehill at the end of the season. He's planning on coming back, and he has his sights set on being healthier, and better, in 2023. As for his relationship with Tim Kelly, I haven't asked Tannehill about it. He hasn't talked to reporters since Vrabel announced Kelly's elevation to O.C.
Jason Knight from Cleveland, Tennessee
Question: Hey Jim. GOD Bless you for all you do and for putting up with us Titans fans. I do have a question but not so much for you but for the Titans fans. I will start off by saying there are real Titans fans and then there are fair weather fans that like to show up on sunny day win and heap praises but then will burn all their Titans merch if the team has a loss, I know real fans are here through thick and thin. The question is why as bad as some losses are why do we have to talk so much hate for a team we supposedly love so much. We should show up at games and support them if we love them. These people are all human, I only know one perfect person (talk to him everyday Thank you JESUS CHRIST for everything). Jon Robinson human, the picks he made human, all the players human, and if you could play better try out for the team. We all make dumb decisions everyday ours just are not on TV. Be thankful for that and support the team put your but in a seat and enjoy the wins and hate the losses but don't hate on the team and the players, we need to learn from the great fan bases like Pittsburgh, Buffalo who has had many losing years, etc etc . Be a real fan no matter what.
Jim: Thanks for taking the time, Jason.
Tommy Henley from Cookeville, Tennessee
Question: Hey Jim first just wanna thank you for the news an letting us fans ask questions, guess I got a few , so guess we're not getting the new stadium but a new field an I'm excited bout the new hire of Ran an what he helped do for San Francisco an I no everyone is anxiously awaiting how will they build the offense around Malik or will Ryan be with the team another year but I seen that Mahomes didn't get sacked I'm praying they will build that line into a good one , I guess they got a lot to do , you think they should release alot of players to help with the cap space I think they should myself but keeping my fingers crossed, I really want our team to win a championship, an I really thought we was gonna get that new stadium an that was gonna be a beautiful start for Tennessee, anyways thanks again Jim hope to hear from you.
Jeremy Rodriguez from Winchester, California
Question: Hey there Jim. The off season is in full swing with the rumor mill pegged out! I am seeing a lot about Derek Carr being an option for the Titans. Is this a real upgrade or is this just Tannehill 5 years ago? I don't see Carr making that big of an impact and with the money, there is not much being saved by letting 17 go. I can't wait to see how Ran and Vrabel handle this off season. If moves are made and the Titans make a deep run in playoff next year GREAT. If this off season is a Bust and miss the playoffs, how soon will stories be coming out that Vrabel is on the Hot Seat. As always thanks for fielding questions. I still have a hot grill and cold beer, if you're ever in the Temecula, CA area first round is on me!! Titan Up!!
Jim: Hey Jeremy. Man, I was only five hours away from Temecula last weekend! I could smell the burgers!
Beau Siddens from Covington, Indiana
Question: Hey Jim. I have read about what everyone thinks about Tannehill. I wish these folks would review his stats prior to giving up on him. He's a great QB! Do you agree?
The Titans should be leery of making too many changes in the off season. Too many can lead to disaster. And as of today, it appears the leadership knows that. We understand the salary $ is a bit wonky at the moment. But we have a great QB, Dobbs is a good back up, and an OC that knows the Offense. Get the OL working hard and we should see a difference next season. Let Vrabel do what he does best and lead this team to the next Superbowl!
Jim: I think the Titans could do a lot worse than Ryan Tannehill. I think he's been underappreciated for the most part. Has he been perfect? No. And yes, that clunker in the playoffs against the Bengals certainly put a stain on his reputation. But I'm sure there are plenty of teams out there that would love to have him.
Have a great weekend everyone!