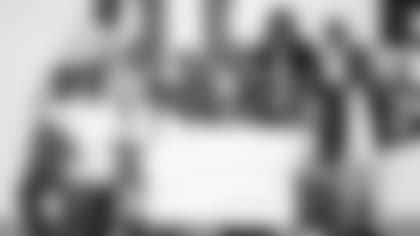 Wide receiver Nate Washington presents a check for $10,000 to a pair of area Nashville charities.
NASHVILLE, Tenn. – Wide receiver Nate Washington made a $10,000 donation from his 85th Foundation to two local charities that serve area youth on Dec. 9.  Washington presented grants of $5,000 each to both the Dream Centers of Tennessee and Youth Encouragement Services.
"These two groups work very well with both young kids and adults in helping their dreams come true," said Washington. "So many times we tell people to follow their dreams, which is hard sometimes, so it's great to have programs like these to give them the right mechanisms to pursue those dreams.  They often don't know how to follow that script to achieve their dreams and that's the goal of the 85th Foundation to help them get there!"
One donation will support The Dream Centers Youth Apprentice program that focuses on inspiring youth in the areas of Academics, Business Mentoring, Sports and Wellness.  Mary A. Carpenter, Founder and CEO launched the Dream Centers of Tennessee on September 15, 2010.  The Dream Mission is to empower families with life skills, job development and academic support strategies to better equip them for successful, well-balanced relationships, careers and emotional, physical and spiritual health.  
The other donation sponsors the recent "Steps of Success 5K"—an exciting event supporting the after-school programs of Youth Encouragement Services (YES) and scholarships at Fisk University.  YES and the Fisk 50/50 Protégé program are partnering to provide education opportunities for Nashville youth, and to engage Fisk students in mentoring inner city children. YES operates three centers in inner city Nashville. For 55 years, YES has provided after-school and summer programs for children from kindergarten through high school, offering low-income youth a positive alternative to the streets and opportunities for a bright future.
Washington traced his own story on chasing his dream when discussing the motivation in making these gifts.
"I came from a small high school in the inner city, went to a small college and then was an undrafted free agent coming to the NFL, so I can identify with the whole underdog situation," Washington added.  "Those factors has made me want to reach out to people and let them know what having dreams is all about.  It's not just about having dreams, but understanding what it takes to get there.  It's very fortunate that those that come to this center have people that can help them and be in their corner and I'm honored to support them!"
For more information on these two programs, please visit: