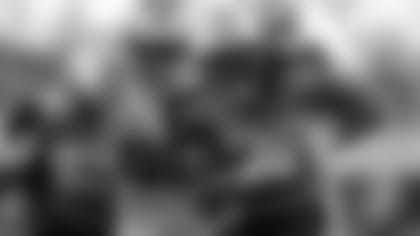 ** honors for games played on October 10-11, the NFL announced today.
Fans can vote for one of these five players on NFL.com/rookies beginning Tuesday at 9 am ET and ending on Friday at noon ET to determine the PEPSI NFL ROOKIE OF THE WEEK.  The PEPSI NFL ROOKIE OF THE WEEKwill be announced Friday evening on NFL.com/rookies.
After the regular season, five players will be nominated for Pepsi NFL Rookie of the Year honors. Fans can vote for the winner on NFL.com/rookies throughout the month of January. The winner will be announced at a press conference at Super Bowl XLV in North Texas.
A closer look at the finalists:
Philadelphia's  BRANDON GRAHAM had two tackles, one sack and one forced fumble in the Eagles' 27 – 24 win over the San Francisco 49ers.
Arizona's MAX HALL earned his first career win completing 17 of 27 passes for 168 yards with one interception in the Cardinals' 30 – 20 victory over the New Orleans Saints.
Detroit's  NDAMUKONG SUH had three tackles and recorded his first career interception and returned it 20-yards in the Lions' 44-6 win over the St. Louis Rams. Suh is the first rookie defensive tackle to register an interception since Falcons rookie DT Trey Lewis had one October 7, 2007.
Tennessee's ALTERRAUN VERNER had eight tackles and one interception that he ran back to the Cowboys 1 leading to a touchdown in the Titans' 34 – 27 win over the Dallas Cowboys.
Tampa Bay's MIKE WILLIAMS had seven catches for 99 yards and  one touchdown in the Buccaneers' 24 – 21 win over the Cincinnati Bengals.
This is Pepsi's ninth year as the official soft drink sponsor of the NFL and the ninth year that Pepsi will present the NFL Rookie of the Week and NFL Rookie of the Year awards.