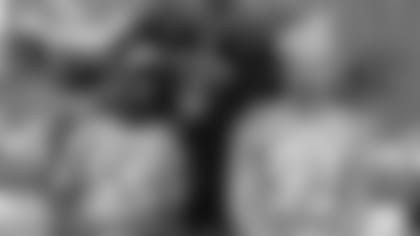 KNOXVILLE, TN, April 13, 2009 –** Defensive end Kyle Vanden Bosch and linebacker Stephen Tulloch headlined the first day of Titans Caravan XII on Monday as players and staff made five stops on their way through east Tennessee.
The Caravan will make a total of 44 stops over a span of nine days in a continued effort to connect with fans across Tennessee and the Mid-South.
"One of the reasons I agreed to do this is because it's my opportunity to show the fans just how much I appreciate them and how much we as players appreciate their support," Vanden Bosch said. "Having a chance to shake their hands, look them in the face and tell them thank you is what today has been all about."
Vanden Bosch started things off with a visit to Christiana Middle School, just outside of Murfreesboro. He encouraged students to study hard for their upcoming tests, while stressing the importance of exercise and staying fit, a message that seemed to get through to an enthusiastic student body in the packed gymnasium.
"I think that all of our students look up to the professional athletes, especially Kyle Vanden Bosch. He enthused the kids and inspired them to live a healthy life -- hopefully do well on their testing -- but also to carry forward with healthy activities," said school principal John Ash, who was appreciative of the two-time Pro Bowler taking time to meet with his students. "It means everything. We can tell them, we can put it in their minds, but when they see someone famous like that, someone who has achieved so much, it means so much more to them. It makes it so much more important."
The Caravan continued onto O'Charley's in Cookville before visiting with locals at the VF Outlet in Crossville and fans at the Roane State CC Expo Center in Harriman.
"Kyle's probably one of the most personable guys I've ever met. I enjoyed meeting him," said Crossville resident Brian Green. "He's a great guy. As a player, he gives 110 percent. He's always there with his motor running."
Erica Neal was gushing after meeting one of her favorite Titans.
"My face and neck are red. I'm still trying to recover, but I did get my awesome jersey signed," the Crossville resident said. "It's very nice for him to do this for the community. I'm a big fan of his because he's always out there at 5 a.m. ready to practice. He's a team captain and he's always sacking the quarterback. I think Kyle is going to keep the defensive line together and the Titans will do well this season."
Titans fan Bob Dormagen was persuaded to come meet Vanden Bosch with his 20-year old son visiting from West Virginia. "He wanted to get over here as quick as we could. He's a big Titans fan. It meant a lot to him because he sees people on television and then he sees them in person and it's a whole different thing," Dormagen said. "I've been a fan since they were the Oilers. I've enjoyed watching Kyle. He's very tenacious on defense and seems to give it his all on every play. Hopefully this year the Titans will get over the hump and make it to the Super Bowl."
For Vanden Bosch, the attention was somewhat overwhelming, yet very much appreciated.
"It feels good," he said. "The Caravan is kind of the start of the excitement with the fans. We started our off-season workouts about a month ago and it's good to see the players back. There's a lot of excitement, especially knowing that we're playing in the first game of the 2009 NFL season. Guys are really excited about it. But getting with Titans fans around the state and seeing their excitement, shaking some hands and just showing our fans how much we appreciate them – that kind of gets the guys really excited again for the upcoming season."
Tulloch joined Vanden Bosch at Monday's final stop at the AT&T West Towne Mall in Knoxville. He was equally impressed by the number of fans lined outside of the store.
"It's a great feeling for Knoxville to embrace us the way they have and for us to be here to give back to the Titans fans in this area," said Tulloch, who will continue on the Caravan all day Tuesday. "The fans really make this all possible for us. I really appreciate them and I know my teammates do as well. Blessings come when you give back and that's what we're here to do."
Vanden Bosch said  he enjoyed getting outside of Nashville to interact with fans he normally wouldn't meet.
"There aren't many opportunities to get intimate with the fans. But on Titans Caravan you get to look them in the eye and say 'thank you,' and tell them how much you appreciate their support, especially around some of these communities that are a little further out," he said. "It's a good experience as a player just to meet these fans. A lot of them travel a good distance on Sundays to come to our games and a lot of the other ones are at home watching our games on television supporting us.
"One of the great things about being in Tennessee is the fan support and just how much they love their Titans."