**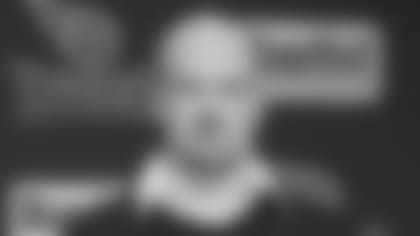 NASHVILLE, Tenn. – **The Tennessee Titans announced today that defensive end Kyle Vanden Bosch has been named the 2009 Titans Walter Payton Man of the Year Award winner. Vanden Bosch was selected by a majority vote from his teammates, Titans staff, members of the news media and local non-profit and community executives for his dedicated community service.
Vanden Bosch is now a finalist for the league-wide 2009 Walter Payton NFL Man of the Year Award that will be awarded during Super Bowl week in Miami. This prestigious NFL award has been in existence since 1970 and is the only NFL award that honors players who demonstrate outstanding balance in their lives between civic and professional responsibilities. In 1999, the NFL renamed the award after the late Walter Payton as a tribute to his greatness, both on and off the field. Man of the Year candidates were chosen based on guidelines from the NFL that state all candidates should have completed at least 3 seasons in the NFL and be currently playing in at least their fourth season in the league.
In one of the closest votes ever, Vanden Bosch was selected from a group of eligible finalists that included Rob Bironas, Keith Bulluck, Cortland Finnegan, Chris Hope, David Thornton, Stephen Tulloch and Vince Young. These finalists were named "Titans 2009 Community All-Stars"for their significant community service contributions.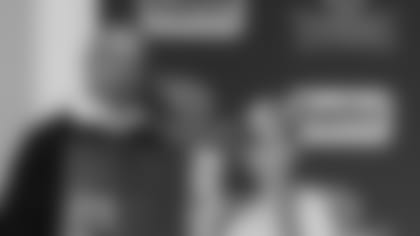 Kyle Vanden Bosch's family, including his wife, Lindsey, who played a significant role in planning many of the charity events.
"I am very proud of the terrific charitable work done by Kyle, the Community All-Stars and so many others in the Titans organization," said Titans Owner/President K.S. "Bud" Adams, Jr. "It is very important to me that everyone in the Titans organization accepts their responsibility to help improve the lives of those less fortunate and Kyle and these players have clearly done just that with their dedication to helping others."
Vanden Bosch signed with the team in 2005 and has become one of the league's most dominant defensive ends, earning trips to two Pro Bowls and racking up 38.5 sacks in his five seasons in Tennessee and a total of 43.5 career sacks. He is undoubtedly one of the leaders on the team as he was selected for Team Captain for the third year in a row.
In addition to being a key member of the Titans defense, Vanden Bosch has become an advocate for numerous charitable causes in Middle Tennessee. He formed his own charitable foundation – the KVB S.A.C.K. Foundation, which stands for "Supporting and Assisting Charities for Kids." In the short time that S.A.C.K. has been established, the foundation has raised well over $100,000 for it's partner charities. The S.A.C.K. Foundation continues to grow with each event and is quickly becoming a very recognizable charity in Middle Tennessee.
The following are his 2009 community service projects and events:
• Annual "Tailgate For A Cure" event held at LP Field this past September, a community-wide tailgate and fundraiser for the Cystic Fibrosis Foundation (CF) hosted by Kyle and his wife Lindsey. In addition, they host several families affected by the disease at Titans training camp.
• KVB's Birthday Brawl is an annual wresting event to benefit The Boys and Girls Club of Middle Tennessee. Vanden Bosch and his Titans teammates join pro-wrestlers for this fundraiser that has become one of the most unique charity events in Nashville and a must-see for Titans and pro-wrestling fans alike.
• KVB Media Center –In April 2009, in partnership with the Andrew Jackson The Boys & Girls Club, his foundation entirely funded the KVB Media Center, a multimedia arts center – a first of its kind for a local Boys & Girls Club. The multimedia center will offer technological tools for youth who look to creatively express themselves, while assisting in job skills and career development.
• Barn Bash - The Boys & Girls Clubs of Middle Tennessee (BGCMT) honored Vanden Bosch during the inaugural "Barn Bash, Celebrating the Youth of the Year" on May 15, 2009. Vanden Bosch was honored as one of the Sydney F. Keeble, Jr. Distinguished Service Award recipients, along with Casey Cramer. Over 450 guests were in attendance and brought in more than $160,000 (gross) for BGCMT to impact the lives of over 3,500 youth in five local Clubs.
• 3-A-Day Campaign: Vanden Bosch partnered with Purity Dairies to help promote "3-A-Day," a national campaign encouraging school age children to eat and drink three dairy products a day along with proper nutrition.
"I would like to congratulate all of the nominees this year and thank them for countless hours that they devote to the Mid-South," said Coach Jeff Fisher. "I am pleased that Kyle is being recognized for more than he does on the field. He is a terrific player and is committed to making our community a better place."
In addition to Vanden Bosch, the Titans will recognize a variety of players as Community All-Stars that have played an integral role in giving back to the community. Mr. Adams and the entire Titans organization are very proud of the terrific community efforts of all players, who continue to make a difference in the lives of those less fortunate in our community. While the award recognizes only one player, the Titans organization is honored to have so many players deserving of this recognition.
Since moving to Tennessee in 1997, the team's Community Man of the Year winners are:
2002, 2003, 2004
Kevin Carter