INDIANAPOLIS — The young lady was "probably every bit of 5-foot-2 and 100 pounds" but her moniker for someone much larger seemed to fit.
Tennessee Vols tackle Antonio Richardson, who measured in at 6-6 and tipped the scales at 336 pounds this week at the NFL Combine, still proudly accepts the nickname "Tiny" and, evidently, carries the weight well.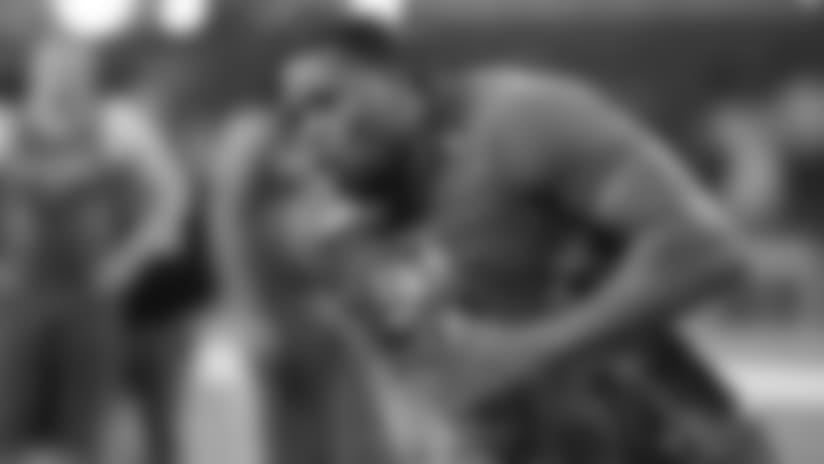 Tennessee Vols tackle Antonio "Tiny" Richardson goes through a workout during the 2014 NFL Scouting Combine.
"I was 16 percent body fat, so I guess that's a testament to how hard I've been working," Richardson said Friday. "They (measured Thursday) and were like, 'We've never seen anybody at that weight have a body fat that low.' "
Offensive linemen and tight ends began the on-field timing and testing component of the combine Saturday (click here for NFL.com's Results Tracker). It was a day after Richardson did 36 repetitions of 225 pounds in the bench press, which tied for second among offensive linemen behind the 42 by North Carolina's Russell Bodine.
Each of the more than 330 draft-eligible prospects has had a different journey to reach this point but share a common destination in their minds.
Richardson grew up in Mount Pleasant, Tenn., and moved to Nashville as a sophomore in high school. He plans for his playing weight to be in the 320s. Richardson believes he will be selected in the first 25 picks of May's NFL Draft, prompting him to forgo his senior season of eligibility.
"I'm a first-rounder," Richardson said. "If push comes to shove, I'm still blessed. If I don't go until the second round … it's a blessing either way."
Richardson played for Ensworth, which is where a schoolmate gave him his nickname. He transferred to Pearl-Cohn during his senior season and was unable to play the rest of the season because of transfer rules. His nickname went with him to Pearl-Cohn and on to UT.  
"(People) just say that's very ironic because you're not tiny, but you know, it's kind of like my trademark now," Richardson said. "People have been calling me that since high school. I do (like the name).
"For my trademark in the NFL, I want to be known as a hard worker," Richardson said. "I want to be a guy that comes into work every day. I want to pick up from the older guys, the veterans, and learn from them about being a pro and go to work every day. The goal is to be All-Pro, the goal is to be (in the running) for the Hall of Fame one day, but you've got to take baby steps to get there so I'm trying to do the little things."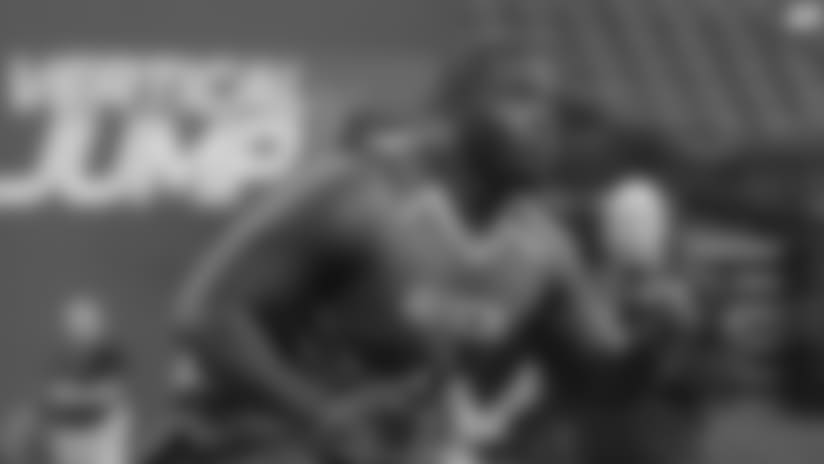 Vols center James Stone participates in a drill at the combine. The Nashvillian is one of four UT offensive linemen invited to the combine, along with Antonio Richardson, Ja'Wuan James and Zach Fulton.
Richardson is one of four Vols offensive linemen who was invited to the combine, along with T Ja'Wuan James, C James Stone (played high school at Nashville's Maplewood) and G Zach Fulton, a turnout so strong that Patriots coach Bill Belichick commented on it during his opening statement Thursday morning.
"It's interesting to see, almost the entire Tennessee offensive line there — I guess (Alex) Bullard (formerly of Brentwood Academy) wasn't there. But he could have been invited," Belichick said. "We could have had him too. Then we would have had the whole five offensive linemen from Tennessee. It's pretty unusual to see five guys from one school in that group. But obviously a pretty good looking group of players."
Richardson said he and James helped each other improve by challenging each other to be the best tackle possible and he enjoyed experiencing the combine with teammates, as well as Vanderbilt T Wesley Johnson, who played high school at Nashville's MBA.
"It's good to see guys representing from your hometown," Richardson said. "You always want to see guys do well, no matter what school they went to, but for Wesley to be from the state of Tennessee and go to Vanderbilt and be here, he's going to get drafted and that says a lot about the talent that Nashville produces."
Stone and Johnson said they have pride in representing Nashville and were grateful for the opportunity of participating in the combine.
"It feels good because we all came from the same kind of high school football system and went on to college and got to play together or against each other," Stone said. "It's great to see Wesley and Tiny here, and I look forward to seeing those guys perform as well.
"It's crazy when you think back to Maplewood and all the way back to Tennessee and to be able to make it here is phenomenal," Stone added. "It's something you look forward to from the time you start playing football. It's a great experience, a fantastic opportunity."
Richardson said the Vols' offensive line had some inconsistencies this past season but said "if you look at 2012-13 and combine that together, I mean, (it's) easily one of the top offensive lines in Tennessee history."
"We worked our butts off and we stuck together through all the adversity," Richardson said. "It's a brotherhood, a bond. Everybody who is here has worked for everything they've gotten, but I'm really proud to see my brothers here."