NASHVILLE, Tenn. — The 2014 NFL Draft has come and gone and the rookies have received pads, helmets and jerseys, but the memories that Titans Season Ticket Member Dale Patterson are lasting strong.
Patterson was one of 24 fans across the league who won a contest to participate in the Ultimate 2014 NFL Draft Experience courtesy of The Membership Club, a league-wide benefits program for Season Ticket Members.
NFL Commissioner Roger Goodell receives the No. 1 jersey from Titans Season Ticket Member Dale Patterson during the 2014 NFL Draft.
"It was real good, quite the experience," Patterson said. "I want to thank everybody again down there for all their efforts because it turned out to be a great trip. It was enlightening to see how it's all done down there. I got to meet some interesting folks and enjoy the city quite a bit as well. I'm glad it worked out."
Patterson delivered the customized No. 1 Nike jersey to NFL Commissioner Roger Goodell on stage at Radio City Music Hall moments after the Titans selected Taylor Lewan with the 11th overall pick. Patterson also met Goodell during a rehearsal for the event, received a Titans jersey of his own, was taken on a behind-the-scenes tour of the famed venue, delivered the 2014 New Era Draft Cap during a red carpet experience and received tickets to the second day of the draft to watch the second and third rounds unfold from an up-close perspective.
Patterson said the behind-the-scenes views and bonding with other fans were enjoyable experiences.
"I got to hang out with a lot of the folks from the other teams that were doing the same thing I was doing," Patterson said. "It was just a really, really wonderful time. We all hung out at the hotel together and emailed each other. I've got a feeling we'll be keeping in touch when the respective teams come to Nashville, so I made a bunch of nice friends."
He also was able to take a boat cruise to the Statue of Liberty, see Ground Zero and the Freedom Tower and tour the Intrepid Sea, Air & Space Museum aboard the aircraft carrier of the same name that launched in 1943. Aboard the Intrepid, Patterson, who is a pilot of a small plane for business trips, was able to look at the space shuttle Enterprise, a British Airways Concorde and other fighter jets.
"It was a real enjoyable experience, and I'd be happy to volunteer to go back next year," Patterson said with a laugh.
Full Season Ticket Members, Club Seat Holders or Suite Owners from all 32 clubs are automatically inducted to The Membership Club (click here for more information). Exclusive benefits of membership include access to NFL RedZone on smart phones and NFL Game Rewind.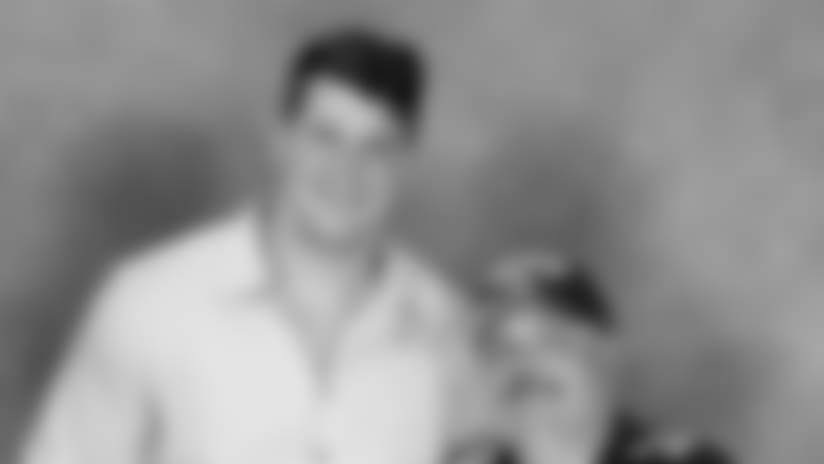 Titans tackle Taylor Lewan receives a game ball from Titans Season Ticket Member Danny Rubley on behalf of the "12th Titan".
SPECIAL GUEST: Another Titans Season Ticket Member, Danny Rubley also had a memorable 2014 NFL Draft weekend.
Rubley, of La Vergne, won a contest he entered during the Draft Party for Season Ticket Members at LP Field on the opening night of the draft.
A Season Ticket Member since 2000, Rubley won a behind-the-scenes tour of Saint Thomas Sports Park that included meeting Titans general manager Ruston Webster, coach Ken Whisenhunt and Lewan. Rubley attended the press conference in which Lewan was introduced and presented the first-rounder with a football from the "12th Titan" during Lewan's photo shoot.