NASHVILLE, Tenn. — Tennessee's coaches decided to toss aside the script for the team's mini-camp, and the decision is drawing rave reviews from Titans players.
Coach Mike Munchak opted to use Tuesday's return to the field to push players and coaches through a simulated game and will do so again Wednesday.
Instead of reviewing a card before practice snaps, the offense and defense received scouting reports on the other's tendencies, and plays were communicated via radio to the offensive and defensive huddles.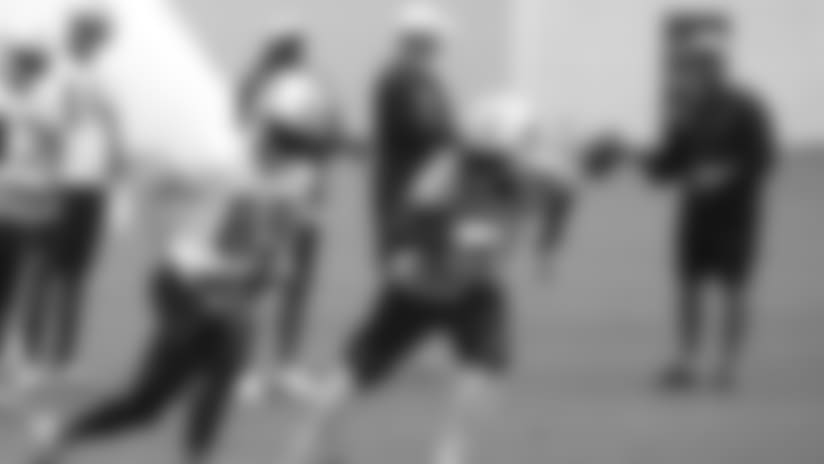 Nate Washington and Alterraun Verner warm up before Tennessee's simulated game during its mini-camp.
The offense drove the ball for a touchdown early, the defense came up with a goal-line stand on the final play, and there were multiple highlights and quick decisions in between. Players on each side of the ball saw benefits.
"It's preparing you, getting you ready," safety Michael Griffin said. "One thing that was special for the young guys was being able to jot down notes, take down notes and be able to transform it on the field. It also lets our coaches to be able to see if what they told us in the meeting room can transfer all the notes they gave us on the field so it's a game-like situation and gives the coaches a better look of what we can do on the field."
Quarterback Jake Locker said "it was good to get some real situations."
"You have a list of plays you know could possibly be called but you've got to execute and know a larger amount so I'm excited about that," Locker said.
Players are allowed to wear helmets but not pads during this week that is the conclusion of a nine-week offseason program. The team will then break for five weeks before returning for training camp. The OTAs were voluntary but well attended, and allowed gradual progression through drills and installation of schemes, but Munchak wanted to test retention and reaction this week.
"I thought it was good," Munchak said. "I thought it was good for everyone, for the coaches, for the staff, for the players to be put in situations where they weren't quite sure what was going to be called everything was in on both sides of the ball like it would be for a game."
Receiver Nate Washington and Jason McCourty said the simulated games are a way to create helpful challenges.
"Our OTA practices were scripted and everything was scripted, as far as what we were doing in the periods and the plays being called, as far as which players were going to get which plays," Washington said. "With it being unscripted right now, it's keeping us on our toes. We don't know what we'll get, we don't what position we'll be in so it's giving us the ability to make some plays."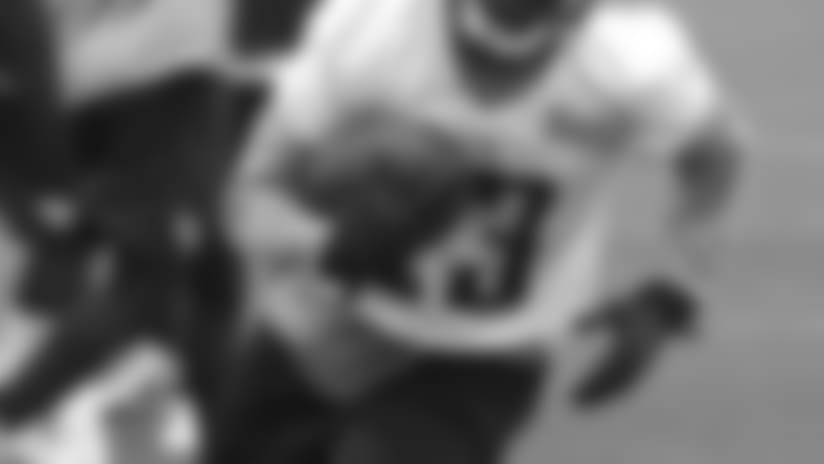 Kendall Wright warms up before the simulated game during which he caught a deep touchdown.
Two of the most impressive plays came on deep passes down the sidelines from Locker to Kenny Britt early — the officials calling the simulated game ruled Britt in-bounds despite objections from defenders — and Kendall Wright, the latter of which hit the second-year pro in stride to enable him to streak for a touchdown.
The exclusion of hitting and tackling may tip the scales toward the offense, but McCourty said it was important for a Tennessee's defensive players to respond to the early touchdown.
"The offense came out on the first defense and drove down and scored seven points. That's a game-like situation," McCourty said. "That's going to happen and now it's to those guys on defense, 'How are we going to respond?' and to the guys on offense, 'How are you going to respond? Are you going to keep it going, or are you going to get flatfooted a little bit?' So I think situations like this are a perfect time to learn game situations and get a feel for how it's really going to be."
Defensive newcomers Bernard Pollard and Moise Fokou, who are with their fourth and third NFL teams respectively, said this was the first time they've played simulated games during mini-camp.
"I've never done this before. It's a great changeup," Pollard said. "You're putting us in game-like situations so that's what we need right now. We are a team that we need to understand what it's like when the clock is running, what it's like when we've got referees out there. They're going to throw flags. Well, obviously the refs we had out there looked like they were the lockout refs, but we've got to be a lot better, but they're probably in there eating lunch, so they're getting that free lunch, but we have to be a lot better with what we're doing. We're going to have some letdowns, but we have to have short memories and go out there and play some ball."
Fokou said it was good for the defense to work through the flow of the game with the different packages that defensive coaches have in mind for 2013. He said this mini-camp is unlike his first three in Philadelphia and last season in Indianapolis.
"Everything's always been organized and structured," Fokou said. "This one kind of allowed players to simulate game things such as red zone, open field, two-minute and you kind of had to think on your feet with no coaches on the field. The players had to make their adjustments. Even though it's early in OTAs and mini-camp, it was good for us to think on our feet and move fast."