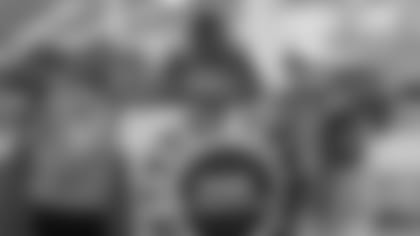 Running back Chris Johnson (28) joined wide receivers Kenny Britt (18) and Marc Mariani (83) on Thursday, continuing arguably the best lineup of players in Titans Caravan history.
NASHVILLE, Tenn. -- "The best Titans Caravan ever."
That's how Bob Hyde, Titans Vice President of Community Relations, termed the April 30-May 11 adventure, which covered nearly 2,500 miles and 50 different stops. Bob should know if it's the best
Titans Caravan ever; he's had involvement in all of them.
Backing up Bob's claim, you must take into account the following...
• The best lineup of players in Titans Caravan history. Here's the proof: only one player who appeared was not a current starter or a special teams' standout with a Pro Bowl on their resume' (Rob Bironas and Marc Mariani). Who is that one player? Jake Locker, hardly a dud. Locker might well be a starter in 2012 and is going to be the face of the franchise in the years to come. Titans fans came out to see the young star in droves in Cookeville, Knoxville and Chattanooga. The fan interest in Locker was rivaled by the first-ever Titans Caravan appearances of Chris Johnson, who joined Mariani and Kenny Britt for huge appearances in Huntsville and Florence, Ala. And hats off to Clarksville, Bowling Green, Kent. and Jackson, Tenn., who once again had massive numbers of people at their Titans Caravan stops. 
• The head coach leads the way. On May 4, Mike Munchak gave Titans Caravan an entire day, largely in southern Middle Tennessee. He was the same Munchak that everyone has come to know over the past 15 month: friendly, sincere and hard-working. No one who met Munchak was disappointed.  The double-dip of Munchak's autograph made him an extra-appealing Titans Caravaner, as you not only get an NFL head coach when Munchak signs, but also a 2001 Pro Football Hall of Famer. One man drove from Marietta, Ga. to Pulaski, Tenn. just to get Munchak's John Hancock.   
• We play the Legends. Titans Caravan featured a "Legends Day" on May 7, as Blaine Bishop and Frank Wycheck hit the road for a full day. Reaction to the two Titans greats was predictably huge. It was exciting to see for two main reasons. First, that Titans fans appreciate these two great players in a special way. Second, that after 15 years in the region, sharing Titans history with the fan base is another exciting aspect of Titans Caravan. It will be a surprise if "Legends Day" doesn't become a permanent part of Titans Caravan moving forward.
• The Titans Caravan school program. Over a decade ago, Titans Radio's Larry Stone and Pete Nelson constructed an elementary school program that could be performed multiple times daily, even as Titans players were swapped in and out. Of course, seven-time Pro Bowl mascot "T-Rac" was the star of that show. Today, the roots of that initial program are still evident in T-Rac's all-new" Play 60" school  program. But the addition of the Tennessee State Parks has made it bigger, better and more entertaining. Tennessee State Parks' rangers bring live animals to each elementary school, the Tennessee State Parks' mascot "Ramble" makes an appearance and there are exciting video elements, including messages from Titans players. Plus, the show has its own two hosts, Morgan Gilman and Titans Radio's Rhett Bryan. Even with all of the fun that takes place, the message of "Play 60" never gets lost. Students are encouraged to get at least 60 minutes of activity each day, to eat well, to get their rest, to take school seriously and to listen to their teachers and parents. The show had been performed 26 times before Titans Caravan, so the crew was well-seasoned by the time that Titans Caravan hit the road. Titans players were an added bonus on Titans Caravan, making the performances even more electric. More than 27,000 students saw the show in 2012.   
• The tightest Titans Caravan schedule in nearly a decade. Since there was no Titans Caravan in 2011 due to the lockout, the team was committed to doing as much as possible this spring. Due to the fact that the players did not return for the off-season program until April 23 (due to the new Collective Bargaining Agreement), Titans Caravan would have to be two weeks later than in years past. It also meant two weeks would be the maximum length of the trip. But the staff sought to use all 10 days to their fullest. Earlier starts. More stops. More miles. Later nights. Less rest. Titans Caravan drivers Jerry Blessing and Scott Price both get tips-of-the-hat for making the schedule work, even while asking, "Who the heck came up with this?" 
• Enthusiasm and expectations are back. Titans Caravan crowds were the largest since 2009, the spring after the Titans won the AFC South. In some cases, fans lined up four or five hours early to meet the players. They came with items to be autographed. They came to get a picture. And they came with questions about the current team, the draft that took place last month and their thoughts on where the team is going. Overall, they are very optimistic about the Mike Munchak era. Top three topics...
1. When will Jake Locker be the starting quarterback? (number one topic by a wide margin)
2. What do we need to do to get the run game fixed?
3. What will it take to make the playoffs? 
Fans left the Titans Caravan staffers with one clear message: they now have expectations again. When the fans shared those thoughts in person with Mike Munchak on May 4, he smiled. "I do, too," Munchak replied.
And after "the best Titans Caravan ever," there will be expectations for next May, too.  There are probably more efficient ways to use advertising, community relations and marketing resources than to do Titans Caravan. The Titans hear it all of the time. It costs money. It takes a lot of staff. It requires a lot of planning and a lot of coordination by a lot of people. Chuck Bidek from the Insurors of Tennessee, Laura Franklin from Tennessee State Parks, Lee Elder and Charles Buchanan from the US Army and the staff at Grand Avenue all get special thanks in this area, as do all of the Titans advertising partners and hotel and restaurant staffs that go the extra mile to assist Titans Caravan.
As someone always says during Titans Caravan, "You guys are crazy for doing this."
But here's what crazy gets you...
A man in his mid-to-late 20's approached the autograph table at one Tennessee stop, holding an infant. As he got an autograph and a picture with his youngster and the Titans players, he said, "When I was in high school, my dad brought me to Titans Caravan. Now, I'm bringing my son."
The tradition continues...and that's why Titans Caravan stays on the road.
Thank you to Titans Fans throughout the Mid-South.