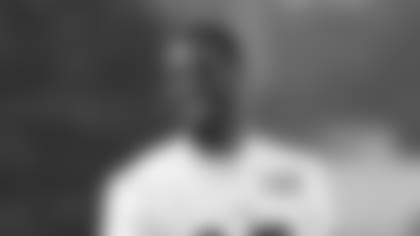 Wide receiver Kenny Britt meets with NFL Commissioner Roger Goodell on Tuesday.
NASHVILLE, Tenn. - Titans wide receiver Kenny Britt will meet Tuesday with NFL Commissioner Roger Goodell to discuss his arrests during the lockout, and he's praying he doesn't get suspended.
"I guess they finally found me,'' Britt said Monday with a smile. "But yeah, I heard from coach (Mike) Munchak, and we'll meet tomorrow and see what happens.''
Britt made lots of headlines during the NFL lockout with two arrests in New Jersey, and he also surrendered himself on two arrest warrants in Tennessee for giving inaccurate information on driver's license applications. The 2009 first-round draft pick out of Rutgers has had seven incidents with police since being drafted.
The receiver won't miss practice for this meeting because Munchak surprised the Titans on Monday by telling them training camp now is over. He also gave them Tuesday off while coaches use the day to plan for Saturday night's exhibition with Chicago.
Britt said he'll go into the meeting with his chin held high because his father raised him to be a man who takes responsibility for his actions. Asked about whether he might face suspension, Britt said everyone goes through things in life.
"We're allowed to make mistakes as human beings and if we don't learn from it, then I could see some discipline,'' Britt said. "But I'm actually learning from it. I'm going forward and trying to do whatever I can for the team.''
Right guard Jake Scott, the Titans' player representative, said he anticipates a legal fight if Britt is suspended or fined for anything that happened during the lockout because players received letters confirming they were not part of the team.
"Roger's probably right ... even if he doesn't punish him for what happened in the offseason to say, `Hey, I'm watching you going forward,' which he'd be right if that's what he does,'' Scott said. "He would be well within his right to say that, and it would probably be a good thing for him to do.''
Munchak said he doesn't think Britt faces a suspension at this point and believes Goodell just wants to get to know the receiver.
"They've never met,'' Munchak said. "They don't know each other, and I think it's more of just kind of like I did. I know Kenny when he came back in just kind of wanted to hear what's going on, let him know what's expected of him and that there'll be consequences if things go further.
"Hopefully, they'll just have a good talk.''
Britt has been working through a sore right hamstring this training camp and has yet to play in the preseason. The 6-foot-3 Britt is expected to be the No. 1 receiver when he does get back on the field after having the best game in the NFL last season with a career-best 225 yards receiving against Philadelphia on Oct. 24.
NOTES: The Titans learned the news that camp ended a day early when Munchak pulled them together at the end of practice Monday. ... Munchak said QB Matt Hasselbeck will return to practice Wednesday after sitting out Monday. ... The Titans finished with the traditional dizzy relay, though this version for rookies featured no baseball bats and only a football. Veterans still doused them heavily with icy water, and rookie receiver Joe Hills was taped to a goal post before being drenched. Rookies returning to the locker room also found their clothes dumped into the cold tub.