**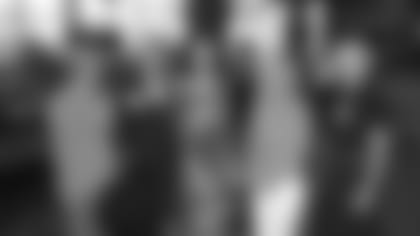 The Titans Women's Association includes female staff and wives of Titans players, coaches and staff.
NASHVILLE, Tenn. --** The Tennessee Titans Women's Association kicked off the season in style with a luncheon at LP Field on September 17th. This annual luncheon serves as an opportunity for the women of the organization (female staff and wives of Titans players, coaches and staff) to get to know each other, discuss charitable projects and an overview of what to expect the season.
Steve Underwood, Senior Executive Vice President; General Counsel, and Executive Assistant to Chairman of the Board, welcomed the group and shared the importance of the women in the Titans organization and their role in the success of the organization. Mr. Underwood then introduced his wife, Frances, who spoke very kindly of the late Mrs. Adams, referring to her as "the ultimate Titan woman".
Mrs. Nancy Adams was a co-owner of the organization for 49 years and sadly passed away in February of 2009. Mrs. Adams was the epitome of what a Titans woman should be as she was a gracious and kind woman who found a friend in everyone she met. Mrs. Adams was deeply charitable and many lives have been touched since she and Mr. Adams began the Titans Foundation in 1999.
Additionally, Tresa Halbrooks, Titans Manager of Community Relations and Tina Tuggle, Titans Director of Player Development, shared their insight and programs for the 2009 season. It is through this luncheon that the organization hopes to foster good relations with Titans women to further the Titans work in the Nashville community.
After the luncheon, attendees enjoyed a brief fashion show hosted by the Tennessean's "Shopping Diva", Cathi Aycock, and provided by Flavour Clothing Boutique of Nashville and shoes by Monkee's of Nashville.