**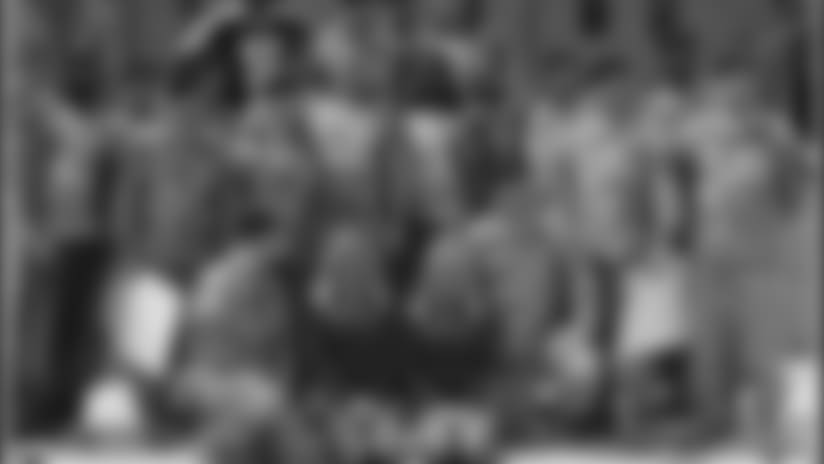 Titans players and cheerleaders pose with soldiers from Fort Campbell during the team's visit to the Army base.

NASHVILLE, TN, May 1, 2008 — **The Tennessee Titans recently wrapped up their 2008 Caravan tour with a heart-felt trip to Fort Campbell, Ky., home of the U.S. Army's 101st Airborne Division, visiting with soldiers and families of those currently serving the United States overseas.
Fort Campbell, located on the Kentucky/Tennessee border between Hopkinsville, Ky. and Clarksville, Tenn., supports the third-largest military population in the Army and the seventh-largest in the Department of Defense. The 101st Airborne Division is a rapid deployment division trained to go anywhere in the world in 36 hours. The 101st Airborne Screaming Eagles stationed at Fort Campbell are members of the only air assault division in the world, and use helicopters as the primary means of transportation for the division.

Linebacker David Thornton, fullback Casey Cramer, cornerback Reynaldo Hill, and safeties Chris Hope, Vincent Fuller and Calvin Lowry joined "Voice of the Titans" Mike Keith, Titans mascot T-Rac, and Titans Cheerleaders Brooke and Tandra for an entire day on the base, offering words of encouragement and friendly smiles that seemed to lift the morale of those around them.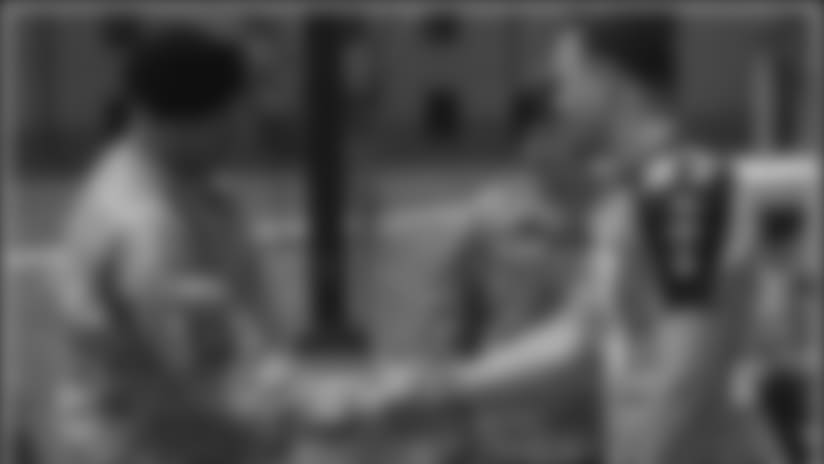 Safety Calvin Lowry shakes the hand of an Army Sergeant during the team's trip to Fort Campbell.

"Most of the units here are deployed, so the families are lonely and depressed missing their loved ones," said Staff Sergeant Samantha Wood. "When stuff like this comes to Fort Campbell, it helps raise the morale of not only the family members, but the soldiers themselves because their family calls them and says, 'Guess who I saw today?' There's been a buzz around here ever since we heard the Titans were coming."
The Titans began their day at the Blanchfield Army Community Hospital, where they spent time with soldiers receiving occupational and physical therapy from injuries sustained in Iraq. The soldiers, known as "Warriors in Transition," need up to six months or more of medical care.
Sergeant David Smith of Pensacola, Fla. was rehabbing from a torn meniscus in his knee when Titans players entered the room.
"Right now doctors are saying I don't have enough strength in my quads or hamstrings, so they're trying to strengthen that up so I can start running again," said Smith, who has already served a pair of 12-month deployments in Iraq. "We really appreciate the players coming here to support us. It means a lot to everyone here."
Players realized their football injuries are much different from those sustained by soldiers in war overseas.
"On a small scale, I kind of understand, but I'm playing a game. They're playing to protect our lives," said Hope, who spent countless hours rehabbing from a spinal cord injury last season. "You're talking about a game that we play. It's entertainment. These guys are really sacrificing their lives, putting it on the line every day for our freedom. It's just a blessing to be among them."
Players, including Thornton, were quick to point out that the soldiers are the true heroes.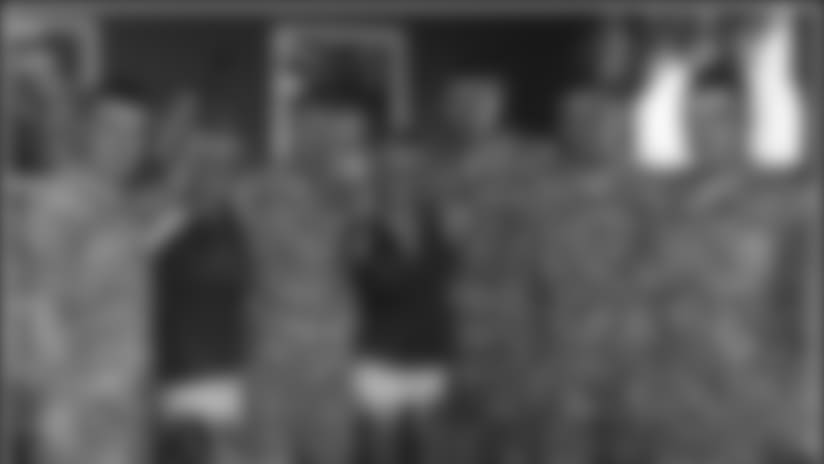 Titans cheerleaders pose with Fort Campbell soldiers.

"For us to be here today is an honor. It's just a blessing to be here and encourage them, but they don't realize how much they encourage us," Thornton said. "Most of the guys on our team have been through rehab at some point, so we can relate to each other on that front. But it means more to us that they go out and represent our country the way they do so we can have the freedoms that we have."
While never seeking sympathy, retired staff Sergeant Brian Price said it felt nice to be appreciated. "I really appreciate it because we fight for our country and a lot of people don't realize the things we do. But I don't always understand why people think we're the heroes. I don't really know how to put it. I've always felt honored that I could serve my country. That was enough for me."
After interacting with troops during lunch at the 4th Brigade dining facility, the Titans visited with players from the Fort Campbell High School football team, which captured the Kentucky 2AAA State Championship with a victory over Newport Central Catholic last season.
While pointing out the small percentage of players that ever make it to the NFL, Titans players encouraged the team to make the most of its opportunities, study hard in school, stay out of trouble and never give up. Each Titan also told his personal story of how they overcame several obstacles to make it in the NFL.

Titans players take aim at the Engagement Skills Trainer Marksmanship Facility at Fort Campbell.

"I think their message will have a great impact, especially about what to do off the field," said Fort Campbell head football coach Shawn Berner. "They came in with a positive message and our guys really benefit from this each year they come over here and do this. They look up to these NFL athletes and it gives them a drive and motivation to overcome some obstacles and continue to grow and be successful themselves."
Titans players later tested their skills shooting a variety of simulated guns at the Engagement Skills Trainer Marksmanship Facility. The facility is used to teach soldiers the proper safety, techniques and skills needed to fire all weapon types, ranging from M16 rifles to MK19 40mm grenade machine guns, on simulated target ranges.
Afterwards, players wrapped up the day at the Army and Airforce Exchange Service, also known as the PX. The 160,000 square foot facility is the largest military PX in the world.
Fans lined up across the store eagerly waited the arrival of the Titans, who were humbled by the turnout.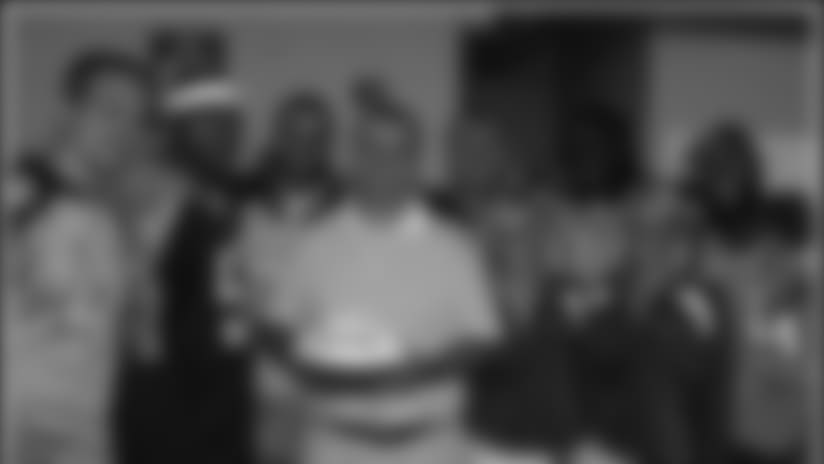 Titans players and cheerleaders pose with Fort Campbell head football coach Shawn Berner.

"We're just handing out posters and giving away autographs and they're the ones giving away their lives for the United States," Cramer said. "I think it's great that we're able to hang out with them, but they're the ones giving the most. It means a lot because I have a family member who is over in Afghanistan right now, so it means a lot to me to be here and help put a smile on their face."
Sergeant Kerry Schwab said the Titans' visit could not have come at a better time.
"My husband just left for Iraq yesterday, so this is something where we can get out of the house and see other people," said Schwab, whose husband held the Fort Campbell flag during a special tribute to military troops at last year's Titans/Jaguars game at LP Field. "These autographs are going to be the first thing in his care package."
Retail manager Elizabeth Goodman-Bluhm said the visit was a win-win for both the Titans and families of Fort Campbell.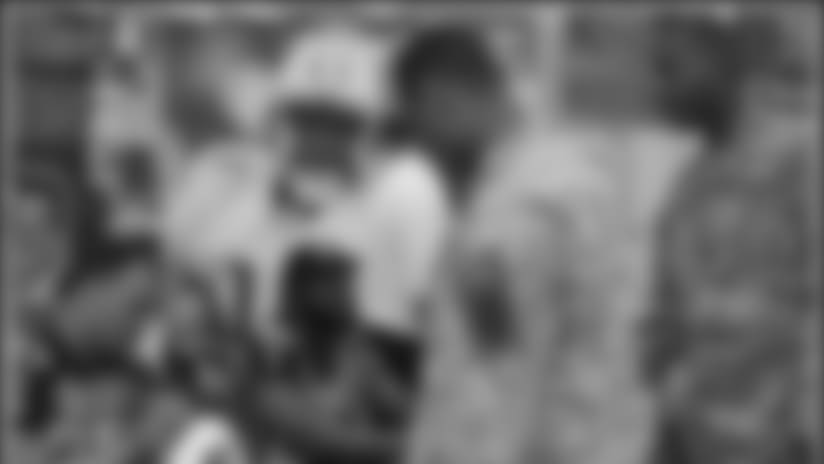 Calvin Lowry and Chris Hope sign autographs at the PX.

"Most of our soldiers right now are deployed, so doing something for the family members that are left behind is just heartfelt," she said. "We enjoy doing things like this for the community and it's just a win-win situation. We thank the Titans for coming out here."
For Titans players, the feeling was mutual.
"The trip to Fort Campbell is one of the trips we look forward to the most during Titans Caravan so we can meet the soldiers and say thank you for everything they do for us," added Fuller.