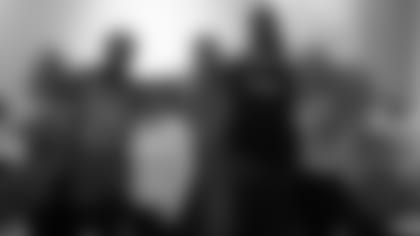 Titans players and cheerleaders visited with soldiers at Fort Campbell this past week.
NASHVILLE, Tenn. --Titans wide receiver Kenny Britt and defensive back Ryan Mouton, along with Titans cheerleaders Brintley, Brooke, and Stormi, paid a visit to Fort Campbell this week as part of the grand opening ceremony of Fort Campbell's new USO facilities.  The facility is dedicated to service soldiers and family members in a number of capacities, from gaming to family counseling.
The Titans group thoroughly enjoyed themselves and welcomed each fan with a huge smile.  During the visit, Britt and Mouton greeted a number of guests and soldiers, posed for pictures, signed autographs and even played a little pool with the USO visitors.
"I thought it was a really cool place," said Mouton. "We enjoyed visiting with the troops. It's always nice to hang out with the troops.  I'm sure they do not have the chance to watch as many games as often as they would like, and for all they do, it's nothing for us come out and do something cool for them."
Brintely, Brooke, and Stormi welcomed the USO visitors warmly, taking pictures and passing out cheerleader posters.  Brintely and Brook also had a blast taking part in the gaming activities available at the facility. They displayed their dance skills by taking part in the interactive dance video games.
Titans cheerleader, Stormi, loves supporting the USO because of her direct connection with her husband stationed in Fort Campbell and she has volunteered at the USO in recent months.
"I feel strongly about the USO, especially since my husband is in the military," said Stormi. "It feels good knowing there is a place over there like the USO that will make him feel at home.  Since they are overseas, it's nice to have that sense of home where they can also call home or connect with the internet."  
Since before the United States entered World War II, the USO (United Service Organizations) has been the bridge between the American public and the U.S. military. In times of peace and war, the USO has consistently delivered its special brand of comfort, morale and recreational services to the military. The
USO, a congressionally chartered, private, nonprofit organization, relies on the generosity of individuals
and corporations to support USO activities.
Today, the USO delivers its programs and services at more than 150 locations in 27 countries. In recent
years, the USO opened centers in Kuwait, Qatar and Afghanistan to support service members participating in Operations Enduring and Iraqi Freedom, as well as centers in Vicenza, Italy, and at the Dallas/Fort Worth, Raleigh/Durham and Denver International Airports.
Military personnel and family members visited USO centers more than 5.3 million times last year. Services include free Internet and e-mail access, libraries and reading rooms, housing assistance, family crisis counseling, support groups, game rooms and nursery facilities.