NASHVILLE, Tenn. -- The Titans are committed to living united. And they did so this past week. As Nashville students made the long journey from summer vacation back to the classroom, the Titans partnered with United Way to make that transition for students a little bit easier.
Titans Staff and Wives went to Buena Vista Elementary this past Tuesday to support students as they made their way back for the start of a new school year. Students ran, walked, and skipped down the hallways. Volunteers worked as greeters. Some walked along with the kids, directing them to their new classrooms. Others handed out bags to students as they got situated in their classrooms.
Titans Senior Vice President and CFO Jenneen Kaufman gave an overview of what goes on before the bags can be sent out.
"It's a huge community wide event. It really starts in June," Kaufman said. "All the businesses in Nashville start with collecting school supplies -- folders, pencils, markers, paper, all of that stuff. They collect in June and July. Then last week, we gathered at Nissan stadium for the stuffing of the bags. We stuffed over 11,000 backpacks."
Over 1,000 volunteers gathered at Nissan Stadium to stuff the bags for students in these Metro schools. Mike Keith even made an appearance, or at least his voice, as he emceed the event.
"We are giving backpacks to every student at 14 schools," Kaufman said. "In addition to those 14 schools, every teacher is getting a teacher box of school supplies. Most of the teachers take money out of their own pocket to pay for supplies. And in addition, for students who are not at the schools, the extra bags are going to these resource centers."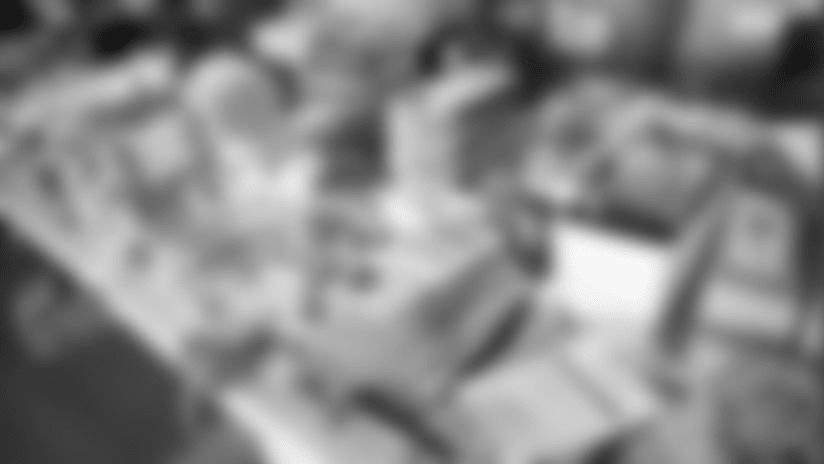 The students were in for a sweet treat when they were presented with backpacks full of supplies. Not only do they get to use these new school supplies, but they get to keep the backpack with the United Way and Titans logo on them.
Mary Jo Wiggins from United Way has worked this event for years. Each year, the event has gotten bigger and better, she said. There are more donations and more volunteers, meaning more young scholars can benefit.
"Ten years ago, when we started, we collected enough supplies to fill 1,000 bags with school supplies and we delivered those throughout community to our community resource centers. As the event has grown and we have had more corporate sponsors like the Titans and corporate volunteers, we have been able to fill more backpacks every year. This past year we filled 11,000 backpacks and we were able to give the backpacks to every kid at 14 schools," Wiggins said.
"We select the schools based on need, then we also had enough backpacks that we deliver them to family resource centers and to other nonprofits in the community that are working with families and children so that if there is anyone that needs to access these school supplies then they can still access them. The goal is to leave no box unchecked. United Way and The Tennessee Titans as corporate partners really do value the community and want to provide the best for these young scholars.
"But the other thing that's important other than just the supplies themselves is the community comes out and that we want them to have a great start to their schoolyear," Wiggins added.
What's more important than anything is that the community cares, and they have done so with actions rather than words. This community really comes through for one another!