**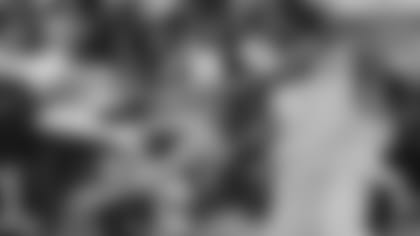 Rookie DT Sen'Derrick Marks visited with students at Margaret Allen Middle School in south Nashville.
NASHVILLE, Tenn. --** Titans 2009 second round pick Sen'Derrick Marks kicked of Titans Tuesdays with a bang while visiting Margaret Allen Middle School in south Nashville. Each Tuesday during the season, players spend their only day off at local middle schools and hospitals visiting with students and patients respectively, as a way to encourage the people that cheer for them on Sundays.
In addition to Marks' school appearance, five players visited with patients at Baptist Hospital. Keith Bulluck, Stanford Keglar, Gerald McRath, Mike Rivera and Stephen Tulloch kicked off the weekly visits to Baptist and Saint Thomas Hospitals (**Click here for photos**| ***video**of the linebackers' Baptis Hospital visit).*
Held in the school's gymnasium, with Marks standing in the middle and students on bleachers on both sides, the first-year player spoke to the 700-plus students about the importance of making the right decisions, his road to the NFL, being a leader, and staying active.
"Growing up, I was thrust into the leadership role because of my younger siblings," said Marks. "I was responsible for them and for them to look at me as an example was all the motivation I needed to do well in school. That self-motivation is in all of us and if we truly want to achieve something, we can. Focus, be positive and go with your heart."
Marks did a lot of encouraging in addition to talking about a typical day as a player with the Titans.
"I pretty much go to school every day like you guys," smiled Marks. "I carry a backpack with books, every day we have meetings, I have to study and Sunday is our test day. Know that learning is ongoing and by creating good study habits now, you will be much more prepared later."
For school Principal Ganet Johnson, Marks is the best kind of role model there is.
"The thing I liked the most about Mr. Marks when addressing our students was the honesty that he displayed," said Johnson. "He didn't mind talking openly and directly to the kids and those are the kinds of role models every middle school child needs. I am so grateful to Mr. Marks and the Titans for choosing us and this visit will be one our students will be talking about for a while."
A multi-sport athlete growing up, Marks also encouraged the students to be physically active as part of the Titans WHAT MOVES U/Play 60 initiatives in conjunction with the American Heart Association. The program encourages youth to get an hour of physical activity each day in effort to fight childhood obesity. This season, as a part of the Titans What Moves U program, there will be six-week challenge at the schools the Titans visit for students to become more physically active. One dedicated student from each participating school will be chosen to attend a meeting with Coach Jeff Fisher and tour the Titans facility at the end of the season.
In addition to the Titans' commitment to promoting fitness, nutrition, and physical activity of kids through the What Moves U program, the team is also working with The National Dairy Council (NDC) to promote healthy lifestyles. As part of a five-year program and $250 million commitment, the NDC and NFL will encourage students to adopt healthy behaviors, make nutritious food choices, and actively inspire positive change among their peers.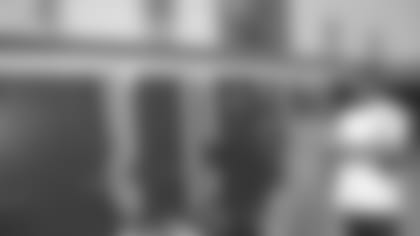 Veteran LB David Thornton partnered with D1 Sports Foundation and helped unveil new weight equipment at Whites Creek High School.
Also taking part in Titans Tuesdays activities was LB David Thornton. Thornton partnered with D1 Sports Foundation to present the first "D1 Clinic" at Whites Creek High School, providing students of the school with inside information on how to get the most out of their amateur athletic careers. Thornton was also on hand to unveil the brand new weight equipment the D1 Sports Foundation is providing as part of its "Iron Sharpens Iron" weight room grant.
"It was exciting for me to take part in the D1 dedication ceremony for a new weight room at Whites Creek High School," said Thornton. "They donated wonderful weight room equipment to the school and it was also an opportunity for me to share my story, just encourage the kids about working hard, persevering and reaching for their dreams and goals."
Thornton, the Titans 2008 Community Man of the Year, makes it a point to assist the needy in the community. This past summer, Thornton held free youth football camps in his hometown of Goldsboro, NC as well as in Nashville.
D1 Sports Foundation is a non-profit organization dedicated to offering the very best athletic training and equipment to financially-challenged student-athletes and schools. The foundation offers unique training experiences and clinics to deserving student-athletes, and provides new weights and training equipment for schools in need.