NASHVILLE, TN, OCT. 23, 2008 —Fresh off of their victory over the Kansas City Chiefs, Titans players once again spent their day off brightening the days of others by visiting local hospitals and schools. Defensive backs Vincent Fuller, Michael Griffin, Nick Harper, Tuff Harris, Chris Hope and Cary Williams visited patients at Baptist Hospital while linebacker Colin Allred made a surprise stop at J.T. Moore Middle School and David Thornton at Glencliff High School. Titans Tuesdays is a weekly program where players make community visits each Tuesday throughout the season.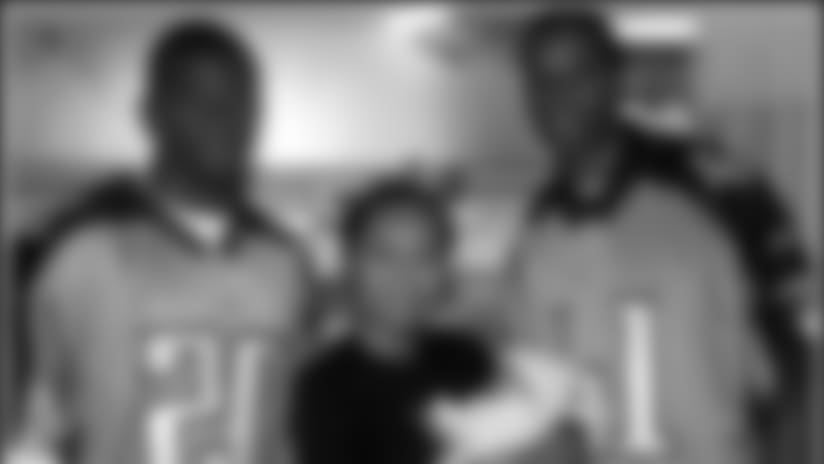 Cornerbacks Nick Harper and Cary Williams visit with a new born baby and the mother while at Baptist Hospital.

After splitting up into three separate groups, the defensive backs along with nurses and Kathy MacLachlan and Frances Underwood (both wives of Titans executives) covered different parts of the hospital by visiting with newborn babies, pre and post operation patients and expecting mothers among others. The patients shared their joy in the team's success this season.
For rookie cornerback Cary Williams, it was an experience he thoroughly enjoyed. "Coming into today, with me a new guy and all, I really wasn't sure how people would react to us visiting them," said Williams. "I knew they would be happy to see us, but I didn't think it would mean as much to them as it did. It inspired me to see that they were inspired by us and I'm already looking forward to my next visit."
Thornton, one of the team's most community-oriented players made an impromptu visit to Nashville's Glencliff High School. As part of the Vanderbilt Leadership Program whose focus is on the health, nutrition and well-being of predominately athletes, Thornton spent the morning re-enforcing the program's mission while offering tips and insight into the training, nutrition and work-out regimiens of professional athletes. Over 100 9 th-12 th graders are involved in the program and had the exclusive opportunity to meet Thornton and ask questions at the conclusion of the assembly.
Allred spoke to students, encouraging them to work hard in school, make good choices, eat well, stay physically active and just as the Titans are 6-0, the J.T. Moore Matadors are also undefeated in 2008. Even with the success of both teams, Allred addressed how important it is to not dwell on mistakes or disappointment.  He pointed out that if you do not move on from a mistake, you will not be able to succeed at the next task.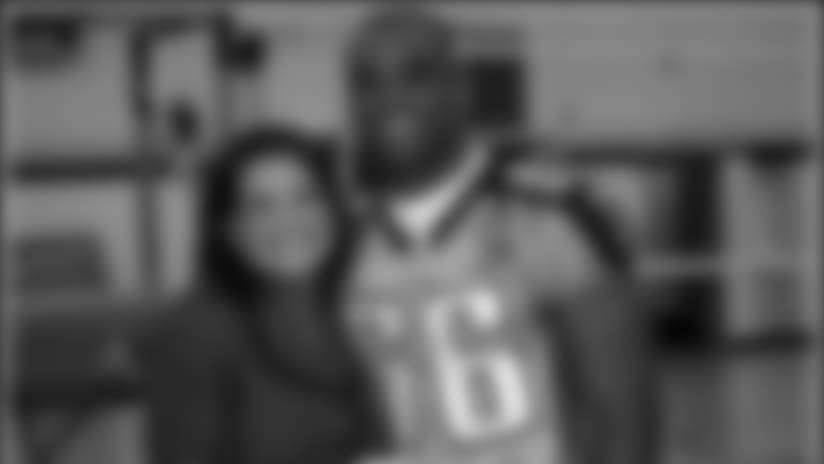 Linebacker Colin Allred presents J.T. Moore Middle School and Principal Jill Pittman with an autographed football.

"We are a goal-oriented school, concentrating on academic, achievement, and athletic goals, so it's a perfect fit for Colin Allred to come reinforce the importance of setting goals," said Jill Pittman, Principal at J.T. Moore.
Much to the delight of the Moore faculty, Allred revealed that he probably would have been a teacher if he was not playing football.  Just as Allred told the students, "you can do anything you want with a good education". A point well taken as he too has had many opportunities in addition to football. After graduating from Baylor in December 2005, Allred was admitted to the University Of California Berkeley School Of Law.
In addition to academics, he spoke about the importance of staying healthy and how important it is to stay away from bad substances.  He encouraged the kids to put the right foods and fluids, like water and milk, in their bodies and to exercise at least 60 minutes per day.  While Allred was a very active teen as a football, baseball, and basketball player, today six out of 10 children ages nine to 13 don't participate in any kind of organized sports or physical activity outside of school.  Only one in four kids get 30 minutes of physical activity each day.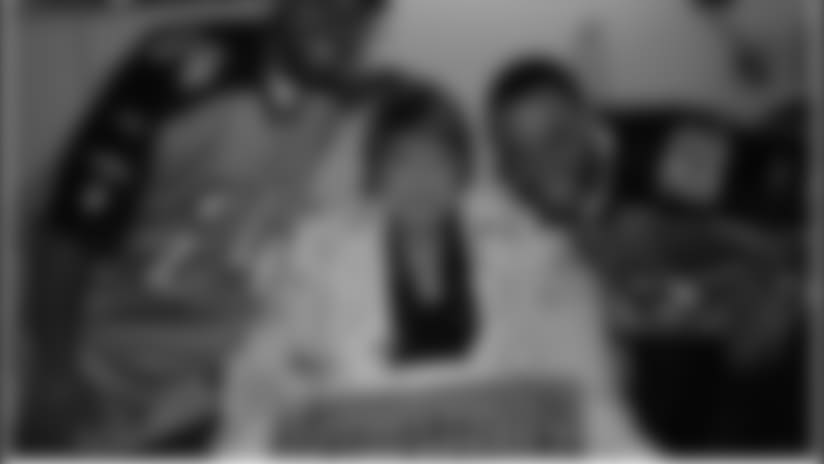 Two of the team's most community-oriented players, Chris Hope (L) and Vincent Fuller take time out of their day to visit with this patient at Baptist Hospital.

To address these issues, the NFL has partnered with the American Heart Association to initiate the
WHAT MOVES U/Play 60
program.  The program encourages youth to get an hour of physical activity each day in an effort to fight childhood obesity and is expected to reach more than five million kids and teens.  This season, as a part of the What Moves U program, there will be a six-week challenge at select schools the Titans visit for students to become more physically active.  One dedicated student from each participating school will be chosen to attend a press conference with Coach Jeff Fisher and tour the Titans facility at the end of the season.
In addition to the Titans' commitment to promoting fitness, nutrition, and the physical activity of kids through the What Moves U program, the team is also working with The National Dairy Council to promote healthy lifestyles.  As part of a five-year program and $250 million commitment, the NDC and NFL will encourage students to adopt healthy behaviors, make nutritious food choices, and actively inspire positive change among their peers.