Event Honors Elise Reinfeldt, Daughter of Titans General Manager Mike Reinfeldt **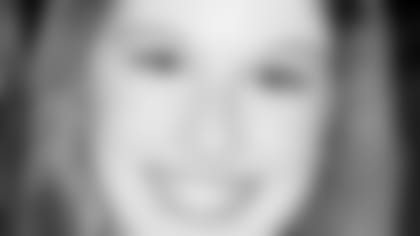 NASHVILLE, Tenn. --** Fifteen-year-old Elise Reinfeldt is a freshman at Christ Presbyterian Academy.  She is a cheerleader who loves to act and sing.  Elise is also a cancer survivor.
In July 2006, Elise was diagnosed with Acute Lymphoblastic Leukemia, a blood cancer that is the most common type of cancer in children under age 15.
Elise failed two rounds of chemotherapy, underwent radiation treatment and received blood transfusions to save her life.  But the cancer was so aggressive that Elise required an immediate bone marrow transplant. Doctors quickly found a match and on Nov. 17, 2006, Elise received a bone marrow transplant.  Her one year check-up revealed the cancer was gone.
"As Elise has become healthier and is returning to a more normal life, it is easy to forget the suffering and tough times. Elise is committed to making sure we remember and care for those whose fight has not ended," said Elise's mother Susan Reinfeldt. "Elise is well aware that blood donations are needed now more than ever."
Leukemia patients like Elise can require up to 100 units of red blood cells and 50 units of blood platelets throughout their course of treatment.
You can help save the lives of children like Elise Reinfeldt by donating blood in her honor on Saturday, May 8, from 7 a.m. to 3 p.m. at the Nashville Donor Center located at 2201 Charlotte Ave. in Nashville. 
The American Red Cross is also partnering with Be The Match Registry to offer all presenting blood donors the opportunity to become part of the National Marrow Donor Program.  A representative with Be The Match Registry is recruiting marrow donors at this drive. Anyone between 18 and 60, who is in general good health, is eligible for bone marrow testing. You can be tested even if you recently donated blood.  Tax-deductible donations are accepted. Anyone who participates in bone marrow testing at this drive is eligible to win a gift certificate to Stoney River Legendary Steaks.
Everyone who presents to donate blood at this drive is eligible to win Titans memorabilia, including one of two autographed footballs and one of four autographed photos (one each of Chris Johnson, Vince Young, Kenny Britt and Cortland Finnegan).
In addition, the first 100 blood donors to sign up online and present to donate blood on the day of the event are eligible to win the Grand Prize Drawing – a six person escorted tour of Baptist Sports Park, year-round home of the Titans.  You will enjoy a peak inside the locker room, training room, indoor practice facility and meeting rooms. 
For your convenience, you may now schedule blood donation appointments online at www.redcrossblood.org.  You may also call 1-800-RED CROSS.
Donors may subscribe to Red Cross texting by sending redcross to 42227 or registering online at redcrossblood.org. 
How to Donate Blood:
Log on to www.redcrossblood.org for more information or to schedule a blood donation appointment. All blood types are needed to ensure the Red Cross maintains an adequate blood supply. A blood donor card or driver's license or two other forms of identification are required at check-in. Donors must be in general good health, weigh at least 110 pounds and be at least 17 years old (16 with completed Parental Consent Form). New height and weight restrictions apply to donors younger than 19. Visit redcrossblood.org to learn more.
About the American Red Cross:
The American Red Cross shelters, feeds and provides emotional support to victims of disasters; supplies nearly half of the nation's blood; teaches lifesaving skills; provides international humanitarian aid; and supports military members and their families. The Red Cross is a charitable organization — not a government agency — and depends on volunteers and the generosity of the American public to perform its mission. For more information, please visit www.redcross.org or join our blog at http://blog.redcross.org.