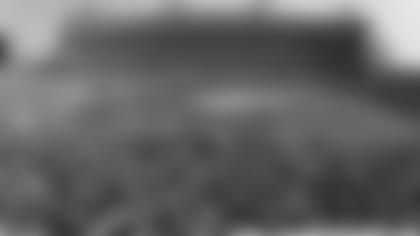 The Titans will honor veterans as part of the NFL's "Salute to Service" campaign Sunday at LP Field.
NASHVILLE, Tenn. -- The Tennessee Titans will join the National Football League in its long history of honoring veterans and active duty members of the military with its new annual "Salute to Service" campaign this Sunday at LP Field.
The "Salute to Service" campaign is designed to unify and elevate the extensive military appreciation work of the NFL and its clubs.  Throughout November, teams will designate home games as special military appreciation games.  During these games, teams will display "Salute to Service" banners on their sidelines, in addition to hosting ceremonies to honor the service and sacrifice of our nation's troops.
At this week's Titans-Bengals game, approximately 20 members of the Tennessee Air Guard will swear in during a pregame ceremony, and 100 members of the 101st Airborne Division will unfurl an American Flag with four Navy F-18s providing a flyover at the end of the National Anthem.
The honorary 12th Titan will be Air Force Staff Sergeant Shaun Meadows. At halftime, the 101st Airborne Division Band will perform the song for each of five military branches. A military vocalist will sing "God Bless America," and a game-ball will be presented to Major General James McConville, commanding general at Fort Campbell.
In additiona, 10 players and four cheerleaders will visit a veterans hospital on November 8.
The NFL and USAA are launching the inaugural "Salute to Service" Award which will recognize NFL team representatives who demonstrate an exemplary commitment to honoring and supporting the military community. USAA, a leading provider of insurance and other services to members of the U.S. military and their families, is the NFL's first Official Military Appreciation Sponsor.
The "Salute to Service" campaign aligns with the NFL's long history of supporting America's armed services, including a partnership of more than 45 years with the USO that includes overseas visits to troops and trips to military hospitals nationwide. 
The NFL also works closely with the Wounded Warrior Project, a non-profit organization that honors and empowers wounded warriors.  This past offseason, former NFL players and coaches climbed Mt. Kilimanjaro alongside four wounded warriors as part of the Wounded Warrior Project's "Believe in Heroes" initiative.
In 2010, the NFL and Pat Tillman Foundation established the NFL-Tillman Military Scholar award to annually honor an individual who exemplifies Pat's enduring legacy of service. The scholarship is part of the Tillman Military Scholars program established by the Pat Tillman Foundation to support educational opportunities for veterans and active service members and their spouses.  The Tillman Military Scholars program covers direct study-related expenses such as tuition and books, as well as other basic needs such as housing and childcare.
Navy Petty Officer Third Class D'ONIOR FELTON of Clarksdale, Miss., has been selected as the 2011 NFL-Tillman Military Scholar. She will be recognized in December at a Washington Redskins game. Felton, who is currently a medical student at George Washington University, earned her undergraduate degree at the University of Maryland while serving on active duty.
USAA will work with several teams during Veterans Day weekend to honor the men and women who have served and are serving in the U.S. military.  Kicking off at the Chargers-Raiders game in San Diego on November 10 and closing with Monday Night Football in Green Bay on November 14, NFL fans at these games will participate in an in-stadium card stunt to thank our nation's military for their service. All fans will be able to visit www.usaa.com/nfl to download photos to share with and thank veterans and military members.
Additional "Salute to Service" moments will include recognition of all military personnel in attendance and on-field ceremonies honoring service men and women.
The NFL continues to offer its Game Pass HD service free of charge at USO Centers for military members stationed in Afghanistan, Iraq, Kuwait, Germany, Italy, Korea and Japan.  At the USO facility in each of these locations, service members can watch every NFL game live and online in its entirety.  Game Pass HD service also is offered free of charge at US Embassies.
The NFL's work with the military extends to the area of health and safety.  Members of the NFL Head, Neck and Spine Committee are collaborating with Department of Defense physicians on medical research and helmet technologies aimed at protecting both athletes and service members from head injury.
In addition, during their Military Appreciation games, the Dallas Cowboys, New York Jets and San Francisco 49ers will collaborate with LucasFilm to honor the 70th anniversary of the famed Tuskegee Airmen, a select and heroic group of African-American fighter pilots during World War II. The Tuskegee Airmen are the subject of an upcoming LucasFilm's production, "Red Tails."
Fans can find out more about the NFL's commitment to the military and veterans by visiting www.nfl.com/salute.