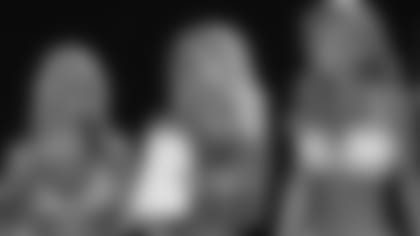 Final auditions for the 2011 Titans cheerleading squad take place Tuesday, May 31 at the Wildhorse Saloon in downtown Nashville.
NASHVILLE, Tenn. --** With the 2011 NFL Draft now complete, the Tennessee Titans will conclude their search for the 2011 Titans Cheerleading Squad, presented by Sun Tan City, on Tuesday, May 31st at 7:00pm at the Wildhorse Saloon.

With weeks of preliminary auditions and preparation behind them, forty-eight finalists will compete for one of the twenty-six spots on the Titans Cheerleading 2011 roster on May 31.  The Titans encourage fans to come out for the big show and support the selection of the 2011 squad.

"It is always a tough, in-depth process for our finalists, and judges, to get to the final round of competition," said Stacie Kinder, Titans Director of Cheerleading.  "So it's great to see our fans in the audience the night of the finals to show their support as we select the squad of women that will represent the team on game day and in the community for the 2011 season.  It's not easy to make the squad and we pride ourselves on selecting the very best women each year."

The panel of judges consists of local celebrities and entertainers, community leaders and dance experts to include recording artists Chuck Wicks and Laura Bell Bundy, CMT Insider Host, Allison DeMarcus, Marty McFly from 103.3 WKDF, author and speaker Louis Upkins among others.

The event will have various entertainment throughout the evening to include special music by Greez Monkees and a performance by DC Dance Factory's Hip Hop Group No Strings Attached.

Tickets are only $10 and are now on sale at the Titans Ticket Office located at LP Field near the Titans Pro Shop or available at the door (while they last) the night of the show.   Doors open at 5:00pm, with the full Wildhorse Saloon dinner menu available, and the show starts at 7:00pm.

About the Presenting Sponsor:  Sun Tan City
Sun Tan City was founded in 1999 in Elizabethtown, Kentucky by brothers Rick and David Kueber. By 2002 the brothers fully exited their primary business venture (video rental) and Sun Tan City (five locations at that time) became their primary focus.  In the next seven years Sun Tan City grew by 62 locations and spread into the neighboring states of Tennessee and Indiana.  The company enjoys both a strong presence in urban markets (they are the leading provider in Nashville TN, Louisville and Lexington KY), as well as rural and suburban markets.