NASHVILLE, Tenn. -- The National Football League will continue its long history of honoring veterans and active duty members of the military with its annual Salute to Service campaign.  For every point scored during the NFL's 32 designated Salute to Service games, the league will donate $100 to *each *of its three core, military non-profit partners – Pat Tillman Foundation, USO and the Wounded Warrior Project® (WWP).
The Salute to Service campaign, which begins during tonight's Chiefs-Chargers Thursday Night Football game on NFL Network (8:00PM ET), is designed to unify and elevate the extensive military appreciation work of the NFL and its clubs.  Throughout November, teams will designate one home game to honor the military.  During these games, teams will display a number of Salute to Service-branded elements in stadiums, with the majority in and around the end zone in order to highlight the league's new donation program tied to scoring. Branded elements include goal post wraps, pylons with camouflage ribbon decals, wall banners and the words Salute to Service written in the back of the end zone.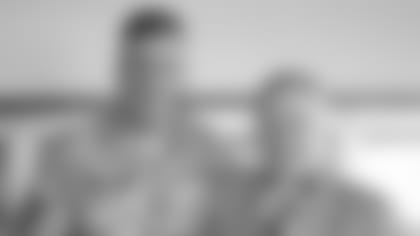 At Sunday's game versus the Bears, the Titans will recognize team owner K.S. "BUD" ADAMS, JR. for winning the inaugural Salute to Service Award, presented at NFL Honors awards show this past February.  Pregame highlights include 100 soldiers from the 101st Airborne Division from Fort Campbell holding a large American flag in the shape of the United States, a Color Guard from the 101st Airborne division and a flyover of F-16's from the Alabama Air Guard.  Half-time will feature the 101st Airborne Division Band, who will play the song from each branch of service while veterans attending the game stand to be recognized.  A Color Guard from all five branches will march across the field as their branch song is being performed.  A special Wounded Warrior salute will occur during the game along with many video "thank you" vignettes shown on the jumbotron throughout the game.
Additional on field elements featuring camouflage include ribbon lapel pins, Gatorade towels, Nike and Under Armour gloves for players, captain's patches and camouflage ribbon footballs used during every play. Game used items will be collected following Salute to Service games and auctioned on NFL Auction (nfl.com/auction), with 100% of net proceeds donated to the league's three core military non profit partners.
When all 32 teams take the field during the Salute to Service campaign, branches of the U.S. military will be represented on their helmets. Conceived by USAA, the NFL's Official Military Appreciation Sponsor, a new initiative will enable NFL teams to deepen their connection to the military community by identifying local military units from each branch of service to honor on game day. Teams will wear helmet decals honoring military branches with their insignia (Air Force, Army, Coast Guard, Marine Corps and Navy), and the stories of connection between clubs and local units will be highlighted throughout the Salute to Service campaign in broadcast and online.  USAA is a leading provider of insurance and other services to members of the U.S. military and their families
The NFL and USAA are continuing their annual Salute to Service Award, which recognizes NFL players, alumni, coaches, owners, executives and front office staff who demonstrate an exemplary commitment to honoring and supporting the military community.  Last year, Tennessee Titans Owner, BUD ADAMSwas the inaugural winner of the award. Adams, a veteran of the U.S. Naval Reserve, serving during World War II has been a longstanding advocate of all servicemen and women.  This year's nominees will be announced later this month.
USAA will work with several teams during Veterans Day weekend to honor the men and women who have served and are serving in the U.S. military.  Fans in select stadiums will participate in in-stadium card stunts to thank the military for their service.  In addition, USAA and the NFL will hand out team-branded wristbands to fans at select games on November 18.
All fans will be able to visit www.usaa.com/nfl to download photos to share with and thank veterans and service members. In addition, USAA and the NFL encourage fans to visit www.millionfansalute.com  to create a digital salute honoring past and present members of the U.S. military on behalf of their favorite NFL team through Nov. 26, 2012. Saluting is as simple as a few clicks, and the three cities with the most salutes will earn rewards for their local military community from USAA.
In 2010, the NFL and Pat Tillman Foundation established the NFL-Tillman Military Scholar award to annually honor an individual who exemplifies Pat's enduring legacy of service. The scholarship is part of the Tillman Military Scholars program established by the Pat Tillman Foundation to support educational opportunities for veterans and active service members and their spouses.  The Tillman Military Scholars program covers direct study-related expenses such as tuition and books, as well as other basic needs such as housing and childcare.  As a result of fundraising from this year's Salute to Service campaign, the 60 annual Tillman Military Scholars will now have 100% of their financial needs covered.
Sergeant Emily Thompson Schelberg of Towson, Maryland has been selected as the 2012 NFL-Tillman Military Scholar. She will be recognized in November at a Baltimore Ravens game. Thompson Schelberg is currently pursuing a master's degree in nursing at Johns Hopkins University with the goal of becoming a nurse practitioner, with an emphasis in orthopedics. Thompson Schelberg plans to serve underprivileged communities
The Salute to Service campaign aligns with the NFL's long history of supporting America's armed services, including a partnership of more than 45 years with the USO that includes overseas visits to troops and trips to military hospitals nationwide. The USO will use funds raised from Salute to Service to support Operation Enduring Care, the USO's campaign to support wounded, ill and injured troops, their families and caregivers throughout the rehabilitation process. The centerpieces of Operation Enduring Care are two new USO Warrior and Family Care Centers at Fort Belvoir in Virginia and at the Walter Reed National Military Medical Center in Maryland.
The NFL also works closely with WWP, a non-profit organization with a mission to honor and empower Wounded Warriors.  Funds raised through the league's donation will benefit WWP's 18 programs and services which are uniquely structured to nurture the mind and body, and economic empowerment and engagement. Tens of thousands of Wounded Warriors and caregivers receive support each year through WWP programs. WWP assists injured service members across the country and has offices in 13 cities, including New York; Chicago; San Diego; Jacksonville; Washington, DC; Phoenix; Nashville, Pittsburgh, Atlanta and Seattle..
In addition, as part of a recently announced joint health and wellness initiative with the Army, the NFL will join the Chicago Bears, Cleveland Browns, Kansas City Chiefs and Seattle Seahawks to host forums with the military on concussion/traumatic brain injury (TBI).  The NFL and Army are working together to promote culture change in both organizations regarding the identification and treatment of head injuries. The NFL's work with the military extends to the area of health and safety in other ways.  Members of the NFL Head, Neck and Spine Committee are collaborating with Department of Defense physicians on medical research and helmet technologies aimed at protecting both athletes and service members from head injury.
Additional Salute to Service moments will include recognition of all military personnel in attendance, on field ceremonies honoring service men and women and special pregame national Anthem renditions performed by military bands and choirs, including the United States Air Force Singing Sergeants Vocal Quartet in San Diego on, the Navy Band Southeast in Jacksonville and the West Point Glee Club in Chicago.
The NFL continues to offer its NFL Game Pass service free of charge at USO Centers for military members stationed in Afghanistan, Iraq, Kuwait, Germany, Italy, Korea and Japan.  At the USO facility in each of these locations, service members can watch every NFL game live and online in its entirety.  NFL Game Pass service also is offered free of charge at US Embassies.
Fans can find out more about the NFL's commitment to the military and veterans by visiting www.nfl.com/salute.   In addition, on the NFL's Facebook page, fans can submit their photos in support of our military to be a part of the Salute to Service mosaic or give a virtual gift using the Salute to Service gifting app.