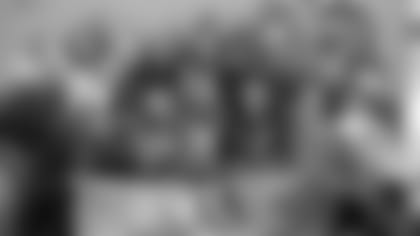 Several volunteers, including Titans staffers and wives of Titans players and coaches, played a big part in assembling pink ribbons and cards that were handed out to 20,000 fans last Sunday at LP Field.
NASHVILLE, Tenn. --** October is breast cancer awareness month and the Titans and the entire NFL have gone to great lengths to support the cause that touches so many lives throughout the world in the NFL community.
The Tennessee Titans are no different and do what they can to lend a hand to the cause. A pink presence was highly visible for fans at LP Field as well as a national television audience when the Titans hosted the Indianapolis Colts on Oct. 11.
On Thursday, October 8th, Titans staffers, the wives of Titans players and coaches, volunteers from the Zeta Tau Alpha sorority and Saint Thomas Health Systems gathered at LP Field to attach pink ribbons to educational cards. The ribbons and cards will be handed out to the first 20,000 guests at the Titans Sunday night football game against the Colts. Twenty-five volunteers spared their time and fingertips to the cause, many of whom were breast cancer survivors. They were happy to remind all volunteers which each pin prick of the finger that these cards have the potential to save a life as they have pertinent information about annual screening for women over the age of 40.
Volunteers manned each gate at LP Field on Sunday and passed out the cards and ribbons as fans entered. Fans were encouraged to wear the ribbons during the game. The educational cards coincide with the NFL's breast cancer awareness campaign called A Crucial Catch.
Dianne Conlee, an employee with St. Thomas Health Services, was one of the many volunteers handing out pink ribbons prior to the game on Sunday. She also participated in attaching the ribbons to the cards on Thursday.
"Breast cancer awareness is so important and I was happy to volunteer," said Conlee. "This is my first time working on this partnership with the Titans and I was happy to do so."
Titans fan Kristina Cornell was more then happy to wear her pink ribbon on Sunday.
"My aunt is a ten year breast cancer survivor so this is a really important cause to me," said Cornell. " I'm glad they are handing out these ribbons and I'll be putting mine on right away!"
Jill Scobey is the volunteer coordinator for the Zeta Tau Alpha sorority and has participated on this project for the past three years. Forty-six ZTA alumni and current students were on hand to pass out the ribbons on Sunday.
"Itwas such a great opportunity to raise awareness of breast cancer by passing out pink ribbons and awareness cards at one of the biggest games of the season," said Scobey. "The cards that the Titans provided, plus our ZTA ribbons, were an excellent addition since itlisted valuable information. We are always very touched by the comments we receive from survivors or family and friends of survivors.I thinkthe causeis as meaningful to them as it is to us, and they appreciate our efforts. The time spent was worth it even if only one woman was reminded to scheduleher mammogram because early detection is key."