**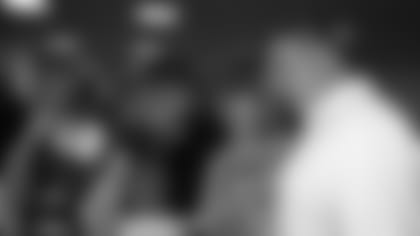 Fullback Ahmard Hall led a group of Titans players, cheerleaders and staff that visited true American heroes at the Department of Veterans Affairs hospital in Nashville.
NASHVILLE, Tenn. --** Titans players, cheerleaders, team representatives and mascot T-Rac thanked American heroes during a visit to the Department of Veterans Affairs hospital in Nashville Friday.
The Titans group talked to patients, expressing thankful words, autographed posters and posed for pictures. 
The annual visit to coincide with the observance of Veteran's Day is special for all the representatives of the Titans.  Team owner K.S. "Bud" Adams, Jr. is himself a veteran, having served in the U.S. Navy from 1943-46. 
The visit was extra special for fifth-year fullback Ahmard Hall, who served four years in the Marines, completing missions in Kosovo (1999) and Afghanistan (2002), before attending the University of Texas on the G.I. Bill.
"It's exciting for me to come out here and see different people and some people we see every year, just to express our gratitude and our thanks for everything they did for our country and just let them know it's not going unnoticed," Hall said. "No one's forgotten the great sacrifices they made. I think it's a big deal for us to come out here every year. I'm glad the guys and staff supported me on that."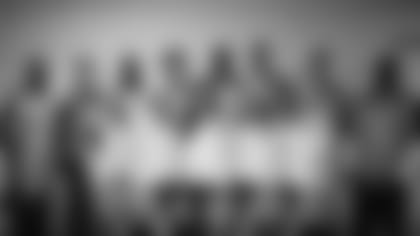 Titans players and cheerleaders making the visit.
Hall received help from Titans linebackers Stephen Tulloch, Gerald McRath and Will Witherspoon, cornerbacks Cortland Finnegan, Alterraun Verner and Pete Ittersagen, receiver Marc Mariani, tight end Craig Stevens and long snapper/linebacker Ken Amato. Tulloch said the visit with veterans means a lot to players.
"Whenever you have a chance to come back and give back to the veterans for what they've given to us and our country, it's a wonderful thing and I'm proud to be a part of it," Tulloch said.
Tulloch and Hall joined the Titans in 2006. Tulloch said the Titans' locker room told Hall thanks for his service on Thursday.
"We know that he sacrificed and bounced back, came back to play ball," Tulloch said. "He's a great guy. I'm glad I met a guy like Ahmard. He's a wonderful person, and I'm glad we had a chance to do this for the veterans."
Hospital roommates David Patterson and Roy Waldrop enjoyed their visit from Witherspoon, Amato and Titans cheerleader Jessi. Patterson, an Army veteran (1968-69 in Vietnam) from Portland, Tenn., and Waldrop, an Air Force veteran (1966-68 in Vietnam) from Lafayette, Tenn., said the visit made their day.
"It shows they really care for us veterans," Waldrop said. "It was a great, great day."
Ittersagen joined Witherspoon, Amato and Jessi for a visit with George Jarrell and George A. Taylor. Jarrell, of Hendersonville, Tenn., was a member of the Army's Special Forces from 1972-74. He said former Oilers/Titans great Eddie George is still his favorite player but he's excited about watching future games after meeting pro football players for the first time.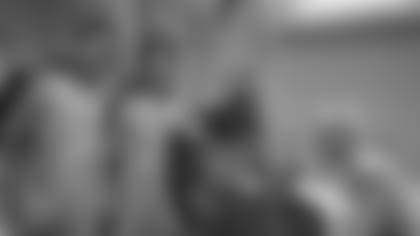 Patients at the hospital were treated to a special visit by Titans players and cheerleaders.
Taylor of Nashville entered the Navy in 1954 and has followed the Oilers/Titans franchise since it was in Houston.
Andrew Hyde (Army, 1986-90) of Springfield said he was a fan of the Dallas Cowboys until the Titans moved to Tennessee.
"I waited 30-something years to have a hometown team," said Hyde, who was able to get autographs from multiple players.
Buddy Lanham (Marines, 1986-90) of Chattanooga and his 3-year-old son Hunter said it was "pretty cool" to meet the Titans.
Titans cheerleader Brooke said visiting the veterans touched her heart.
"We were so happy to be at the veteran's hospital today," Brooke said. "It's been such an enlightening experience. It makes you very thankful for the men and women who serve in the armed forces, and you just realize what they give up when they do that."
Brooke grew up near Ft. Campbell and said she is familiar with and appreciative of all the sacrifices of military members and their families.
Rosetta Mason, chief of volunteer service at the hospital, said patients look forward to the yearly visit from the Titans, especially Hall.
"Ahmard is a Marine. Once a Marine, always a Marine," Mason said. "To have him come out really means a lot because they know he can relate."
Mason served in the Army from 1985-89 and has two sons who fought in Afghanistan, so she is familiar with sacrifice and service.
"I tell people all the time freedom isn't free," Mason said. "It takes sacrifice from very special people who willingly, voluntarily go overseas and fight these wars and keep our country safe, so it means a whole lot from them. It's so nice to see somebody take their time to give back to them."
Mason encouraged others from the community to visit veterans at the hospital. She said those interested can call (615) 327-5347 and ask for volunteer services to find out how to help.