TEMPE, Ariz. –** Delanie Walker knew his role during his years with the San Francisco 49ers, but in the back of his mind he also knew there was something bigger.
So Walker, drafted in 2006 as a receiver, waited his turn. And he learned from those around him, including tight end Vernon Davis.
"I love the city of San Francisco," Walker said. "And the fans and organization, they were very supportive of me as well. I am always going to have a place in my heart for San Francisco, knowing all the things they did for me.
"My time there, it developed me into the player I am today. And luckily I got to be there with Vernon Davis and learn from him. The 49ers, they gave me all the experience I needed to move on. And now I've been blessed to play for Tennessee, and them giving me the opportunity to be the player I am for their team."
Walker played seven seasons (2006-2012) with the 49ers before signing with the Titans, where he exploded onto the scene in 2013. The two-time Pro Bowler ranks second behind only Frank Wycheck for the most receptions by a tight end in franchise history (345). He ranks in the top 10 in career receiving yards (5,532) by active tight ends, and he once again leads this year's team in catches (63) and receiving yards (718).
He's caught at least 60 passes in five straight years with the Titans, including a 94-catch, 1,088-yard season in 2015.
Walker always knew he was capable, way back in his days in San Francisco.
On Sunday, Walker will return to face the 49ers for the first time since he left the organization. Walker played in a 2013 game against his old team, but that game was in Nashville.
"I always knew I could be a star in the league," Walker said. "The 49ers gave me an opportunity, but they didn't give me the opportunity I was looking for and Tennessee did. I wanted to be a No.1 tight end and I knew if I had the opportunity I could be one of the best, which I am today."
Walker had 123 catches and eight touchdowns in seven seasons with the 49ers. He played in a Super Bowl in his last game with the team, at the end of the 2012 season.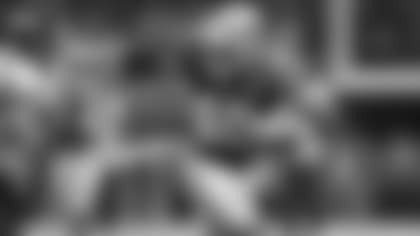 But Walker caught just 33 passes in his first three NFL seasons in San Francisco, and never had more than 350 receiving yards in any season while in San Francisco, where he spent seven seasons. Walker quickly emerged with the Titans, however.
Titans Online talked to Davis at Super Bowl 50, when he played for the Broncos. Davis said he always knew Walker "had it in him."
"Delanie had it in him when he arrived in San Francisco,'' Davis told Titans Online. "He just needed the opportunity. Just like anybody and everybody, you can't do it if you're not getting the opportunity and he didn't get a lot of chances early in his career.
"Sure, he grew as a player. Delanie gained a little weight, and he learned to block, and he became a physical player. And now you see what he is today. I am really proud of him and what he's been able to accomplish. But he worked hard for it.
"I'm glad to see what he's been able to do and help the Titans in his journey," Davis continued. "I am proud of Delanie, and I know he's still going strong. The guy is not going to quit."
Walker said he's looking forward to returning to face his old team.
He knows it's a big game for the Titans.
And it will undoubtedly be a special game for him.
"It's going to be fun," Walker said. "I have so many good memories from my time in San Francisco. We were a confident team, especially when Jim Harbaugh got there.
"And the time there helped me so much. Just knowing all the things they did for me, I'll never forget it."
Titans players take the field for Wednesday's practice at Arizona State University. (Photos: Gary Glenn)