**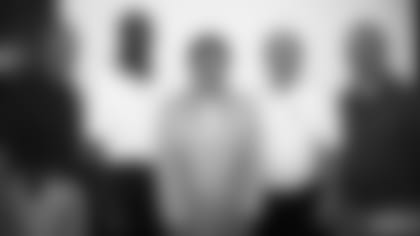 From L to R: Bob Gardner, Executive Director of National Federation of State High School Associations; Bernard Childress, Ex. Director of TSSAA; Mike Keith, Voice of the Titans; Bob Hyde, Titans VP-Community Relations; and Matthew Gillispie, Assistant Executive Director of TSSAA.
NASHVILLE, Tenn. --** Titans representatives and Tennessee State Secondary Athletic Association officials on Tuesday told athletic administrators from several Southeastern states about their winning partnership during the National Federation of State High School Associations Section 3 Conference in Nashville.
Titans Vice President of Community Relations Bob Hyde told attendees it's "one of the wisest" partnerships the franchise has entered. Hyde and Director of Broadcasting Mike Keith said the partnership accomplishes a goal of promoting football to youth that Titans Owner K. S. "Bud" Adams, Jr. set when he moved the franchise from Houston to Tennessee in 1997.
The Titans and TSSAA are in their fourth year or their partnership in which the team sponsors the annual Titans Mr. Football Awards, which recognizes the top players in each of the five size classifications throughout the state.  
Titans officials, players and cheerleaders present the Mr. Football awards to high school players who have been evaluated on athletic accomplishments, academic progress and personal character.
Former Titans players Kevin Dyson and Chris Sanders have been the presenters in recent years and Craig Hentrich, the team's long-time punter who retired from the Titans last year after 17 seasons in the NFL, plans to present the kicker award this year.
The Titans are excited about their relationship with TSSAA because of the organization's impact on student-athletes.
The NFHS Section 3 meeting is held annually but rotates host sites every eight years. High school sports administrators shared ideas and discussed player safety regarding excessive heat and concussions during this year's conference.
"We're very fortunate to have an opportunity to partner with the Titans," said TSSAA Executive Director Bernard Childress. "We appreciate the team, Mr. Adams, Coach Fisher and (general manager) Mike Reinfeldt for what they do in our state."