Titans Senior Executive VP/COO Reinfeldt, Wife Create Group Bible Study for All Ages: Couple Shows Faith is 'Better Together'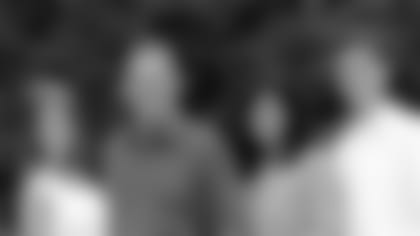 Titans Senior Executive VP/COO Mike Reinfeldt pictured with his wife, Susan, daughter, Elise, and son, Jared.
NASHVILLE, Tenn. --Mike Reinfeldt is known best in the public eye as the Senior Executive Vice President/Chief Operating Officer of the Tennessee Titans, and a former All Pro in the NFL, having played for the Los Angeles Raiders, Seattle Seahawks, Houston Oilers and the Green Bay Packers. But it's his faith and family that are now garnering attention.
Mike and his wife Susan, like many families today, found that with their busy schedules family time consisted mainly of rushed mealtimes, shuttles to and from extracurricular activities, homework help, and chores. They attended church on Wednesdays and Sundays, but even that time was spent apart with the children going to "children's church" and Mike and Susan going to their own small groups.
This hectic schedule is exactly what led them to create their own bible study ten years ago and develop a new curriculum for families titled "Discovering Christ in Community."
"Current Bible Study curriculums tend to separate families so we decided to create a study that brought people together. Our format allows parents to not only hear their kid's hearts but allows them to learn from other Christian adults, youth, and young children, positively mentoring one another - all at their own pace." When asked about the importance of the study for families," Mike said. "In todays world, anything that keeps a family in the Word and exploring the Word together is a huge blessing."
Susan, a marriage and family therapist, was able to bring her gifts to the project as well as her own perspective as a mother and wife.
"We took a look at the model Christ used and found that He was all about three things - faith, family and fellowship," she said. "When He spoke there were probably little kids, teenagers, seniors, and adults all together."
The Reinfeldt's curriculum mimics this format, and as a result creates rich discussion not found in other studies.
The two-part study allows time for families to enjoy and talk about clips from popular movies, entertaining object lessons, bible focused teaching and questions to inspire meaningful discussion within families and the whole group.
More information about Mike and Susan's family based approach, as well as their books and instructions on how to set up your own study can be found at http://www.bettertogethergroups.com.