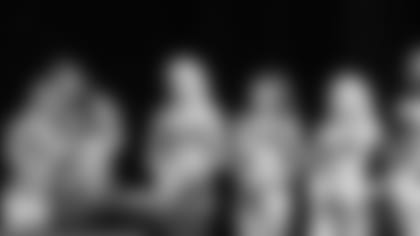 NASHVILLE, Tenn.** – A packed house at the Wildhorse Saloon witnessed the formation of the 2009 Titans Cheerleading squad Thursday night.
The final auditions, presented by Sun Tan City, were the culmination of a process that began nearly two months ago. The evening began with 50 finalists and ended with 26 ladies making the 2009 squad.
"I am thrilled with the squad we have in place for the 2009 season," said Stacie Kinder, director of cheerleaders for the Titans. "The judges had some tough decisions to make, but this was undoubtedly one of the most talented groups of finalists that we have ever had. It was a great night."
A panel of celebrity judges that included former Titans receiver Kevin Dyson, Taj George, 2009 Survivor competitor and wife of Titans great, Eddie George and former Miss Tennessee USA Allison DeMarcus graded contestants on their appearance, physique, dance ability and fan applause.
Several Titans players, including safety Chris Hope, linebacker David Thornton, kicker Rob Bironas and cornerback Cary Williams – among others -- came out in support of the event.
The cheerleaders will travel to Destin, Fla. later this month to shoot the team's 2009 swimsuit calendar at the Sandestin Golf and Beach Resort.
2009 TENNESSEE TITANS CHEERLEADERS
Ally
Alyson
Ashley A.
Ashley S.
Brianne
Brooke
Chocez
Clair
Danielle
Heather
Jena
Jessi
Jocey
Jordin
Julia
Keesha
Kristin
Lindsey
Melanie
Natalie
Shannon
Shauna
Stefanie
Tanzye
Tonya
Valerie