NASHVILLE, Tenn. —Chance Warmack has the power that talent evaluators look for but rarely find in such effectiveness, the Titans said Thursday night after drafting him with the 10th overall spot.
"He can explode with his hips and he can get in and get movement versus bigger people," Titans scout Tim Ruskell said. "He played against so many good defensive linemen that were strong and stout. We didn't see a lot of guys moving those guys, but when you watch Chance, he was able to get movement, he was able to seal run lanes – that kind of power.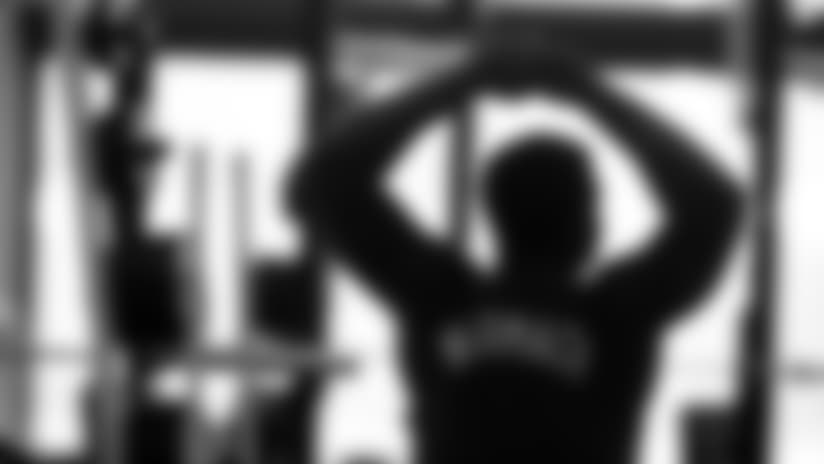 Rare power is one of several attributes the Titans like about former Alabama guard Chance Warmack.
"It's the power to anchor, it's the power to explode and get movement versus bigger people, which is something we always look at," Ruskell said. "It just sets him apart from the normal offensive linemen that you tend to look at. That is what got our attention and then it is aggression, the aggression and the want to and to sustain and finish the block. Coaches always talk finish. This guy has finish. It is a big thing that seems simple, but it is a big deal. When you see it and the combination of what he has, I think it is a rare trait."
Ruskell watched Warmack during the season and thought back to his previous time in Seattle with Steve Hutchinson, a guard the Seahawks drafted at 17th overall in 2001. Hutchinson had two All-Pro seasons and went to the Pro Bowl in each of his final three seasons in Seattle, then four more Pro Bowls in a row with Minnesota. Hutchinson played 2012 with Tennessee, but his first season with the Titans ended early because of a knee injury and he retired from football this offseason. 
The Titans' response was to sign highly sought left guard Andy Levitre and add versatile veterans Chris Spencer (a first-round pick by Seattle in 2005) and Rob Turner, who started all 16 games for St. Louis last season during free agency. They also brought back Fernando Velasco, who started 13 games at center and three at left guard last season for Tennessee.
Warmack made it no secret that he was interested in becoming a Titan and playing for coach Mike Munchak and offensive line coach Bruce Matthews, two Hall of Famers who are the only other two players selected as guards in the top 10 of the NFL Draft in Titans/Oilers franchise history. Warmack held a private workout with friend and former Alabama teammate D.J. Fluker, a tackle who was selected one spot after Warmack, for Munchak and Matthews a couple of days after Alabama's Pro Day.
Munchak and Matthews were trying to find things Warmack couldn't do, but he passed their eyeball tests in person and on film.
Munchak said Warmack is "a lot bigger than both of us" at the time of their drafting (Munchak was eighth in 1982 and Matthews was ninth in 1983). Although Warmack and Fluker weren't born until 1991, Munchak and Matthews experienced a familiar feeling between the friends.
Chance Warmack blocks friend and former Crimston Tide teammate D.J. Fluker during a drill at Alabama's Pro Day.
"Those guys were so competitive that is what made it fun," Munchak said. "Those guys are such good friends, kind of like Bruce and I. We were kind of watching the same thing happen. These guys were trying to out-do each other in the workout when we were teaching them drills. We were telling stories in between it and they were competing and they were sweating. It was one of those fun workouts.
"We were probably out there 90 minutes with them and I think they got drafted back to back, so it is just an interesting relationship they have and how competitive they were," Munchak added.
Matthews said he tried to validate the skepticism he assigns to all offensive linemen he's heard of in case they are products of strong units or by products of great teams.
Warmack also visited Baptist Sports Park for interviews as one of the team's 30 allotted visiting prospects and continued to impress Munchak and Matthews. He showed Titans decision makers a desire to continue to improve and an approach that will enable that.
"I feel like I can always get stronger as a guard, as a player," Warmack said. "I feel like my understanding of the offensive line is pretty good. I can always learn more about other positions and the offensive formations, but I'm just a physical player."
Matthews said in every setting — meeting at the NFL Combine, during the workouts and during the visit — he was impressed by Warmack.
"He has the demeanor and the mindset, and he plays a style that we're looking for and what we want to accomplish up front," Matthews said. "Even (Thursday), just to confirm it, I went back and looked at the tape again. I'm very confident that he has a great opportunity to be a real good player in this league for a long time."