NASHVILLE, Tenn. — The semifinal round of 2014 Tennessee Titans Cheerleaders auditions presented by Sun Tan City recently gave the phrase "Selection Sunday" a whole new spin.
Approximately 200 ladies started the audition at Saint Thomas Sports Park, and by nightfall, 48 finalists remained. The finalists will compete for 27 spots on May 15 at Wildhorse Saloon (click here to purchase tickets).
"It was great to see a lot of new faces who were talented and beautiful," said Stacie Kinder, Titans director of cheerleading. "We had a great group come out, and now with the 48 finalists we have left, it's a wonderful group to choose from because all of them are qualified to be Titans Cheerleaders."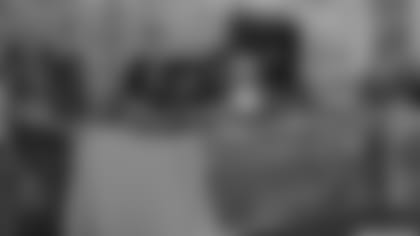 Titans Season Ticket Member Susan Guffey, left, won a contest to help judge the semifinal round of 2014 Titans Cheerleader auditions presented by Sun Tan City.
Titans Season Ticket Member Susan Guffey won a contest to be a guest judge during the semifinal round. Titans Season Ticket Members were able to enter the contest by liking Titans Cheerleaders on Facebook or following @TitansCheers on Twitter. The entrants were asked to state why they should be chosen to judge.
Guffey, an administrative manager with Barge Waggoner Sumner & Cannon and charter Titans PSL holder, cheered collegiately at Western Carolina and judges competitions at the University of Tennessee.
"This has been totally overwhelming for me," Guffey said. "It's been so exciting, just when I walked in the facility. The facility is amazing. Yes, I've sat in LP Field on Sundays, but to be here in the "Bubble" (indoor practice facility) was very exciting."
Kinder said Guffey was "perfect" to help the panel of six other judges.
"She was awesome. She's an inaugural season-ticket holder and she's still a judge for UT-Knoxville, so she's totally qualified to do it and a huge fan, so everything put together made her the perfect person and she seemed so appreciative," Kinder said. "We were so appreciative to have her, and she conversely was so appreciative to be there, so she was a really great addition and fit right in with our panel."
Guffey's company worked on the construction of the facility now known as LP Field and she was at the groundbreaking. She vividly recalled the opening regular season game on Sept. 12, 1999 and other moments over the years. Guffey said she was proud to help the selection process of the 2014 Titans Cheerleaders.
"It will be even more special (to go to games this year) knowing that I had the opportunity to be a part of this experience and part of the ones that are chosen to be on the field," Guffey said.
Finalists will spend two-plus weeks rehearsing and undergo a formal business interview before the final round.
Ladies participate in the semifinal round of the 2014 Titans Cheerleaders auditions presented by Sun Tan City. (Photos: Craig Peters)