NASHVILLE, TN, Aug. 4, 2008 —On Monday, the Tennessee Titans welcomed close to 20 children and staff members from Big Brothers and Big Sisters of Middle Tennessee to Baptist Sports Park. The children were treated to a tour of the 80,000-square-foot facility making stops amongst others in the weight room, training room and locker room: all favorites of the tourists. After the inside tour, the children were then chaperoned to a morning training camp practice where they got an up-close view of their favorite Titans.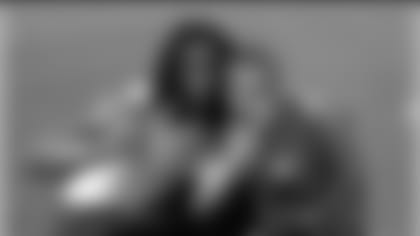 Titans safety Michael Griffin teaches a young fan how to signal the Texas Longhorns.

"I had fun today," said soon-to-be fifth grader Charles West. "The players were really nice, very big and fun to hang-out with." When the final horn was sounded, signaling the conclusion of practice, the kids were treated to another surprise of which only a few get to experience: they got a personal meet-and-greet of which included pictures and autographs from Titans players on the practice field. Players who came over to visit were Colin Allred, Keith Bulluck, Justin Gage, Michael Griffin, Reynaldo Hill, Jevon Kearse, Calvin Lowry, Kevin Mawae, David Thornton, Stephen Tulloch and rookies Lavelle Hawkins and Stanford Keglar. 
Through the support of mentors and the community, Big Brothers and Big Sisters has been fortunate to reach a lot of children throughout the years. But being able to actually meet and talk with Titans players is something these children will cherish for the rest of their lives said VP of Marketing Development Lisbeth Couser.
"Our kids really look up to the Titans players and really pay attention to everything they do and say," said Couser. "I think being able to visit with the players will go a long way in helping them continue to make the right choices."
 
 
*
MICHAEL ROOS VISITS WITH SPECIAL GUESTS

Titans tackle Michael Roos got to spend time with special guests during Training Camp.  Roos, originally from Estonia, visited with 17 orphans from Estonia who visited Nashville as part of a mission trip through United Methodist Church in Green Hills.  The kids took a quick tour of the facility, watched the Titans highlight film and watched the team practice. After practice they spent time with Roos, taking photos, collecting autographs and singing a song to Roos.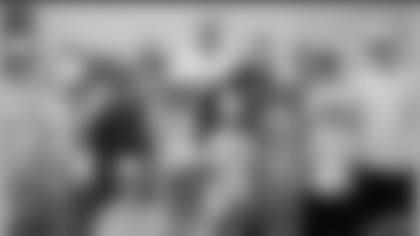 Offensive tackle Michael Roos visits with children from his native Estonia during a recent visit at training camp.

"They're here to get a taste of American life and see what American football is like," said Roos. "It was nice to see the kids and see them looking at an Estonian who is bigger than they're used to seeing (Roos is 6'7" 315 pounds).  It obviously made their day, which was good.''
Roos spent his early childhood in the former Soviet Republic of Estonia, where he experienced difficult times. Shortly after the collapse of the Soviet Union, he and his mother emigrated to U.S. when he was 10 years old.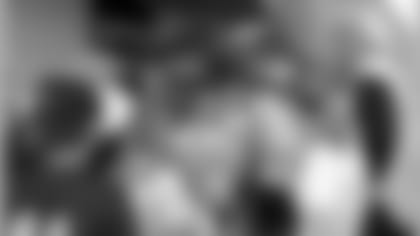 After Roos fininshed practicing, he fielded questions, took pictures and signed autographs for his visitors.

In 2007, Roos made a visit to Estonia for the first time since he left as a child.  When he was told that the group wanted to visit him at training camp, ages 11-20, he was delighted to entertain them.  Pastor Peter Van Eys at Calvary United Methodist Church in Green Hills who traveled to Estonia on a church mission trip and in celebration of their five year anniversary, he helped arrange the kids visit to the U.S.   
"Michael was very gracious.'' said Eys. "The kids don't know much about football, but they were excited to meet an Estonian who's done so well.''