**
NASHVILLE, Tenn. --** The 2009 Titans rookie class and cheerleaders made their first-ever joint appearance to celebrate National Cancer Survivors Day at LP Field on June 6 with over 500 cancer survivors and their families. This is the second gathering of cancer survivors and their families with the Titans rookies in what has become an annual event for Saint Thomas Health Services and the Tennessee Titans to bring recognition to those who have overcome their battle with the disease that has become the second leading cause of death in the United States.
Titans rookies, Kenny Britt, Jared Cook, Dominique Edison, Rodney Ferguson II, Dudley Guice, Jeremy Haynes, Mitch King, Sen'Derrick Marks, Jason McCourty, Gerald McRath, Phillip Morris, Alex Mortensen, Javon Ringer, Nick Schommer and A.J. Trapasso joined cheerleaders Ally, Lindsey R, Tonia, Valerie and T-Rac in shaking hands, signing autographs and snapping pictures during an afternoon that allowed the Titans to join their partner hospitals, Baptist Hospital, Middle Tennessee Medical Center and Saint Thomas Hospital in saluting these survivors.
"I majored in rehabilitation and special education and it was a great learning experience," said Sen'Derrick Marks. "Being around survivors and learning the emotion they have and what really makes them happy has helped me continue to learn and get the routine of what is going on and how things are ran."
Cancer survivors and their families were treated to a reception of congratulatory messages, pats on the back, and words of support during the event. Those in attendance enjoyed the Titans rookies' company, food, complimentary massages, and information on how to stay involved with local cancer organizations. Baptist Hospital, Middle Tennessee Medical Center and Saint Thomas Hospital joined together in creating an atmosphere of tranquility and support to those who know, all too well, what it means to find it within themselves and those around them to make it through each day.
"The importance of this event is that it recognizes survivorship and it honors our patients who have been through that journey with cancer, battled it (cancer), and are well into survivorship," explained Sharon Tibbits, Cancer Program Coordinator for Saint Thomas Health Services. "This is a great community outreach project that helps improve awareness in our community in the fight against cancer and the struggles that cancer patients and survivors go through."
The involvement of the Titans rookie class provided a great deal of excitement for the cancer survivors and their families who have struggled with overcoming the negative aspect of disease and illness.
"Any support you get is helpful to you," said Eva Crafton, a cancer survivor. "It builds your strength and brings you up!"
This is the first event for the Titans rookie class. Not only is it a demonstration of the Titans continued dedication to the community, but a display of the true concern and support the Titans rookies have for making a difference in the lives of those in their new home.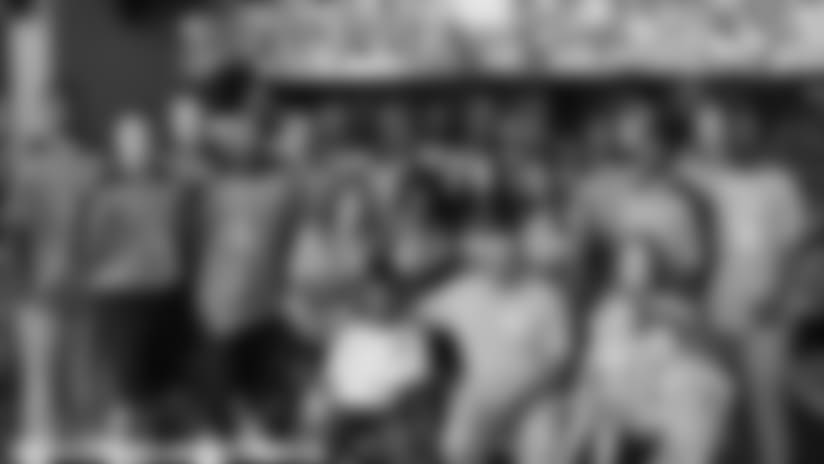 Dr. Carl Willis, an oncologist at Baptist Hospital with his son Clarence, and Dr. Laura Lawson,a breast surgeon at Baptist Hospital, with her children Wade and Luke, are presented a game ball by the 2009 Titans rookie class at the event.*
*