The top four draft picks from the 2009 Titans rookie class and Titans Cheerleaders visited the Army's 160th Special Operations Aviation Regiment (Airborne) "Safety Day" last week in what has become an annual tradition with the Titans taking part in the event for the third consecutive year.
Kenny Britt, Jared Cook, Sen'Derrick Marks and Ryan Mouton made their first official appearance as Titans and were joined cheerleaders Ashley and Brooke for a very exciting day at Fort Campbell Army base, which is located on the Tennessee/Kentucky border and approximately 60 miles from Nashville.  The players and cheerleaders showed their support by posing for photos with soldiers, signing autographs, handing out posters and visiting with many families of soldiers currently fighting overseas.
The 160th is known as the "Night Stalkers" (see more info on Night Stalkers below). For both soldiers and players alike, the event provided a unique opportunity to spend time and interact with men and women who are proudly serving our country!
After a briefing on the Night Stalkers' capabilities, the players were made aware of the significance of "Safety Day" to the soldiers and to their loved ones in attendance. The families included hundreds of Titans fans, many being season-ticket holders, all buzzing with excitement for the Titans. Fans received autographed posters and greeted the players exchanging stories and expressing their gratitude for the player's appearance.
"It's amazing that they are so excited to see us," said defensive tackle Sen'Derrick Marks regarding the reactions of the soldiers and their families. "We have so much respect for them and all that they're willing to sacrifice, and they still look up to us."
The troops also provided their Titans guests with some unparalleled insight into their training and daily activities while touring the facilities. Titans players and cheerleaders were invited to test their flying and shooting skills in flight training simulators located on base. The facility is used to teach soldiers the proper safety techniques as well as provide flight training through simulation of scenarios they might encounter.
"I have family in the Marines and it definitely means a lot to me to be able to visit with these soldiers," said wide receiver Kenny Britt. "It was great to see all of the families come out to see us while we were there to show our support for them."
The Titans have visited troops and their families at Fort Campbell every year since 1998, primarily during the annual Titans Caravan and "Safety Day." The Titans players and the soldiers have a tremendous amount of respect for each other which makes each visit a treat.
"The Tennessee Titans' support to our Night Stalker Family Safety Day was exceptional!" said Col. Clayton Hutmacher, Commander of the 160th.  "The players and cheerleaders were patient and gracious throughout the entire event and provided countless memorable moments to the thousands of Soldiers and family members they spent time with. The Titans truly go 'above and beyond' in their support to our Soldiers and family members. I have been a Soldier for over 31 years and I have never encountered a more supportive and patriotic organization than the Tennessee Titans!"
The Titans support of the military begins at the top of the organization as team owner K.S. "Bud" Adams, Jr. served in the U.S. Navy.  Adams has encouraged players, coaches and staff to support local military events since he founded the team in 1959!
The 160th Special Operations Aviation Regiment's mission is to organize, equip, train, resource and employ Army special operations aviation forces worldwide in support of contingency missions and war fighting commanders. Known as Night Stalkers, these Soldiers are recognized for their proficiency in nighttime operations. They are highly trained and ready to accomplish the very toughest missions in all environments, anywhere in the world, day or night, with unparalleled precision. They employ highly modified Chinook, Black Hawk and assault and attack configurations of Little Bird helicopters.
Soldiers of the 160th have been actively and continuously engaged in the combat operations since October 2001. Today, the 160th Special Operations Aviation Regiment continues a sustained and active forward presence in the U.S. Central Command area of operations at multiple locations in support of operations Enduring and Iraqi freedom, in Afghanistan and Iraq respectively. Our crews also provide support to U.S. Southern and Pacific commands.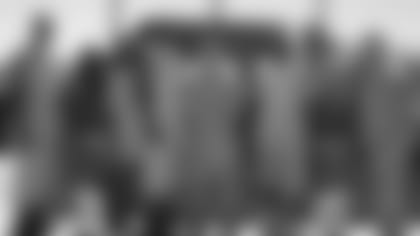 The Titans group posed with Col. Clayton Hutmacher (center) and CWO Dave Cooper (right) in front of the Night Stalker Memorial, which honors their fallen soldiers.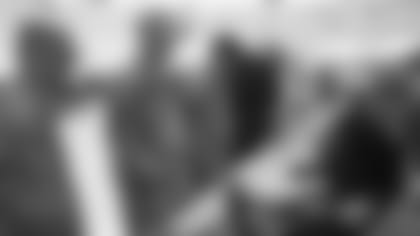 Sen'Derrick Marks greets three soldiers during Night Stalkers Safety Day.
*