NASHVILLE, TN – Jan. 31, 2008 --The Tennessee Titans recognized Bill Boss, 71, of Tullahoma, Tenn. as the 2007 Titans Community Quarterback Award Winner. Boss earned a $10,000 grant from Titans owner K.S. "Bud" Adams, Jr. and the Tennessee Titans Foundation for his non-profit organization, Hands-On Science Center in Tullahoma. Boss co-founded Hands-On Science Center in 1995 and has volunteered there since that date.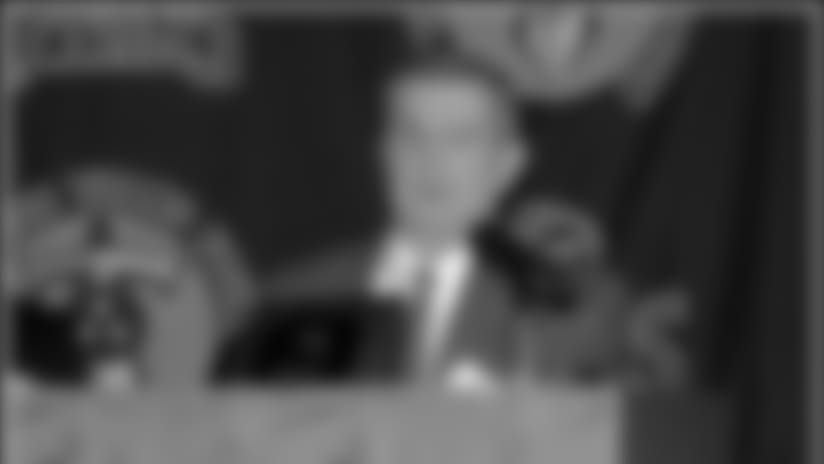 Titans Community Quarterback Award winner Bill Boss founded the Hands-On Science Center in 1995. Photo: Steve Cole

Grateful for the honor and recognition, Boss stood at the podium and spoke about what motivates him to give back to the community.
"One of my inspirations for doing this is, when I was a kid, I didn't do very well in school and it wasn't until someone took me aside and pointed out how interesting it can be," said Boss. "So I try to do the same for as many kids as I can. This is quite an honor."
"Mr. Boss is phenomenal in his dedication to the science center. I am the only full-time person and he works just as much or more than I do at the center, does it for free, plus donates to the center every year," said Hands –On Science Center General Manager Misty Marshall. "With $10,000, there are definitely a lot of things we could do. One thing we are examining is busing in children from Title I schools that can't afford to come in. We would be able to help some schools out where kids aren't able to go on many field trips because the parents cannot afford it. There are so many possibilities!"
Boss was one of six volunteers recognized today for their work with non-profit organizations who were chosen based on their leadership and dedication to bettering their hometown communities. The Titans Community Quarterback Award program is a statewide contest that recognizes outstanding volunteers, ages 13 and up, of non-profit organizations in Tennessee. The winners were awarded with grants from the Tennessee Titans Foundation that totaled $24,000, bringing the total grants awarded since the program started in 2000 to $164,000.
The Titans Community Quarterback Award has had many extraordinary winners over the years and Boss' record of service is clearly worthy of his selection. Boss is a retired Air Force officer who moved to Tullahoma to work with the University of Tennessee Space Institute.
The following quotations are from Boss' nomination form submitted by Ashleigh Gipson, Assistant Manager of Hands-On Science Center:
"It all started 20 years ago with a man that loved science and helping children learn in a way that was fun started going to classrooms in Middle Tennessee to perform his 'experiments.' Soon other scientists, as many as 100, caught his vision and helped him visit schools to promote science, calling themselves the 'Visiting Wizards.' It wasn't long before they ran out of room to store all of their experiments so it was suggested that a large building should be built. Their dream became a reality in 1995 when the Hands-On Science Center was opened for business."
"The center currently has approximately 10,000 children a year from 10 surrounding counties as far away as Knoxville, Chattanooga, Huntsville and Nashville. Bill has designed and built over half of the exhibits, many with scrap materials in order to maximize our small budget. Bill is at the center almost every day of the week for the past 12 years and has volunteered approximately 30,000 hours since the center opened in 1995."
"Bill retired as a U.S. Air Force officer in 1979 and went to work at the University of Tennessee Space Institute as a senior research engineer. We are thankful for the rich history he brings to the center, as he is able to share his many life experiences with our visitors."
"We have had some incredible winners since we began the Titans Community Quarterback Award in 2000 and Bill Boss continues the tradition of Tennesseans of all ages who give so much to non-profit organizations across this great state," said Adams.
"Bill is truly an inspiration to us all," continued Adams. "Community involvement is very important to my wife Nancy and me and the entire Titans organization. We are pleased to present this grant to Hands-On Science Center in recognition of Bill's dedication. We salute not only today's six grant winners but everyone that was nominated for this year's Titans Community Quarterback Award!"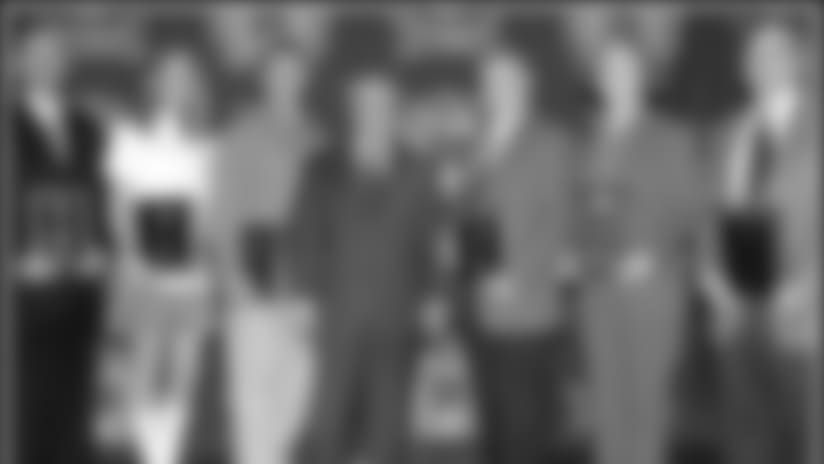 Community Quarterback Award Finalists (From L-R) Ken Buck, Taylor Cox, Kurt Kammann, Titans Senior EVP/General Counsel Steve Underwood, Bill Boss, Dorthea Severino and Dr. Robert Miller. Photo: Steve Cole

There was a tie for runner-up in the competition. Dr. Robert Miller of the Shade Tree Family Clinic in Nashville and Ken Buck of Nashville's Community High School each earned a grant of $3,625 for finishing tied in the runner-up position.
Three semi-finalists were also named and each of them earned a $2,250 grant for the organization where they serve as volunteers. Those three are Taylor Cox from the Arthritis Foundation in Nashville, Kurt Kammann of the Children's Center of Knoxville and Dorothea Severino of the Family & Children's Services in Nashville.
The Tennessee Titans Community Quarterback Award is a recognition program developed by the National Football League (NFL). This program donates nearly $1 million to the respective non-profit organizations of the volunteers all across NFL cities. Bud Adams and the Tennessee Titans Foundation has distributed $164,000 in grants since the program began in 2000.* *
A brief summary of the co-runners-up and semifinalists follow: Ken Buck, 47 --  Community High School – Nashville
Buck began as a volunteer two weeks after school opened and has been a vital part of their community ever since.  Each Monday for past 10 years he reports to a group room to work with students to support their personal programs of recovery.  As Tennessee's only recovery high school, Buck is a true source of help to students committed to living clean and sober lives.  Buck was co-runner-up and earned a $3,625 grant for Community High School.
*
Taylor Cox, 17 --  Arthritis Foundation - Nashville
Cox is a dedicated advocate for the Arthritis Foundation.  Diagnosed at age 13, she began her volunteer efforts shortly thereafter, raising awareness about the disease.  She was instrumental in forming KARDed (Kids Aware of Rheumatoid Disease and Education), which raises awareness and much needed funds to combat this disease.  Cox was a finalist and earned a $2,250 grant for the Arthritis Foundation.

Kurt Kammann, 38 --  Children's Center of Knoxville
For the past five years Kammann has served the center in a variety of capacities.  Most of his work is low profile in nature but incredibly important in the operations of the center.  Be it maintaining the grounds or performing facility maintenance, for the past five years Kammann has been a major advocate of the center's mission to provide quality services to needy children from six weeks to five years of age.  Kammann was a finalist and earned a $2,250 grant for the Children's Center of Knoxville.

Dr. Robert Miller, 53 -- Shade Tree Family Clinic - Nashville
Dr. Miller has served as Medical Director of the clinic since it opened in 2005.  As Medical Director, he is ultimately responsible for all the patients.  He is responsible for patient care, reviewing lab results and medical records, plus he procures needed supplies.  Dr. Miller is present every time the clinic is open and he accomplishes this volunteer work while also serving as a full-time Vanderbilt physician.  Dr. Miller was a co-runner-up and earned a $3,625 grant for the Shade Tree Family Clinic.

Dorothea Severino, 67 -- Family & Children's Services - Nashville*
Severino has served as a telephone crisis counselor with the center since 1994 and logged 1,600 hours per year her first four years.  She has since increased that amount to 600 hours of counseling per year and last year alone answered 896 calls for help from men and women of all ages dealing with suicidal thoughts or grief or crises such as domestic or other violence.  She has not allowed her absence of sight to hinder her efforts, which also includes visiting schools where there has been a recent suicide.  Severino was a finalist and earned a $2,250 grant for Family & Children's Services.