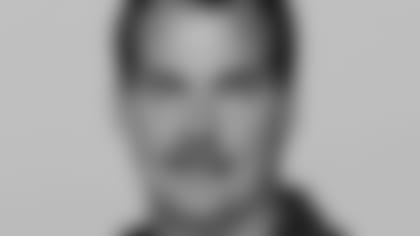 This past week I was asked on several occasions if I was concerned about a letdown after the loss up at Indy. Throughout the week, I felt like we were preparing and going to play well. We talked about the need for turnovers which we hadn't gotten in three weeks or so. They come sometimes and certainly today we took advantage of them.
I thought we played pretty well in all three phases. I was impressed with the Rams rushing defense. They certainly committed to stop our running game. They did a nice job and I think they are going to be a much-improved football team over time.
Anyway it was good to get back on track with the win and our focus right now is on the next opponent.
(on Vince Young's condition)
He has a mild hamstring (injury) right now and we will just see how he is throughout the week. I kept him warm and on the bike and he would have been able to hand off, and so that gives you kind of some idea. I am not going to comment any further than that.
(on David Thornton's injury)
David injured his shoulder and did not come back in the game.
(on if Vince Young's hamstring injury had anything to do with his knee)
With him nursing the knee all week, it probably did from this standpoint, you don't get a chance to get stretched out and get to full speed and do the things you ordinarily do during the week. So, I think the two were related not because he was compensating but just because I don't think he really got to full speed and that happens on his longest career run from scrimmage. But he played well. He came out and started off fast. He was playing and having fun.
Our concern coming into the ballgame with Vince was if he would be able to use his legs. Obviously, that runs showed you he had overcome that knee issue.
(on anticipating if he will have to be careful in practice with Vince Young)
Yeah, we will be smart. We don't want to risk further injury.
(on Kerry Collins' play off the bench)
He's fine. He knew what to do and made plays. That's a defense that we knew was going to be very unpredictable. We had to adjust because they throw different things at each opponent weekly. They load the line of scrimmage and shut the run game down. So we took advantage of what we needed to. We didn't have a lot of long fields, particularly because of the turnovers.
I was disappointed that I had to settle for threes early in the ballgame, but we made a point to convert a couple of fourth down and try to get some points.
(on defense forcing four turnovers)
You expect those things when you play an inexperienced quarterback. I thought the quarterback, however, did a good job for his first time out. First, we didn't know who was going to play. We walked on the field and we felt like if we just played sound, solid defense and stopped the run we would have a chance to win the game.
(On what St. Louis did in the second half to prevent Chris Johnson's success)
Well, they put as many people on the line of scrimmage as possible and they were just stunting and taking away the outside run. When they do that, you have to pick it up and throw it sometimes. He (Johnson) still had 117 yards.
(On Kerry Collins' success today due to getting reps with the first team in practice this week)
It's always good to get reps, it's hard to say, but Kerry knows what to do and he pays attention and he's a very experienced quarterback.
(On LenDale White being healthy enough to play to give Johnson a break)
LenDale healthy? Yeah, he doesn't have any health issues. No, we're just trying to get C.J. his yards. He never got in the game.
(On there being a fine line between helping Johnson get closer to the record and remaining healthy)
No, we're just going to hand the ball off to him. I mean, he asked me if we could toss it to him one more time with 18 second left. And I said no, we're going to kneel it.
(On Rob Bironas hitting another field goal at the end of the game to get 50 points)
It would have been a long field goal. I think that ball was on the -20.
(On how nice it was to get a win like today's)
Well, it's nice. It nice when the team is literally bothered to a man who gave up the points. That a good thing to help them overcome. It's a good week. They prepared well. They stayed focused. We did what we needed to do. We had a great deal of respect for their run game and I thought defensively, particularly our ends and linebackers, played, I can't discount our tackle plays but our front seven played well in their runs and that was good to see.
(On it being a part of the game plan to stack against Steven Jackson)
We didn't stack as often as we thought. Some of the runs that were tackles for losses were a seven-man front instead of just people winning one-on-one matchups.
(On Coach Spagnuolo having a problem with the touchdown made by Alge Crumpler)
I mean, I wasn't looking at him when I made that decision when Alge caught the ball so you'll have to ask him. Again, we settled for threes early and we need to learn to score touchdowns and if they were unhappy with it. They faked a punt when they were down by 30. I wasn't doing anything from a personal standpoint. I was trying to score points and coach a football team.
(on what happened on the play that he got hurt)
I just kind of tweaked my hamstring a little bit so I just got off of it and told coach, 'I'm just going to sit it out. I didn't want to get too bad with it and injure it even worse.'
(on if he had to come back if it were in a playoff-type situation)
Oh yeah, definitely. Safety-wise, like I always say, I'm going to listen to the doctors and do what they say because they know best.
(on taking precautions and whether he is more aware of them now than a year ago)
It's big, just listening to all the things that are going on around the league, from concussions to sprained knees, all kinds of stuff. The game is getting faster and guys are getting more physical. All kind of things are going on. You definitely have to protect your body, and our trainers did a good job of making sure everything was straight.
It's alright. I don't really feel too much pain. Like I said, I did a good job of getting off of it. Our trainers did a good job of letting me know what I needed to do to keep it warm. You see me on the bicycle during the game and things like that. It's not too sore and that's a good thing.
(on of if the hamstring injury was related to his knee)
That's what I said earlier. I really feel like I was focused a lot on my knee this week. Most of the time I usually get like a mile, two miles in, concentrate on my hamstring and I didn't get a chance to do that because I was focusing on my knee. At the same time, it happens, talking to my trainer and (Steve) Watterson. The good thing about it is it's not hurting as much. So, that's a good thing.
(on if it was emotionally painful to come off the field after earning the starting position back)
Oh yeah, it definitely was painful. All respect to Kerry Collins, they got that big faith in him. I know he knows what to do. He got out there and took care of responsibilities. So, the biggest thing is I've got to get my leg back right.
(on how much the practice reps helped when Vince Young hurt his knee)
It definitely helped. Obviously, getting the reps during the week made me that much more familiar with what we were doing. I had the whole day on Friday and a little bit on Thursday. To be able to get some reps later on in the week definitely helped today.
I felt pretty comfortable when I first went in. We had some drives stall in the red zone that we wish we could have capitalized on a little bit better. For the most part I felt comfortable going in there and felt comfortable with the game plan and what we were going to do.
(on his thought process going forward)
Obviously, we'll just see where Vince is at after tomorrow and Tuesday. See how he feels. Whatever I'm asked to do this week, I'll do. Hopefully he'll be back and we'll get him back in there. If he's not ready to go, I'll look forward to getting ready this week and playing Sunday.
(on the Rams defense trying to control the running game with eight or nine players in the box)
That is every week, this week. Gaining 2,000 yards and breaking the record, it is not going to be easy. It's a tough job, so I don't expect to go out there and it be easy for me. I'd say on our part, it was a couple of bad reads, a couple of missed blocks. I put that on ourselves as the offense.
(on the pass where he cut in and made a juke move when Justin King was on coverage)
When I got into the open I field, I saw they were running so hard. Most of time, when I get upfield, a lot of people are trying to get a good angle. When he turned and ran that way, I knew I would be able to cut inside.
*(on being the outlet guy for what turned in to the big play)*
No, actually. It was a missed assignment. I did the wrong thing. I was supposed to stay in, but the dude came in real late and actually I was out. It worked out for the better.
*(on the feeling of knowing you can break a big play)*
Basically, I feel that big plays are always something good to have in your toolbox. If you have big play ability, teams are always going to be scared and they have to game plan against you. But today's game, I felt like I could have been better. I felt like it wasn't one of my best games, but you can always get better next week.
(on if playing against Steven Jackson lead to increased motivation)
I talked to Steven before the game, like on Thursday or something like that. No matter what back I'm going against, I want to out perform him. Basically I wanted to just come in here and get this win. We had a bump in the road last week verses the Colts so it was very important for us to come in here and win.
(on being concerned about Vince Young going out of the game)
I wouldn't say concerned. I was concerned for his health, but Kerry (Collins) he has played before. We were 10-0 with Kerry (Collins) last year, and the odd thing, I don't think anybody blinked or anything like that, or had any words. We knew we could still get a victory and have a successful offense with Kerry in the game.
(on knowing that the Rams were in trouble as he made the 66-yard touchdown play)
I really didn't know, because when I turned around I saw the first dude because I made him miss. Once I got down the field a little bit and I saw they had an angle on me, and then I really knew I'd get in the end zone.
(on if his running success relates to him waiting for his blockers)
Basically, I think it is because now when I get in the open field, guys are running, turning their backs and running to the end zone and getting good angles on me. So, I'm not able to just get to the sideline or just run straight. I've got to make people miss.
(on having a better chance of breaking a big play when Vince Young is in the game)
I'm not sure, I guess teams, they've got to maybe stop me and Vince, so they have got to worry about two athletic guys back there. That could be a reason why it is more likely with Vince in the game.
(on the importance of capitalizing in the end zone)
It is really important, because we feel like that was the cause of why we lost last week. We got in the red zone twice and didn't score and this game it came up again. We got down there and we got three instead of six. That is something that we are going to have to work on as well to win these last three games.
(on teammates not knowing which way to block)
I don't know. They've just got to block somebody.
(on Kerry Collins throwing him a block in the open field)
I've seen him. He's just trying to make plays, just like Vince (Young). He's a competitor. He wants to win. I don't think anybody wants to go in there and be a loser.
(on playoff hopes still being alive)
Yeah, we are just going to take one game at a time and worry about our next opponent.
(on having torn allegiances with East Carolina playing in Memphis on Jan. 2 while he will be in Seattle for the last regular season game)
No, not really. I talked to Skip (Holt) two days ago. Basically, we are just going to be looking to try to get in the playoffs and win our last game and keep looking straight ahead.
(on the play of the Rams rookie QB Keith Null)
They came out and were trying to get rid of the ball quickly, early and not let him take hits. It forced him into maybe a couple of bad decisions and gave us the opportunity to get some picks. Guys made some really good plays. That's what the defense is all about. Stop the run, and make big plays and we did that all night.
(on the defensive effort of the Titans today)
It was a good game. It seemed like everything was going our way. We made big plays and did a good job of stopping a really good running back. It was definitely one of our better games to date and something to build upon … I think we did a good job of tackling because that's a tough running back to bring down. He gets a lot of yards after contact and the whole day guys were getting there. We were getting two or three guys to the ball carrier, not letting him get those extra yards after contact. I think that set the tone for what we wanted to do.
(on recording two interceptions)
It's not too often you can get two picks in one game. I think it was great that on one of the last three games of the year, I was able to do that here for the home fans.
(on the defensive effort of the Titans)
It was a great day. Anytime you can go out there defensively and get them to turn the ball over like that is definitely going to help you. We've been on the opposite end of that and seen how it worked out. Today we were on the delivery end … Stevie J (Steven Jackson) is their main offensive focus and we did a good job of neutralizing him. We knew they were going to come out and try to give him the ball as often and anyway that they could. I think as a defense, as a whole, we were out on point knowing where he was going to be and to be able to get to the ball as soon as he touched it.
(on being called "Mr. December 13")
How about "Mr. I Just Get It Done?" For the last 10 or last eight (games) I feel I have. Today we got it done as a team and it was a very impressive victory.
(on the last-second victory)
It was a great defensive game plan. Coach talked about it all week, having to stop the run first and be able to make the plays in the back end. It's tough for a rookie quarterback to come in there and make the plays if the running game gets stopped. We were able top make some plays so it was a great defensive scheme and effort and we were able to come out on top.
(on the Titans defense's five interceptions)
We want to set the mark high and definitely get interceptions. Like I said, it's tough for a rookie quarterback to make plays and we just happened to be in the right spots with great calls, so credit us for making the picks.
(on his play this week, including making some big catches, as opposed to last week's performance at Indianapolis)
I think I kind of got down on myself last week. It kind of affected me on the field. I have to do a better job of making the plays that I know I can make, and tonight is an example of what's to come. I felt great. That's something I expect of myself. I'm not the guy who's going to come out here week in and week out and have suspect plays.
Last week was very unlike me. I just want everybody to know, those things are not going to be there every Sunday. I expect myself to make those type of plays that I missed last week and I missed them last week. I'm going to leave that in the past and continue to get better.
(on the job Titans QB Kerry Collins did coming in the game)
Kerry Collins did a good job tonight of coming in and closing out the game. We had a great stating pitcher, but you know we had a great relief in Kerry. Nobody panicked. He did a great job of coming in and managing and doing what he could in order for us to keep winning.
HEAD COACH STEVE SPAGNUOLO
Injury wise, Paris Lenon looks like he has got a hip pointer and I don't believe he went back in the game. Dave Vobora hyperextended his knee and I think there's a little bit with the ankle there too. And Jacob Bell, at the end, had a hamstring. I don't know the severity of that. Leonard Little, throughout the course of the game, had a bum knee but he will probably shake that off. Other than that, I am sure there are some other guys in there with nicks and bumps and bruises but that's all I got for you right now.
Obviously I'm very disappointed today, felt like we went a little bit backwards today. Certainly the penalties hurt us today and that's a good football team. When you play good football teams and you do things to hurt yourself, you shoot yourself in the foot, it's hard to win games.
(on deciding to go with Keith Null at quarterback)
When we got over here, all along we were hopeful that Kyle (Boller) would be able to do it. He just couldn't. He just didn't feel like he could push off on things well. He and we just felt like he wasn't going to help us, that he would be hurting the team and he's a competitor and he wanted to go. By that I mean, in his mind he wanted to go but he knew.
(on this game hurting Null's confidence)
I hope not. That's the thing you worry about when you put a young guy in a tough situation. Keith's (Null) is a pretty solid guy. He's been the kind of guy, at least since we have been with him, he's got some resolve. We're going to hope, the answer to your question is that he will be able to shake it off. We will see.
(on scaling down on plays due to Null being the starter)
Not really. If you remember during the week, Kyle (Boller) half and Keith (Null) half and Dick (Curl) working with those guys all week long. I would say no. He kind of knows the offense.
(on adding any new plays with Null))
No and that was part of it. There wasn't anything additional. We pretty much went with him.
(on benching Richie Incognito after his second penalty)
I'm not sure. It's more about the team right now.
(on why Incognito didn't play afterwards)
It's just something I've done. I'd rather talk more about the team. I'm trying to help, just trying to help.
(on defending Chris Johnson)
As I stand here today, not a lot of fun. That's a talented back and a talented football team. I credit their offensive line too. He is very skilled and put the combination of a good offensive line together, smart, physical and a talented back, it's tough to defend.
(on staying upbeat with the season )
It's hard. It's hard. It's hard but I bounce back, I don't worry about that question. I know the guys in the locker room will do the same. I will go down some positives; we had the fake punt, which I thought was executed beautifully. In special teams, I thought all day long we did a nice job. We got a turnover on special teams so those guys are doing a nice job. There were spurts of the defense playing well. I mean, the defense was put in tough situations, held them to some field goals and still fighting in there. We didn't generate a lot on offense; we all know that, but even in the end we were still fighting. I don't lose sight of that.
(on if this is the most disappointed you have been)
No, no. I mean when I say that you are going to think I was disappointed another time. No, they are all the same to me. I'm only 15 minutes away from losing a football game. They all hurt. It hurt the players, it hurts me. We want to win. We are still in there battling. That's what we are going to do the next three weeks. When you don't win, you hurt for a little while and then you dust it off and move on to the next game and that is what we will do. **
(on Tennessee going for it on fourth and goal)
I'm not going to past judgment upon anybody. Everybody plays the game a little bit differently. If they go for it on fourth down, we find a way to stop them. That's how I look at it.
(on next week's starting quarterback)
Not really. We will see where Kyle (Boller) is and certainly watch the tape of Keith (Null). I think he had some flashes in there, he threw the ball pretty good. He came out in the first play of the game and going in there for the first time and got that ball right to Danny (Amendola) which was impressive.
(on what the team was told following the game)
We're disappointed. I didn't say a lot. These guys are pros, they feel it. It's tough going through a hard thing right now. We try to handle it professionally, because we are pros. Let's get home and visit tomorrow and try to iron out some things.
(on how long was it before the game that a starter was named at quarterback)
When we went out, we were hoping that Kyle (Boller) was willing to go out. He threw it around a little bit and still was sore. I said, well let's go out to pregame and right after pregame it was evident that he didn't think he was going to be able to do it. And we told Keith (Null) to be ready because all along Kyle was still feeling a little bit gimpy.
Instead of embarrassing myself and my family I am just going to say I am tired. I am just tired. You feel in the blanks. However you want to write the article, however you want to say it. I am just tired.
(on when he found out he was going to start the game)
I didn't know I was going to start until after warm ups. Kyle (Boller) tried to go out there and warm it up, but it just didn't end up working out.
(on his nerves going into the game)
I did feel calm. I felt confident going out there. That is the only way I have ever gone out there and played so it really wasn't any different tonight.
(on the speed of the game)
Going out tonight playing in a full game you notice the speed a lot more than in practice and things.
I will let the coaches decide that and see what they say. I did some good things and I did some bad things. I definitely need to get back and get to work. I need to watch the film and make corrections. That is really all that I can do and move on.
(on what positives he can take from a game like this)
The positive is you are getting experience. I got to go in and play a full game, have the experience of an NFL game. There is nothing that can compare with that. You take the bad things and learn from them and try to get better.
(on his first touchdown pass)
That was pretty awesome. You work so hard. Coming in here and starting an NFL game is awesome in itself. To be able to throw a touchdown pass is a huge blessing that I give God all the glory for.
(on the injuries in the linebackers corps)
That is part of the NFL. Guys have got to fill in. (Chris) Chamberlain came in and did well. Those guys prepare like starters. When he came in, he knew what he was doing. He knew what his assignment was. Same with Larry Grant. That is what the NFL is always about. The coaching staff really makes sure that guys know multiple positions.
(on stopping Titans running back Chris Johnson)
He is really explosive. When you play this team, you have to limit his big plays and we didn't do that. You saw the first quarter, they hit us on the long touchdown run and they hit us on the screen. You have to limit those big ones. You have to try to make them pound it all game and we weren't able to do that. That is why he kind of went off like he did. We let up way too many big plays today.
(on occasionally having success against Johnson and also letting up big plays)
I don't know what it was. When you are on the field, it is not like you are able to look at the replay and see where the ball hit. We'll have to look at film and kind of discover that. He is a great player and you have to give credit to the Titans. They made some big plays. You have to stop those big plays. That is all you have to do.
(on taking personal insult during the end of the game)
When you are a defensive player, you don't want to give up as many points as we did. There are no excuses if you give up 40 points in a game. That is not acceptable on any level whether it is high school, college or professional. We will look at the film. I know the character of these guys in this locker room and the character of our head coach. We will move on and we will get ready for Houston.