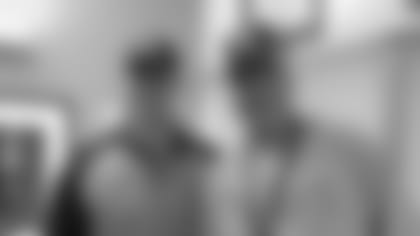 Rookie QB Jake Locker was one of several Titans players who personally delivered season tickets to club season ticket holders.
NASHVILLE, Tenn. — Titans fan Mike Morrison was told he needed to attend a meeting at the Nashville high school where he coaches baseball and football. Instead of encountering his co-workers or students, Morrison was met by Tennessee punt returner Marc Mariani.
Mariani was one of eight Titans who spent Wednesday afternoon delivering tickets to Tennessee season ticket holders. It was a goodwill gesture to thank fans that paid for the tickets even as the 4½-month lockout seemed to threaten the 2011-12 season.
Mariani says he enjoys this part of his job because of the fans' support.
Tight end Jared Cook, wide receiver Damian Williams, punter Brett Kern, linebacker Gerald McRath, cornerback Jason McCourty and offensive linemen Michael Roos and Eugene Amano joined Mariani in canvassing the greater Nashville area to deliver tickets.