**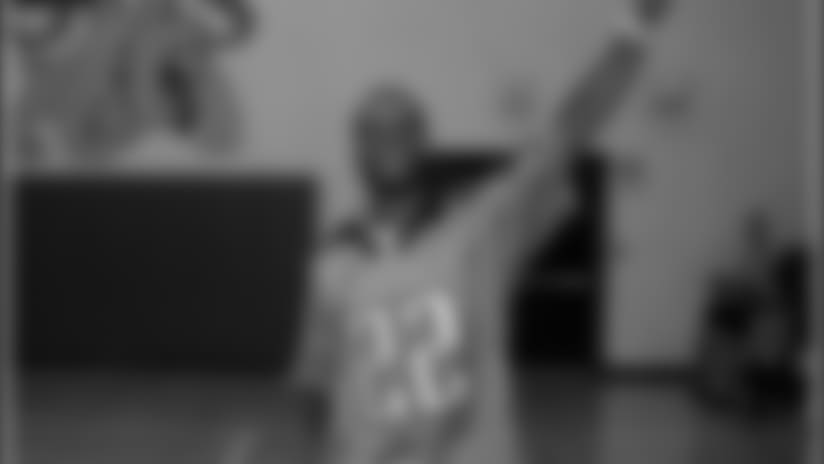 Safety Vincent Fuller waves to children at Henry Oliver Middle School as he is greeted by the students.


NASHVILLE, TN, Oct. 2, 2008 — **Titans players continued their tradition of Titans Tuesdays in which they take their one day off a week to visit both a hospital and a local school. The offensive linemen lifted the spirits of patients at Saint Thomas Hospital while safety Vincent Fuller encouraged students to stay active, both physically and mentally.   Fuller, safety for the Titans, visited Henry Oliver Middle School to promote exercising, a healthy diet, hard work and overcoming any obstacles that life might throw your way. Fuller and the rest of the Titans work to promote the NFL's What Moves U/Play 60 program in conjunction with the American Heart Association. He was greeted by a loud roar of over 500 students who were so excited that they clapped and stomped their feet on their gym's bleachers. After speaking to the large audience, a lucky group of 25 students received a Titans school folder, an autographed 2008 team poster as well as the opportunity to ask questions of Fuller. 
At the end of the visit the students realized that even though Fuller is a professional football player, they can already begin to develop the same skills he possess to create their own success. The entire student body received a 2008 team poster and the principal was gifted with a 10 th anniversary football autographed by Fuller.
Also taking part in Titans Tuesday were members of the offensive line, who visited with patients at Saint Thomas Hospital. Leroy Harris, Jason Murphy, Michael Otto, and Fernando Velasco offered encouragement, pictures, and autographs to patients in the hospital's cardiac, orthopedic, and neurology units. The patients expressed how proud they were of the team for starting 4-0 and wished the players well in upcoming games. The players and patients were also able to joke around and tease each other about college loyalties. All teasing aside, the patients were left with big smiles on their faces after the players' visit.

Offensive linemen Mike Otto (L) and Leroy Harris spend time with an excited patient during their visit to Saint Thomas Hospital.


"Having the Titans here really lifts the spirits of our patients. Their visits are a wonderful community benefit and make the difference in the lives of our patients," said Les Donahue, President and CEO, Saint Thomas Hospital.