**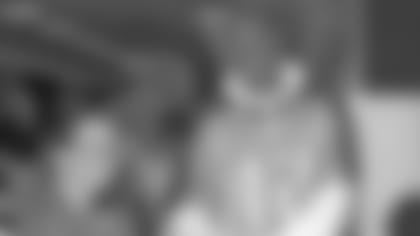 Titans wide receiver Justin Gage checks in Delta Air Lines passengers Tuesday at Nashville International Airport.
NASHVILLE, Tenn. --** Titans wide receiver Justin Gage, linebacker Gerald McRath, cheerleaders Alyson and Janae and team mascot T-Rac gave special sendoffs and welcomes to Delta Air Lines customers Tuesday morning at Nashville International Airport.
Gage and McRath received an up-close view of the cockpit, McRath donned a pilot's hat on the tarmac, and Gage scanned boarding passes for a flight from Nashville to Detroit. The players, cheerleaders and T-Rac also signed autographs and posed for pictures with passengers and Delta employees.
Delta is the official airline of the Tennessee Titans and handles all of the team's air travel.
"This is Delta's Customer Appreciation Day. It's also the Titans' Appreciation Day," said McRath, who added that he enjoyed the opportunity to meet and greet air travelers and thank Titans fans for their support.
"People look at the NFL and the players as being role models, so it's always good to reach out and say we appreciate everything you guys do for us as players," McRath said. "We want to encourage everyone to do their best."
McRath gave an inspirational bracelet to Trevor Smith, a 35-year-old member of the Army, and Smith gave McRath an inspirational dog tag that said, "I will never accept defeat." Smith was departing for his third tour of duty in Afghanistan Tuesday. He has also completed two tours of duty in Iraq.
Smith, a native of St. Louis, is stationed at nearby Fort Campbell. He played offensive line in high school and has adopted the Titans as his second team, behind only his native St. Louis Rams.
Michelle Shower and her children Brittani, 17, and Michael, 10, were on their way home to Wasilla, Alaska, after visiting family in Middle Tennessee. Michael, who plays soccer and football, said it was "cool" to meet pro football players for the first time.
Kathrina Reed of Murfreesboro was able to get autographs for her children Michael, 4, Sammy, 8, and Andrew, 11, before her out-bound flight. Reed said her family and co-workers follow the Titans strongly. She said her family enjoyed attending the Kids Carnival Day hosted by Titans cornerback Cortland Finnegan at the Nashville Zoo on Nov. 20.
"That was a fantastic event," Reed said.
Steve Washington, Nashville station manager for Delta Air Lines, said Tuesday was an enjoyable experience for Delta customers and employees and that Delta enjoys being the official airline for the Tennessee Titans.
"It was great for everyone to unwind just a little bit, have some fun," Washington said. "It was a terrific time, fantastic."
Gage said the Titans appreciate the job that Delta does of handling the Titans' travels and that he enjoyed thanking fans in the airport and bringing cheer to their holiday travels. He also enjoyed a glimpse of what airline employees do at the check-in counter and in the cockpit.
"I definitely commend the staff that works behind the counter and the pilots that fly the planes," Gage said.