NASHVILLE, TN, Sept. 25, 2008 —Earlier this week, Tennessee Titans couples Ken and Sandi Amato, Daniel and Jennifer Loper, Benji and Tracy Olson, Michael and Kat Roos and Kyle and Lindsey Vanden Bosch served as celebrity hosts for the 3 rd Annual T.J. Martell Foundation's Celebrity Tablescapes event.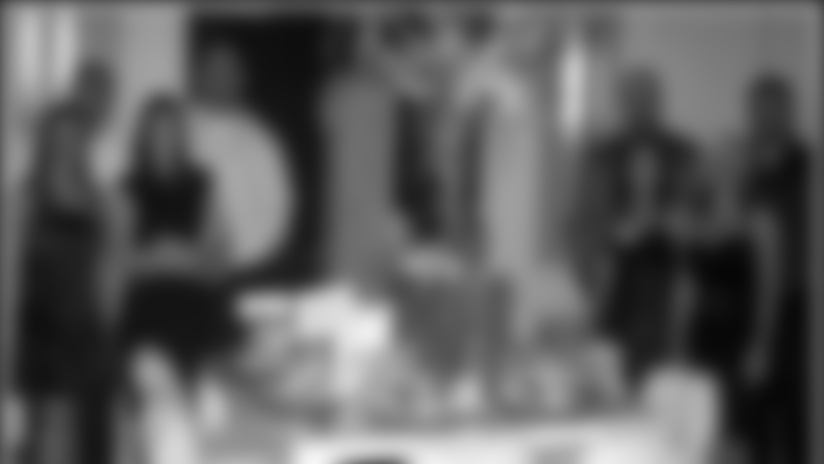 **From L-R:   Ken & Sandi Amato, Michael & Kat Roos, Daniel & Jennifer Loper and Benji & Tracy Olson stand with their tablescapes design themed "Nordic Frost."
The event paired Nashville's top designers with local celebrities including country music artists Kenny Chesney, Faith Hill, Reba McEntire, Robert Reynolds of the Mavericks, Carrie Underwood and Holly Williams as well as wives of the Nashville Predators and other well-known Nashville personalities.  Amato, Loper, Olson and Roos wives designed their own tablescape, with the help of  their designer from nouveau classics, themed "Nordic Frost" and served as hosts of the cocktail reception, while Kyle Vanden Bosch served as the guest speaker for the luncheon.
 
"This is always a wonderful event," said Jennifer Loper.  "And raising money for  cancer research is a cause near to our hearts."

The event is an annual fundraiser for cancer research.  All proceeds benefit the T.J. Martell Foundation, a 501c3 non-profit organization that raises vital dollars for innovative leukemia, cancer and AIDS research. The T.J. Martell Foundation funds eight research centers in the United States. In Nashville, the Foundation supports cancer research through the Frances Williams Preston Laboratories at the Vanderbilt Ingram Cancer Center. For additional information visit: www.nashville@tjmartellfoundation.org or call 615-256-2002.