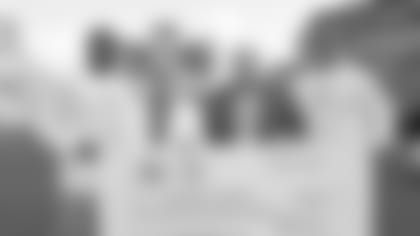 Titans owner Bud Adams and Titans players have awarded grants totaling $100,000 to Backfield in Motion over the past five years.
NASHVILLE, Tenn. --** Backfield in Motion (BIM) is much more than a football phrase to the 1,000-plus young men who have participated in its wide range of programs & services since the organization was founded in 1999.

Backfield in Motion is a Nashville, Tenn. based 501(c)3 non-profit organization that believes academic achievement and exposure to diverse opportunities for learning can inspire inner-city boys to reach their maximum potential and to become significant contributors to society.

Team Owner K.S. "Bud" Adams, Jr. and the Titans players share those beliefs and have now donated a total of $100,000 in support of the young men of BIM over the past five years. The grants were received from the NFL's Youth Football Fund (YFF), which receives its money from Adams, his fellow NFL owners, Titans players and players from throughout the NFL.

The five $20,000 grants were awarded from the YFF's "First and Ten" program, which combines a fall football league with ongoing academic assistance and tutoring. The key elements of "First and Ten" are education, character development and physical skills.

Those elements fit BIM's mission perfectly.

Specifically, BIM serves boys ranging in ages from 10 to 18, with the majority of them coming from economically disadvantaged households within the Metropolitan Nashville area.

They coordinate an intensive tutoring program throughout the week, plus a Saturday School which is made up of four hours of interactive, hands-on learning with the primary focus on reading, language arts and math.

BIM's goals are specific and far-reaching:

· Improved Behavior In and Out of the Classroom

· Improved Academic Achievement

· Improved Graduation Rates

· Improved Life Skills/Character Development

· Increased Parent Participation

Backfield in Motion students are referred via teachers, principals and guidance counselors at area schools, and by way of community centers, churches, public/private behavioral organizations and local government agencies. All are at-risk, and most are struggling academically, experiencing difficulty in adjusting to classroom procedures and/or needing desperately to build healthy relationships with caring adults.

They also have an outstanding youth football league for the young men, but football is not their primary focus. Far from it! A conversation with any member of the BIM staff will quickly place the focus on the elements of teaching these boys to become successful men!

"Many of the young men that participate in Backfield in Motion live within minutes of LP Field," said Adams. "While they are all youth football players, our hope is that they look beyond our football field to the downtown sector and dream of becoming a success in our business community. BIM gives them the tools to accomplish those dreams."

BIM was founded by Nashville's Joe Davis, who continues to be major donor to BIM. James "Boots" Donnelly is currently the CEO of Backfield and brings years of experience as a high school and college head football coach plus and administrator to the organization. Donnelly is well known throughout the region as much more that an "X's and O's" football coach. Spend even 10 minutes with him at any athletic event and you'll quickly see the influence he has had on others who seek him out and share examples of how Donnelly was a positive influence on their lives.

"The relationship we have with the Titans is just unbelievable," said Donnelly. "What the Titans do for our kids on an annual basis is a Godsend, from clinics, camps and of course financially. The Titans have basically adopted BIM and they do such a wonderful job with our kids. They know that our programs are worthwhile because they are involved in many of our different activities. We appreciate so much everything that Mr. Adams, the players and everyone associated the Titans organization does for our kids."

BIM incorporates into their programs elements of life skills and character development for the young men that focus on:
Responsibility: Being personally accountable for one's actions
Respect: Learning to respect oneself and others
Goal Setting: *Deciding what one wants to achieve *
Decision Making: Creating a plan of action to reach positive goals
Leadership: Developing the ability to guide and motivate others
Teamwork: Believing that "together, everyone achieves more"
Perseverance: Refusing to give up or let down
Self-Control: Remaining calm in all situations
Sportsmanship:* Playing by the rules and conducting oneself as a gentleman *
It's easy to see how the program has such positive results after reviewing this list! For more information on Backfield In Motion, please visit www.backfieldinmotion.org.