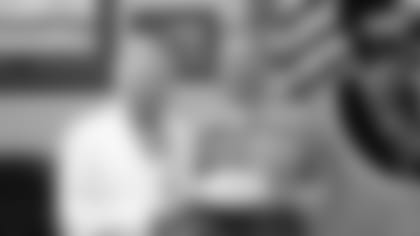 Titans owner K.S. "Bud" Adams, Jr. presents a game ball to 5th Special Forces Group Commander Scott E. Brower at Fort Campbell.
NASHVILLE, Tenn. -- Titans owner K.S. "Bud" Adams Jr. made a special visit to Fort Campbell on Saturday to honor the 5th Special Forces Group during their 50th Anniversary Weekend.
The 5th Special Forces Group, which officially activated on Sept. 21, 1961, collects intelligence and wages secret operations behind enemy lines. This week, the military base located on the Tennessee/Kentucky state line, celebrated the unit hitting the half-century mark.
The Titans, who have had a unique, long-standing relationship with Fort Campbell since the team arrived in Tennessee, wanted to take part.
"We've had a close relationship with the great men and women here over the years and I just feel that they're part of our family," Adams said. "I'm real proud of them and grateful for what they continue to do for our country."
Adams was given a tour at the command center, where he presented a game ball to 5th Special Forces Group Commander Scott E. Brower and received a special gift from Col. Brower on behalf of his unit. Adams was later given a tour around Gabriel Field, where stones and plaques are displayed honoring those in the unit who have lost their lives over the last 50 years.
"It means a lot to us to have some of the Titans family come up and join us here today," said Col. Brower. "Mr. Adams and the entire Titans organization have always been so welcoming of our family at LP Field. When our soldiers are deployed, the Titans provide us an opportunity for other soldiers and their family members to go and relax and just kind of forget about some of the more significant things going on, share time with the Titans and enjoy some American football. It always makes for a special occasion."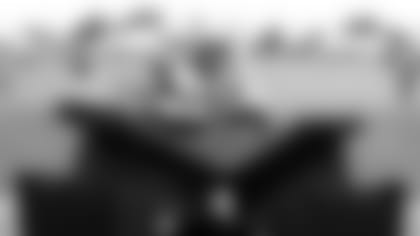 Adams views the recently-unveiled 911 memorial, which is made of two steal beams from the remains of the World Trade Center towers.
Among the things Adams witnessed on Saturday was a recently-unveiled 911 memorial displayed at Gabriel Field. The memorial is made with two steel beams from the remains of the World Trade Center that was attacked and destroyed on Sept. 11, 2001. The monument, donated by The Port Authority of New York and New Jersey, also pays homage to the 2,977 lives lost on one of the most devastating days in American history. It's a painful reminder for the 5th Special Forces Group, which was sent packing for war within minutes after the collapse of the Twin Towers.
Col. Brower said the Titans and Fort Campbell are a great fit.
"They have world-class athletes, we have world-class soldiers. There's a parallel there and that relationship is very fitting," he said. "Some of the traits they look for in their football players that work in their organization are the exact same things we look for in our soldiers working in our organization."
Col. Brower said his unit has worked with Titans strength coaches Steve Watterson and Jason Novak in the past, noting there are things both organizations can learn from each other "even though what we do on a daily basis is significantly different."
As for the support, it goes beyond just the Titans, Col. Brower said.
"The support that we get, not only with the Titans, but the Nashville community, is something that we don't see everywhere else in the country," he said. "It's very unique...it's outstanding."