Adams recognized at NFL Honors event for outstanding efforts in supporting the military community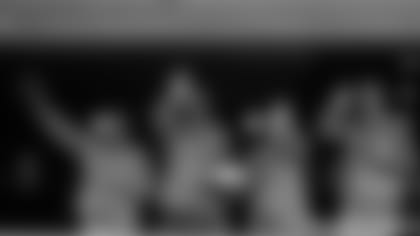 Titans owner K.S. "Bud" Adams, Jr. won the NFL's inaugural Salute to Service Award on Saturday.
INDIANAPOLIS – The NFL named Tennessee Titans owner K.S. "Bud" Adams Jr. the first recipient of the Salute to Service Award presented by USAA, the League's Official Military Appreciation Sponsor. In its inaugural year, the award acknowledges exceptional efforts by members of the NFL community to honor and support U.S. service members and veterans.
Adams was announced as the winner during the NFL Honors award ceremony and gala in Indianapolis this evening.  As part of the prize package, a $25,000 contribution will be made by USAA in Adams' honor to the aid societies representing all five military branches.
"The entire NFL community stands together as a proud supporter of our nation's troops and veterans," said Bud Adams, Jr. "It's my desire to see the work we've done encourage others to take action to support the men and women who make sacrifices daily so that we can live our lives freely."
A veteran of the U.S. Naval Reserve serving during World War II, Adams' connection with the military community is a personal one, and in his 52 years as franchise owner, he has been a longstanding advocate of all servicemen and women. 
Since moving with the franchise to Nashville in 1997, he has been a familiar face to the troops stationed at nearby Fort Campbell, home to the Army's 101st Airborne Division, and the Night Stalker and Green Beret special operations forces.
Located less than an hour away from the Titans' home field, Adams has established relationships with the base's primary commands and frequently hosts Fort Campbell troops at Titans' home games. More than 11,000 troops have attended games as guests of Adams at LP Field since it opened in 1999. Adams also conducts an annual, all-day visit to Fort Campbell where Titans players, cheerleaders and staff can participate in autograph sessions and greet residents at the Blanchfield Army Community Hospital and the on-post schools.
Adams was one of 22 coaches, active and former players, and team executives and personnel nominated by their clubs for demonstrating outstanding support for the military community. The submissions were evaluated in December and January by a panel of judges from the NFL and USAA, including NFL greats Roger Staubach, Chad Hennings, Rocky Bleier and Jim Mora Jr. Earlier this week, the judging panel named both Adams and Baltimore Ravens head coach John Harbaugh finalists before officially naming Adams the award winner.
The Salute to Service Award concludes a series of military appreciation events and initiatives held throughout the 2011 season by the NFL and USAA inviting football fans across the country to salute members of the Armed Forces.
"It has been a remarkable experience for USAA to work with the NFL to create these opportunities for fans to join us in honoring the military community for their service," said Steve Speakes, executive vice president of USAA's external affairs and a retired Army lieutenant general. "It was very encouraging to witness fans share their enthusiasm for their favorite teams with America's home team – the U.S. military."
USAA provides insurance and more to 8.6 million members of the U.S. military and their families. Known for its legendary commitment to its members, USAA is consistently recognized for outstanding service, employee well-being and financial strength. USAA membership is open to all who are serving or have honorably served our nation in the U.S. military – and their families. For more information about USAA, or to learn more about membership, visit USAA.com.