**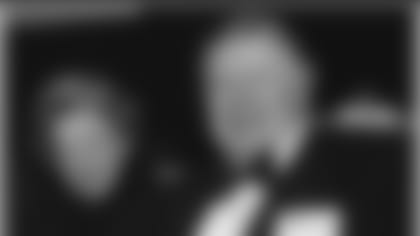 K.S. "Bud" Adams, Jr. and his wife, Nancy, have been longtime supporters of Nashville's Baptist Hospital.

NASHVILLE, TN, Feb. 14, 2008 —** Titans Owner K.S. "Bud" Adams, Jr. and his wife, Nancy, have announced a $500,000 grant from the Titans Foundation to the Baptist Hospital Foundation. The grant is designated for the Baptist Hospital obstetrics expansion project.
"We consider our organization's partnership to be among our most important," Adams said of the Titans' relationship with Baptist Hospital. "Our close association with Baptist includes not only the name of our training and administration facility (Baptist Sports Park), but more importantly, our players' health care, which is of huge importance to our business and operations."
"Our players and staff visit patients at Baptist Hospital on Tuesdays throughout the season and have done so since our move to Tennessee," Adams continued. "In addition to the great care our players receive, many of our players, coaches and staff have had their babies delivered at Baptist Hospital!"
Baptist Hospital is considered the leader in childbirth services in this region delivering more than 7,000 babies last year. This has brought on the necessity of an expansion with significant enhancements focusing on caring for the entire family.
"The gift from Bud & Nancy Adams will name the third floor Obstetrics Family Waiting Area and will now be known as the Bud & Nancy Adams and Tennessee Titans Family Waiting Area," said Bernie Sherry, President and CEO of Baptist Hospital. "This area plays a special part in the childbirth experience for the families and friends of the 7,000 babies born each year at Baptist Hospital, providing a comfortable setting in which to eagerly await a new baby's birth."
"The Bud & Nancy Adams and Tennessee Titans Family Waiting Area will be designed as a soothing space with separate areas for all members of the family," Sherry added. "From televisions, children's play area, snack area and quiet alcoves, everyone will find a space to suit their own needs. This gift will benefit all those who come to Baptist Hospital for one of the most important moments in life...the birth of a new baby."
This grant represents the largest single gift from the Titans Foundation since it was formed in 1999. Since the Titans moved to Tennessee in 1997, local charities have seen approximately $16 million flow into their organizations as a direct result of the Titans and the NFL. The great majority of those gifts have come from Mr. and Mrs. Adams and the Titans Foundation. About the Baptist Hospital Obstetrics Expansion Project:
The obstetrics expansion project at Baptist Hospital will result in an overall increase in the size of the program. It includes a renovation of existing rooms into postpartum rooms and nurseries and additional antepartum rooms for mothers with high-risk pregnancies, which have already been completed, in addition to a dramatic increase in the size, comfort and privacy of the Neonatal Intensive Care Unit (NICU). The expansion provides an excellent opportunity for Baptist Hospital to augment an already exceptional program that will be recognized as a national center for best practices and innovation, providing enhanced care that will make a difference in the lives of thousands of mothers, babies and families throughout this region.  The entire expansion project is expected to be completed by the end of 2008.