"Breast Cancer Awareness" is Community Focus at Sunday's Game
**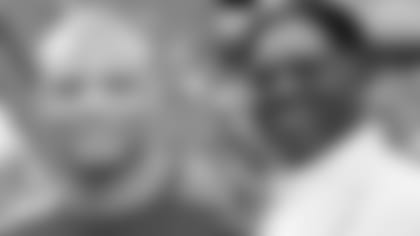 Former franchise greats Warren Moon (left) and Elvin Bethea (right) are among several NFL players and coaches helping to promote prostate cancer awareness.
NASHVILLE, Tenn. --** The Titans have joined the NFL in the battle against cancer.  September was Prostrate Cancer Awareness Month and October is Breast Cancer Awareness Month and the NFL is pleased to put its resources behind these two very worthy campaigns.
The American Urological Association (AUA) Foundation and the NFL have teamed up for a second year of educating men about prostate cancer and encouraging them to join the "Know Your Stats" campaign.
"We were pleased to expand the NFL's partnership with the AUA Foundation to help fight prostate cancer through the 'Know Your Stats' campaign," said NFL Commissioner Roger Goodell. "We are deeply committed to ensuring men know the facts about this disease and stay in the game for life."
Men and their loved ones can visit www.KnowYourStats.org to find the information about the wide range of available treatment options and early detection.
The statistics are startling: one in every six men will be diagnosed with prostate cancer in his lifetime.  Prostate cancer is the second leading cause of cancer death for American men, and is expected to kill more than 32,000 men in 2010. African-American men and men with a family history are at higher risk for developing prostate cancer, with African-American men more than twice as likely to die from the disease. To help combat this, the American Urological Association (AUA) recommends that men 40 and older talk with their doctors about prostate cancer testing, an individual decision that needs to be discussed with physicians.
Former Houston Oiler greats Elvin Bethea and Warren Moon, both members of the Pro Football Hall of Fame, are members of the campaign to "Know Your Stats."  Other football legends included in the awareness effort are Mike Haynes, John Madden, Ronnie Lott, Roger Staubach, Steve Young, Dan Marino and prostate cancer survivor Fred Biletnikoff.
Beginning with today's game, the Titans will join the rest of the NFL and its players in support October's National Breast Cancer Awareness Month with its largest on-field presence and a national screening-reminder campaign. In collaboration with the American Cancer Society, the initiative, called "A Crucial Catch: Annual Screening Saves Lives," encourages annual mammograms for women over 40.
Twelve local breast cancer survivors were guests of Titans Owner Bud Adams today.  The survivors were presented pink roses and featured on the team's jumbo-tron during the game.
Members of Zeta Tau Alpha Fraternity distributed 20,000 pink ribbons to Titan fans entering the game today.
Game-worn pink merchandise and K-balls will be autographed post-game and auctioned off at NFL Auction (www.NFLAuction.NFL.com), with proceeds benefitting the American Cancer Society and team charities. Special pink merchandise will be available at www.NFLShop.com and in stadium retail stores, with a portion of proceeds going to breast cancer charities. 
Fans can visit www.NFL.com/pink to learn more about breast cancer detection and prevention tips.
What You Should Know, or Share with the Men in Your Life, About Prostate Cancer:
Prostate defense begins at 40. Talk with your doctor to learn more about your prostate health.
*   If you're 40 or older, the AUA recommends you talk with your doctor about prostate cancer testing – knowing your baseline PSA score today could help save your life later.
*   Not every treatment is perfect for every man. If you've been diagnosed with prostate cancer, talk to your doctor about what is right for you  

* Know Your Stats – and don't let prostate cancer take you out of the game. Visit www.KnowYourStats.org to learn more.
Prostate cancer is most treatable when caught early. The AUA recommends men get a baseline PSA test at age 40 and talk with their doctors to create a prostate health plan based on lifestyle and family history. The future risk of prostate cancer is closely related to a man's PSA score, and men who are screened at age 40 establish a baseline score that can be tracked over time.