**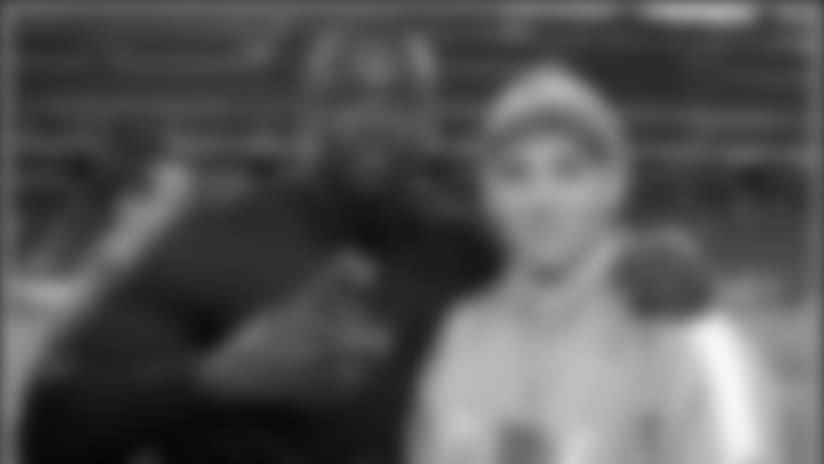 Matthew's wish was fulfilled when he got the chance to meet and spend time with one of his idols, Titans defensive end Jevon Kearse.

NASHVILLE, TN, OCT. 29, 2008 — **The Tennessee Titans made dreams come true for many fans this week as they defeated division rival, the
Indianapolis Colts
, on a national stage for Monday Night Football. But no fan got to experience it like 16 year-old Matthew Franceschini from Ridgefield, CT did this past weekend as part of his "wish" through the Make-A-Wish Foundation, a non-profit organization that grants wishes for children with life-threatening illnesses.
Franceschini has been a Titans fan since the team arrived in Tennessee ten years ago in 1997. The Titans hosted Franceschini and his family for a once-in-a-lifetime experience in Nashville as his wish was to meet the team and watch the Monday night matchup live at LP Field. Franceschini was diagnosed with Stage 3 Hodgkin's Lymphoma in October of 2007 and has undergone chemotherapy and radiation over the last 12 months. With the support of his family, Franceschini has responded well to the treatment and is now back attending high school as a junior.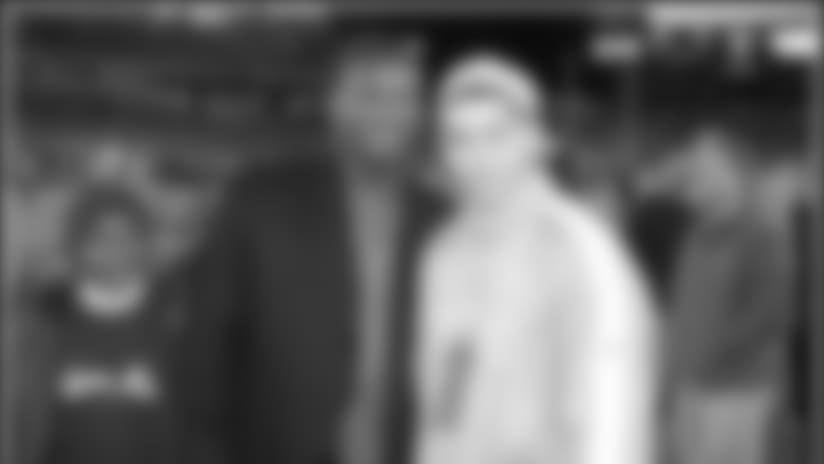 On the field during warmups, Matthew got the chance to visit with former quarterback Steve McNair.

Franceschini's wish began on Sunday evening when he and his family joined the team for walk-thru practice under the lights at LP Field and got to meet the entire team. As Franceschini toured the Titans locker room, he discovered his own jersey and other Titans memorabilia in one of his favorite players' locker, defensive end Jevon Kearse. At the conclusion of practice, several players stopped by to spend time with Matthew including his favorites like; Kearse, Keith Bulluck, Kevin Mawae, Craig Hentrich, Kyle Vanden Bosch, Vince Young and Head Coach Jeff Fisher.
Then, on Monday, the family was special guests at ESPN's exclusive "Chalk Talk" Luncheon series held at Ruth's Chris Steakhouse before they headed back over to LP Field for an all-inclusive behind-the-scenes tour of the Titans stadium. After the luncheon, Franceschini had the chance to meet and take pictures with Hank Williams Jr. who was on hand for the luncheon. While in the press box, he met former Titan Frank Wycheck who, along with Eddie George and Steve McNair, was inducted into the Titans Ring of Honor during half-time. Franceschini then was on the field to meet ESPN's Steve Young, Emmitt Smith and Stuart Scott before touring the ESPN live video truck. ESPN then ran a short piece during Monday Night Countdown on Franceschini 's extraordinary visit with the Titans.
As he stood on the sidelines during warm-ups, he met McNair and former Titans Kevin Dyson and Blaine Bishop. While watching the defensive line crack helmets in their warm-up drill, Coach Jim Washburn presented him with the D-Line football and a bear hug. Shortly thereafter, a few Titans Cheerleaders were on hand for photos with Matthew and to sign his Titans 2008 Cheerleader calendar.

Matthew and his family at ESPN's "Chalk Talk" luncheon.

After watching Hank Williams, Jr. sing the national anthem to kick-off the game, Franceschini and his family went to their seats to watch the Titans defeat the Colts in a 31-21 victory and a 7-0 record.
"This entire weekend was unbelievable," said Franceschini. "It was more than I ever expected and I'll never forget it. I just can't believe it."
Also on-hand during the weekend's festivities was David Krichavsky, NFL Director of Community Relations. "I was incredibly impressed with everything I saw -- the unbelievable experience that the Titans provided for Matthew and his family, the ESPN luncheon, the passion of Titans fans and the entire in-stadium experience," said Krichavsky. "The Titans couldn't have done anything more."
The Tennessee Titans have had a longstanding relationship with the Make-A-Wish Foundation. Over the last ten years, the Titans organization, including players and cheerleaders, have been very instrumental in helping Make-A-Wish raise an estimated $750,000 to benefit the charity that grants wishes to children with life-threatening illnesses. About the Make-A-Wish Foundation:
Since 1980, the Make-A-Wish Foundation has enriched the lives of children with life-threatening medical conditions through its wish-granting work. The Foundation's mission reflects the life-changing impact that a Make-A-Wish experience has on children, families, referral sources, donors, sponsors and entire communities.

The Make-A-Wish Foundation was founded in 1980 after a little boy named Chris Greicius realized his heartfelt wish to become a police officer. Since its humble beginnings, the organization has blossomed into a worldwide phenomenon, reaching more than 167,000 children around the world. Although it has become one of the world's most well-known charities, the Make-A-Wish Foundation has maintained the grassroots fulfillment of its mission. A network of nearly 25,000 volunteers enable the Make-A-Wish Foundation to serve children with life-threatening medical conditions. Volunteers serve as wish granters, fundraisers, special events assistants and in numerous other capacities. As the Foundation continues to mature, its mission will remain steadfast. Wish children of the past, present and future will have an opportunity to share the power of a wish.
For more information about the Make-A-Wish Foundation, visit www.wish.org or call the Middle Tennessee chapter at 615-259-2327.