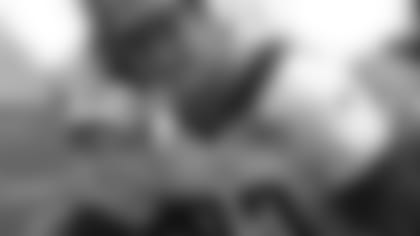 Kamren Heutel, an 11-year old from Williamsburg, Va., pictured with his favorite Titans player, kick returner Marc Mariani.
NASHVILLE, Tenn. -- The Tennessee Titans made dreams come true for many fans this holiday season by providing Thanksgiving meals, Christmas parties and special events for area non-profits. But no fan got to experience it like 11 year-old Kamren Heutel from Williamsburg, Va.
Kamren's Christmas wish was to meet his favorite NFL team and players through a local Virginia wish granting agency, Toby's Dream Foundation and The Make-a-Wish Foundation -- both non-profit organizations that grants wishes for children with life-threatening illnesses like Kamren, who suffers from Crohn's Disease. 
Kamren, who was born in Tennessee, has been a Titans fan since he can remember, sharing stories and stats with his grandfather, "Papa," Eddie who lives in Lebanon, Tenn.   Kamren's mom, Cindy, dad, Kirk and sister Cheyenne and Sierra made the trip to Nashville for the once-in-a-lifetime experience to meet the team and watch the Titans matchup against the Jaguars on Christmas Eve at LP Field. 
On Friday morning, he and his family joined the team for walk-thru practice at Baptist Sports Park and got a behind-the-scenes tour of the facility, a visit to the locker to find his very own locker with set up with his authentic team jersey with his name on it, before heading to practice.  
At the conclusion of practice, Head Coach Mike Munchak called Kamren into the huddle to share a few words of encourage.  The players hoisted Kamren onto their shoulders before they broke the huddle and told him he was an honorary member of the team and he'd be their good luck charm for the game.  
Marc Mariani, one of Kamren's all-time favorite Titans players, was his tour guide in the locker room after practice. There, he received his very own helmet, just like Mariani wears.
Then, on Christmas Eve, the family was special guests at LP Field for an all-inclusive behind-the-scenes tour of the Titans stadium.   While in the press box, they met the CBS crew and announcers, who called the game.  Kamren was on the field for pre-game warm-ups and helped Titans strength and conditioning Coach Steve Watterson, get the players ready as they ran out of the tunnel and were being introduced to the home crowd.
About Toby's Dream Foundation
Toby's Dream Foundation is a 501(C)3 non-profit organization that was created to serve the children living in Greater Hampton Roads and the Eastern Shore of Virginia. Toby's Dream Foundation creates dream experiences for children facing an uncertain tomorrow that will allow them to continue believing in the possibility of a moment unencumbered and a life full of hope. The name of the foundation is inspired by the efforts of Toby Vaught, a volunteer who generously devoted much of his time to ensure that these young warriors never lost sight of their dreams and never failed to make the imaginative leaps their healthy peers were making regularly. Toby's dedication to the children, before his own untimely passing at the age of 29, exemplified the type of volunteers currently working with Toby's Dream Foundation.   For more information, visit www.tobysdream.org
About the Make-A-Wish Foundation:
Since 1980, the Make-A-Wish Foundation has enriched the lives of children with life-threatening medical conditions through its wish-granting work. The Foundation's mission reflects the life-changing impact that a Make-A-Wish experience has on children, families, referral sources, donors, sponsors and entire communities.  The Make-A-Wish Foundation was founded in 1980 after a little boy named Chris Greicius realized his heartfelt wish to become a police officer. Since its humble beginnings, the organization has blossomed into a worldwide phenomenon, reaching more than 167,000 children around the world. Although it has become one of the world's most well-known charities, the Make-A-Wish Foundation has maintained the grassroots fulfillment of its mission.  A network of nearly 25,000 volunteers enable the Make-A-Wish Foundation to serve children with life-threatening medical conditions.  Volunteers serve as wish granters, fundraisers, special events assistants and in numerous other capacities. As the Foundation continues to mature, its mission will remain steadfast. Wish children of the past, present and future will have an opportunity to share the power of a wish.
For more information about the Make-A-Wish Foundation, visit www.wish.org.